Removing Shiny Iron Marks on Polyester Clothing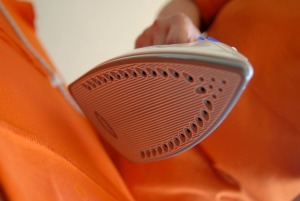 The shiny marks left on polyester clothing by a too hot iron are quite likely scorched or melted synthetic fibers. This is a guide about
removing shiny iron marks on polyester clothing.
Questions
Ask a QuestionHere are the questions asked by community members. Read on to see the answers provided by the ThriftyFun community or ask a new question.
How do I get iron marks off polyester trousers?
April 19, 2016
0

found this helpful
Polyester is a form of plastic. You're getting the ironing marks because you have the iron too hot and it's burning/melting the material. In the future, turn the pants inside out and iron the wrong side OR get an ironing cloth that protects the clothing from burning. Unfortunately, I learned this the hard way.
August 18, 2016
0

found this helpful
Though the marks are hard to get out you can rub the spot lightly with steel wool if the material is not too thin. It takes the shine out. I could restore my new trousers back to their original look. Just do it lightly and carefully.
January 12, 2017
0

found this helpful
Should the steel wool be wet or set while rubbing the cloth?
Drip it in olive oil to prevent the cloth from being destroyed
I accidently used an iron that was too hot on my polester black pants while pressing the hem. Now I have an area that is shiney on that area of the pants. Is there any help for this or is the fabric simply melted? Any ideas would be appreciated.
By Diannia C. from Defuniak Springs, FL
February 1, 2013
1

found this helpful
I read this somewhere that if you spray the area pretty heavily with white vinegar and then lay over that a damp cloth. Next barely set your iron down on the cloth until there is a little steam coming from the cloth. Iron should be set according to the fabric. Do this for just a few seconds. The shiny area will be gone. Hope this helps.
~Janette~
June 8, 2016
0

found this helpful
I have ironed black polyester trousers and have shiny marks on trouseres
You must apply olive oil and let it rest for about an hour, afterwards you just boil them for 5min approx. Should get it done ;)
March 16, 2017
0

found this helpful
boil them???
How do you remove hot iron marks from polyester?
By Netty from Defiance, OH
June 22, 2010
0

found this helpful
This is a burn. Burnt Poly does not get undone.
June 22, 2010
0

found this helpful
Sorry but there is no way to remove a burn mark no matter what type of fabric. :-(
January 28, 2016
0

found this helpful
In the 40s they'd use old coffee grinds. Set on fabric for a while and then steam iron with a cover cloth
January 6, 2017
0

found this helpful
Use nail polish remover.....the stain will be gone immediately. Works every time!
September 4, 2013
0

found this helpful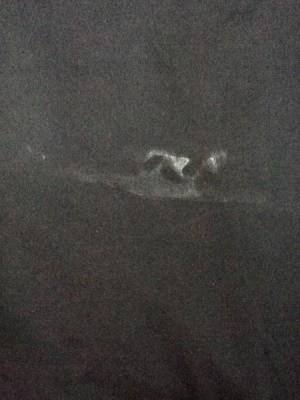 I bought a polyester t-shirt and by mistake ironed it, now there is a shiny patch on it. Please suggest a way how to remove that patch.
By YC
December 5, 2006
0

found this helpful
I have a pair of new black trousers and now I've ironed them, a silver line has appeared. How do you get rid of the silver line? I heard vinegar will do the trick - is that right?

Suzie from Seattle, WA
You have to use a black marker m8
Related Content