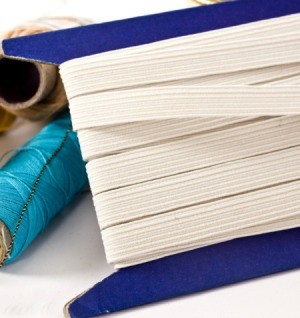 Repeated use and laundering can breakdown the elastic in your fitted sheets. This is a guide about repairing the elastic on fitted sheets.
Ad
---
Questions
Here are questions related to Repairing the Elastic on Fitted Sheets.
How much elastic do you use for a queen size fitted sheet?
By me from Milford, PA
Ad
---
---
Most Recent Answer

By plombardo29101/05/2014
I bought an 8 yard stretch of elastic. I have pinned at the moment 4 yards in a queen size fitted sheet for a pillow top mattress. I have it pinned for tonight and will see how it handles being slept on.
Over the past 5 years I have enjoyed the "luxury" of Egyptian cotton bed sheets. I have always bought them on sale, but they are still not a cheap item. The fitted bottom sheet has ripped and is a bit on the thin side. (My husband's side of the bed of course.) The rest of the sheet (3 years old at least) is still in fantastic condition.
I don't want to throw it out and wonder if a patch would be uncomfortable. I would love to hear from any of you clever people out there with any suggestions.
By hyslop from New Zealand
Ad
---
---
Most Recent Answer

By Cynthia Mullen03/23/2011
Ok girl, just last month, I had the same problem. So I looked in my sewing box and found a big size iron on patch. Flipped that sheet over to the wrong size, ironed it on and it's now on my bed. No problem at all!!!!!!!! Good luck with yours!
When replacing the elastic in a fitted sheet, what size, type, and style elastic should I use?
By Claire T.
---
Most Recent Answer

By Frugal Sunnie [11]02/15/2015
Oops, hit submit too soon!

3/4", and buy a packet of 'general' elastic - usually about three yards/metres length, and that's plenty to cut a 4-6" per corner strip for sewing back into the sheet.

Be sure to use the right sewing needle, elastic thread, and the stretch stitch on your machine. If you don't have a stretch stitch on your machine, use the zig-zag stitch that matches the width of your elastic piece, and pull the fabric slightly from before and after the needle to stretch the seam, fabric, and elastic strip whilst stitching.
How much elastic do you need to replace the old on twin bed sheets?
By Debbie W
---
Most Recent Answer

By Frugal Sunnie [11]04/09/2013
It always amazes people (like my husband and children, lol) when a fitted sheet with 'tired' elastic can be repaired! I save a lot of money on sheets because I can replace the elastic. So often the elastic is the first place to go on a bed sheet and it's a real savings to be able to replace the elastic.

Use a flexible tape measure and measure the length of the elastic in the sheet without stretching it. Use the flexible feature of the tape to follow the curve of the fitted corner. Add an inch to that measurement, and that should provide a measurement for the correct length of replacement elastic.

If you have a deep pocket sheet, you may want to add another half-inch to your measurement to get the proper fit when you put the repaired sheet on the mattress. You may have to experiment-keep your seam ripper handy:)

You can also unpick (using a seam ripper) the elastic from the sheet and measure it. Even if it has stretched a bit (it will look 'rippled' and several elastic threads may have popped out too), you will be able to get a good enough measurement from it to measure out a new length of elastic-if you do this you will NOT need to add an inch or inch and a half, and you still will not need to stretch the elastic to get a proper measurement.

Stretching to measure will result in too much elastic and then it won't 'pull-up' enough when sewn in to provide a proper fit when you go to put the repaired sheet on the bed.

If you have a stretch stitch feature on your machine, use it. Be sure not to stretch the elastic when sewing it in using the stretch stitch feature. The stretch stitch feature is designed to automatically do the stretching for you. It's always best to check your machine manual as using the stretch feature may include other special instructions like tension settings and the correct needle to use.

If you don't have the stretch stitch feature, use the zig-zag and DO stretch the elastic as you zig-zag over it. Remember to loosen the tension at least one notch, and be sure to use a new needle so that your tip is 'factory sharp', for the best results.
How much elastic do I need for a queen size bed fitted sheet?
By Kay
What is the length of elastic needed for a fitted queen size bed sheet?
By Maria
Solutions: Repairing the Elastic on Fitted Sheets
Do you have knowledge about this guide topic? Feel free to share a solution!