Slumber Party Ideas
A memorable party for youngsters can be a sleep over. This guide contains slumber party ideas.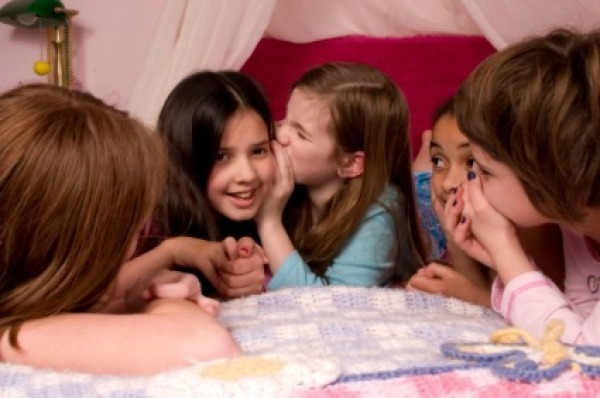 Filter

: All Articles
Sort

: Relevance
My granddaughter just turned 7 and she wanted to have a slumber party with her friends to celebrate. But many kids her age have fears of spending a night away from home (and mom and dad). So my daughter decided to invite them over in their pajamas at 9 a.m. for a pancake party.
The pancakes became the birthday cake and the kids could top them with a variety of syrups and sprinkles. The birthday child had candles in hers. By 11 a.m., the party was over and they had the rest of the day to enjoy with their family. Very little expense and the novelty of the idea mixed with the excitement of the kids contributed to fun for all, especially my daughter.
By Anne from Green Bay, WI
I'm having three friends over to sleep (in 4 days) for my birthday, but it's not a big birthday it's just my 14th. My mum doesn't want to spend a heap of money because they don't have a lot, but yeah. I just don't have that many ideas and I don't want them getting bored! So if you guys have any that would help a lot.
March 17, 2016
0

found this helpful
ask them for advice on what they like or order pizza and have a movie night
March 28, 2016
0

found this helpful
i'm turning 14 too and i'm already ready for mine and its in july here's a couple of my ideas: -whip cream twister.(u just put whipped cream on the dots put food coloring on them!!!) -hide and seek (this seems like a kids game but teens like it too! to make it more interesting do it in the dark in one room!!!!)-another is just have like a cake fight or water balloon fight its bound to be talked about for weeks!) -make a tent (that's always fun and you can sleep in there!) -rent a movie (get popcorn and soda and just have a blast!!)
My daughter planned her slumber party to start at 2:30 in the afternoon and we need something inexpensive for the kids to do. There will be 8 kids and we already figured out a couple of things, but they will probably be up for a longtime and we need some help fast because the party is in March. Her theme is neon doodle (the theme is from Party City). Please give us some ideas for my 12 year old.
By Linda.G
February 24, 2014
0

found this helpful
Best Answer
How about pizzas for a snack, and they make the pizza? Lots and lots of movies - for the evening. Board games, in some sort of contest. Monopoly takes a couple of hours. Making some sort of craft? You could get kits or find something on the internet that might be inexpensive. Spa afternoon - doing each others hair and nails?
June 2, 2016
0

found this helpful
Just have them do their own thing
I will be 17 on the 14th of August. I'm having a sleepover/slumber party and I don't know what type of food and activities I should have. Any ideas?
My birthday is coming up and I don't know what to do. I was going with the sleepover theme, but I don't know what to do for activities. I'm not a girly girl, but I'm not a tom-boy. Help. I want to have 6 friends over.

September 25, 2015
0

found this helpful
go and buy giftcards or gag gifts and play a game with your friends. whoever wins gets the prize. play manhunt or something when it gets dark. also its fun to do challenges like whats in my mouth and etc.
. paint your nails
.do crafts
. prank call
.dress up funny and walk around your street
.
My daughter having her 12th birthday soon and she is going to go to the mall and 3/4 of the girls are coming back to our house for a sleepover. What games should I do for activities?
By annoymous from Great Britian, England, Preston
June 3, 2013
0

found this helpful
Last year we chose to do my daughters "kids party" almost 6 mos. after her "real birthday"(which happens to be Christmas Eve), since that's a difficult time for a birthday party. It's a nice change. Instead of pizza I made up a batch of spaghetti and meat balls for their dinner...but the surprise was how I served them all. You should've seen the look on the girls faces when I threw on the floor and told them to eat it off the floor! Of course I had mopped, disinfected and put down a couple of disposable table clothes.
It was a Hoot as soon as the girls got use to the idea. We took video and share it with friends and family. And...this year the girls are all asking to do it again. I actually got the idea from an interview with Joan Rivers. She was describing a memory of her daughter she had. I thought it would be great fun. It is messy, but...oh, so much fun for the girls!
August 1, 2013
0

found this helpful
For games you should do...
cavenger hunt inside? hide and go seek? blind make overs? fashion show? mystery game?
My daughter is turning twelve and wants to have friends sleepover. How many should I let her have, our house is medium size?
By Amy
January 26, 2014
0

found this helpful
When I was younger and wanted to have a larger sleepover my mom would take a sleeping bag and see how many sleeping bags could comfortably fit on the floor of where we were sleeping. That is how many I was allowed to invite.
February 15, 2016
0

found this helpful
4-6 friends pick an area with a tv and lots of space
My birthday is in a few months, in winter, so it's sort of limited as to what we can do. I want to have a hotel-themed birthday/slumber party, but not at an actual hotel. I want to decorate my house sort of like a hotel, and act like it is a hotel. I have a few ideas, but altogether I'm not sure what I should do, and how I should decorate, mostly. If you have any other ideas for any other themes, can you explain them in as much detail as you can? Thank you!
By Savannah S
October 6, 2013
0

found this helpful
Wonderful theme. Make sure you have a continental breakfast. A chech-in desk. And a lobby sofa and chairs. Plenty of green plants.
June 3, 2016
0

found this helpful
Hot towels room service pic & mix breakfast and dinner
My daughter's birthday party is less then 2 weeks away. She wants to have a slumber party, but I live in a 2 bedroom apartment; one with a bunk bed, which is her room.There are three other people living there as well and she wants 3 more people spending the night. Should I let her have one?
By Samantha A from Sylvania, OH
February 28, 2012
0

found this helpful
Absolutely! Just tell, or include on invitation for everyone to bring a sleeping bag. That's half the fun! Throw in some snacks and a few movies and they will have a blast.
February 28, 2012
0

found this helpful
Absolutely! They don't care about the space and four girls won't get too noisy - you'll be there to shush them if they do.
You didn't say how old the other people are in the apartment, but if there are kids, perhaps they could stay at a friend's house for the night. My best friend watched my boys when my daughter had a slumber party so they weren't annoying the girls the whole night (I took them over after the cake and presents).
Related
© 1997-2016 by Cumuli, Inc. All Rights Reserved. Published by
ThriftyFun
.
Page
generated on September 16, 2016 at 1:23:10 AM on 10.0.0.192 in 5 seconds. Use of this web site constitutes acceptance of ThriftyFun's
Disclaimer
and
Privacy Policy
. If you have any problems or suggestions feel free to
Contact Us
.