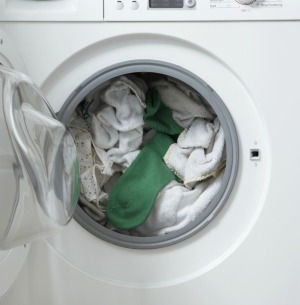 It is truly frustrating to have the spin cycle on your washer quit working, leaving you with a sopping load of laundry. This is a guide about spin cycle not working on washer.
Ad
---
Questions
Here are questions related to Spin Cycle Not Working on Washer.
My GE washer is 3 years old (model#GHWP1000MOWW), it will drain the water out, but will not spin. It makes a sound like it's spinning, but it isn't. Thanks.
By Scott H.
Ad
---
---
Best Answer

By Beverly [7]03/02/2014
Howdy. I had this happen to me about a year back. After me researching this on the web. I decided it was the lid switch. When you put down your lid to the washer... it starts a mechanism. I also talked with people where I ordered my parts from and they agreed... it was the lid switch.

I ordered it (less than $50.00 including s/h), and then installed it ourselves (me and my husband). I found out how to replace it by using youtube. I watched the video several times and even kept it up and was running back and forth from the washer to the computer. We got it replaced and it worked like a dream.
I have a Whirlpool washer model #wtw5500xw2 that won't spin all the water out of the clothes. Can someone tell me what could be the problem? It's driving me crazy.
By Mrs N
Ad
---
---
Best Answer

By Dinah Ackerson [2]03/22/2015
You can contact Whirlpool customer service via email or phone-see the information below:

WHIRLPOOL
Save time by checking your appliance information before contacting us. Manuals & Literature

PHONE:
US: 1-866-698-2538
Canada: 1-800-688-2002

Hour of Operation:
Monday-Friday: 8:00 AM to 8:00 PM EST

Please locate the appliance's model and serial number before calling.
Need help finding your model and serial number?

EMAIL:
http://www.whirlpool.com/contact-us/


My washer is washing, but will not spin. I got new motor couplers, but it is still not working.
By Lisa
---
Most Recent Answer

By Louise B. [5]02/28/2015
My machine had one small part that wore out that controlled the spinning. For all those people who say it is a worn out belt, my Kenmore machine did not have any belts. I called a local repair man who replaced the part, had special little tools he had made for just this job, and was in and out in less than half an hour. When the part broke down a few months later, he fixed it again, for no cost as he said it should have lasted for years. It has been a few years, and the machine is still working just fine. My machine is 14 years old, and the repair was done about 4 years ago. I consider the money I paid to the repair person to be very well spent.
My washing machine will wash but the spin cycle will not spin or drain the tub what do I do to repair that?
By Shelly H. from Manteca, CA
---
Most Recent Answer

By xyz04/15/2014
Sounds like the lid switch has gone bad. Google your model number and look for lid switch. Most can be found for about 15 dollars.
All of a sudden my washer won't spin. It sounds like it is but it doesn't revolve. Does this sound like it might be a solenoid?
By Lois from Seattle, WA
---
Most Recent Answer

By Retha Montgomery B.11/06/2011
Probably your clutch has gone out. It will need to be repaired.
My washer will drain, but not spin. It is fine on the wash cycle, but once it starts to drain it makes a loud noise and then won't spin.
By Linda S.
---
Most Recent Answer

By Louise B. [5]03/07/2015
If you have a reliable repair person, you could call and consult. When my machine wouldn't spin, the repairman diagnosed the problem over the phone, and when he came to fix it, took less than an hour and charged a very reasonable price. It was much cheaper than a new machine!

My washing machine completes the wash cycle, water drains, then it starts the spin cycle, it fills up with water, but when the water is in the tub instead of spinning it stops, with water left in the tub.
By HenryJ from Norman, OK
---
Most Recent Answer

By xintexas [28]04/27/2011
You can look up on You Tube. They show step by step how to repair certain brands. Hope yours is one of them. I found out why my washer wasn't working. It turned out the pump just needed cleaning out. Washers are easy to repair everything is replaceable in it but you must be mechanical inclined,
In the last spin cycle, my washer made a breaking, grinding plastic noise. I opened lid and after a minute of this noise it stopped spinning and the motor was still running? It agitates, washes clothes, drains water out, but will not spin? I have to fix it myself. Anyone have any ideas as to what my problem is?
By Diane from MI
---
Most Recent Answer

By Jackie04/03/2011
It sound like the belt broke, If you can turn over the washer and see if it did take to old belt and replace it with the same one, new of corse, it is not hard to do. be careful to unplug the washer first and get a person that has the strength to turn it over for you, I hope this helps and God bless you.
My washer's spin cycle does not work. What can I do?
By Arturo from San Diego, CA
---
Most Recent Answer

By Gloria Z [7]03/25/2011
The washer won't spin if you have a plugged i[ drain. Did you wash something and it fell apart in the washer? That would do it. Another thing is to find you reset button it's usually on the top of the washer - it might look like an open small hole. Take a screw driver and put it inside to click the button. If all else fails it's probably the belt on the motor. If you don't have anyone to take apart your machine call a repair guy - cost appx. $109.00.
I have Kenmore front loading washer, model no. 417.43042200. My washer takes forever to run through its spin cycle. Sometimes the first load runs the normal amount of time. Usually the second load is were it hangs up, it typically gets to the final spin cycle and keeps going and going. If I advance the dial a tick it will finish out. I have a couple questions: Is this a timer problem or the board that controls the timer? Is this something I could get parts for and replace myself without requiring a full compliment of specialized equipment? I bought this washer in 2002 for about $400, am I kidding myself with even thinking about repairing this unit?
By RCB
---
Most Recent Answer

By Dinah Ackerson [2]01/26/2015
We had a problem with an old washer in our rented house. We decided to have Sears check the washer for a fee of $75; our experience with Sears is good and, at the time, their special deal was that we would receive $75 off a new washer. A Sears service man checked the washer and stated the repair cost would be more than the cost of a new washer. After he explained what was needed, we agreed to buy a new washer. We received $75 off the new Sears Kenmore washer.

You do not say your washer's age, but you have had it for 12 years now. You can request a service find the problem for a fee. At least you will know your choices.
My washer will wash, but won't finsh doing the rinse cycle or the spin cycle. It leaves all the water in the washer. What do I do?
By Amber H
---
Most Recent Answer

By Dinah Ackerson [2]12/27/2014
The washer problem could be many possibilities and would probably be difficult for someone to answer from this site. Suggest an evaluation by a repair service.
My washing machine drums, started to make loud beating noise and after awhile stopped working.
By Gianni
---
Most Recent Answer

By Dinah Ackerson [2]12/20/2014
If you do not know how why your washer stopped working, it would be difficult for anyone here to suggest a solution. There are many factors to consider and you have not provided any additional information. If your washer is more than 4-5 years old, the most probable solution is to replace the broken washer. Your best plan would be to have a washer repair service check the washer and suggest a solution.
My top load washer drains, but does not spin. It leaves the clothes very damp.
By Jack
---
Most Recent Answer

By Louise B. [5]12/16/2014
I had this same problem, and luckily we have a repairman in town who knew exactly how to fix it. He came over and had it repaired in less than half an hour. The cost was very reasonable. He says, however, that many people look this problem up on the internet and fix it themselves.

But, after watching this man fix this problem so quickly and efficiently, and watching a friend spend a couple of hours just getting into the washing machine (he was an industrial mechanic - could fix big machines in factories, but not appliances!), my advice would be to hire the guy who knows what he is doing.

A good workman is worth the cost; you are paying for their knowledge, not just what they do. Mine actually had specialized tools that he had made, just for this job.
My washing machine will wash, but it won't spin. I have to put it on a spin only and it works fine then. What could this be?
By Louise from Rhondda
---
Most Recent Answer

By Louise B. [5]01/05/2015
I wonder if it is not the dial. If you can afford a repairperson, get one in to check this out. If you can not, just run the washing machine the way it is; it will not be as convenient, but it should work for you.