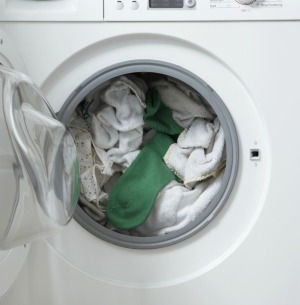 It is truly frustrating to have the spin cycle on your washer quit working, leaving you with a sopping load of laundry. This is a guide about spin cycle not working on washer.
Solutions
Share a solution for this guide today!
Questions
Here are questions related to Spin Cycle Not Working on Washer.
The machine won't drain or spin. The front panel reads pau/door.
By Andy
My washer's spin cycle does not work. What can I do?
By Arturo from San Diego, CA
---
Most Recent Answer

By Gloria Z03/25/2011
The washer won't spin if you have a plugged i[ drain. Did you wash something and it fell apart in the washer? That would do it. Another thing is to find you reset button it's usually on the top of the washer - it might look like an open small hole. Take a screw driver and put it inside to click the button. If all else fails it's probably the belt on the motor. If you don't have anyone to take apart your machine call a repair guy - cost appx. $109.00.
I have a model GLWS1223AS1 washer. The the spin cycle is not working correctly. I went to check on it because I heard a strange noise coming from it. I noticed a rubber smell as well so I popped the top off and checked all things mentioned here. The closed the lid and did a test cycle. Halfway through it stopped. So I gave it a little help and it finished the cycle. What should I check for now?
By Jeremy
My Whirlpool top load washer spin cycle is not working. What should I check before I call the repairman?
By MW
---
Most Recent Answer

By Dianne Sahakian07/08/2012
If your top loading washer doesn't spin it probably needs a new belt, and if your handy you can do it yourself, you can order the belt you need through your washer brand, call their number and they can order it for you and you can put it on the same way you took it off and save yourself some money. I feel you can also do the same thing for a front loading machine too. If you are not a handyperson call a repairman to do it for you. Sometimes you can also order the part through anyplace that sells them as well.
The spin cycle does not work on my machine. It washes and rinses fine, but will not spin.
By Wanda from Greenwood, SC
---
Most Recent Answer

By Frugal Sunnie09/06/2013
How old is your machine, and is it still under warranty?

If still under warranty the cost to have a factory trained repair tech come out will be very reasonable (and may even be free) but be aware that some things are not covered under even a comprehensive warranty if the tech determines the fault is yours (overloading, using too much detergent, incorrectly installed by a DIY installer, etc).

The age matters for things like belts and drives - on one older machine of mine it was the belt, on another newer model it was the 'transmission', and on another it was an accumulation of lint.

Too, this really is a job for a trained repair tech because it involves pulling the back panel and being exposed to dangerous static electricity build up. The tech will know how to keep from being badly shocked (goes far beyond merely unplugging the machine, btw), and has the training to get your machine spinning again.

Depending on the age and make of your machine it may actually cost you less to replace it with new machine. However, if your machine has specialty features it may be more cost effective to have it repaired.

Telephone around and get some over the phone estimates of the costs involved. No matter what they try to say over the phone ("Oh your problem could be so many different things it's best if I come out and have a look..." and variations on that theme), stick to your guns and ask them for a rough estimate over the phone so you can decide if you want to spend the money on repairs or replacement. A good repair tech will respect that and will give you a rough idea of the costs based on best and worst case scenarios.

Repair tech charges are based on making the trip to your house+labour to fix the machine+the parts needed.
My Hotpoint washer was making a clucking sound when it starts on a spin cycle. Now it has stopped the sound, but it won't spin out at all.

By Wanda from Campnellsville, KY
In the last spin cycle, my washer made a breaking, grinding plastic noise. I opened lid and after a minute of this noise it stopped spinning and the motor was still running? It agitates, washes clothes, drains water out, but will not spin? I have to fix it myself. Anyone have any ideas as to what my problem is?
By Diane from MI
---
Most Recent Answer

By Jackie04/03/2011
It sound like the belt broke, If you can turn over the washer and see if it did take to old belt and replace it with the same one, new of corse, it is not hard to do. be careful to unplug the washer first and get a person that has the strength to turn it over for you, I hope this helps and God bless you.
I have a Frigidaire Infiniti front loader and it does not spin. It leaves my clothes wet. What could I do?
By Rose
I have an Amana NAV 6800aww washing machine. The tub tries to spin clockwise in the spin cycle, but the brakes are on. Is the tub suppose to spin counterclockwise in the spin cycle?
By Ken H. from Livonia, MI
My GE washer is 3 years old (model#GHWP1000MOWW), it will drain the water out, but will not spin. It makes a sound like it's spinning, but it isn't. Thanks.
By Scott H.
All of a sudden my washer won't spin. It sounds like it is but it doesn't revolve. Does this sound like it might be a solenoid?
By Lois from Seattle, WA
---
Most Recent Answer

By Retha Montgomery B.11/06/2011
Probably your clutch has gone out. It will need to be repaired.