Washer Drains But Won't Spin
Questions
Ask a QuestionHere are the questions asked by community members. Read on to see the answers provided by the ThriftyFun community or ask a new question.
I have a Kenmore front loading washer model # 41744052400 that won't spin. It will agitate and drain, but will only spin when I run the diagnostics. I replaced the door switch and the front control panel with used, but tested ones and still have the same problem. It does make a loud buzzing noise when it is supposed to spin, but it also makes this noise when I force the spin through diagnostics. Any ideas?
Answers
December 28, 2016
0

found this helpful
Best Answer
Make sure it is level. In my book (I have a Bosch) it says it won't always spin or drain if not level.
Answer

this Question

...
March 6, 2015
0

found this helpful
My washer will drain, but not spin. It is fine on the wash cycle, but once it starts to drain it makes a loud noise and then won't spin.
By Linda S.
Answers
March 7, 2015
1

found this helpful
Best Answer
If you have a reliable repair person, you could call and consult. When my machine wouldn't spin, the repairman diagnosed the problem over the phone, and when he came to fix it, took less than an hour and charged a very reasonable price.
It was much cheaper than a new machine!
Answer

this Question

...
My top load washing machine won't spin during the spin cycle and the water drains out from underneath the machine despite it not spinning. Is this fixable?
Answers
March 9, 2017
0

found this helpful
Is your washer still in good condition? Or newer with warranty?
Answer

this Question

...
April 13, 2014
0

found this helpful
My washer drains from the bottom and won't spin, so the clothes are soaked.
By Pete
Answers
April 15, 2014
0

found this helpful
Hello, Go to Youtube. There are literally tons of 'how to' videos.
Enter your problem in the search box and you will have many to select from. I've saved quite a bit of money doing this.
Answer

this Question

...
August 29, 2017
0

found this helpful
If your washing machine is draining but not spinning, you may need to call a repair person out to fix it. A GE washer that drains but won't spin is a problem you can try to fix on your own but it may be difficult.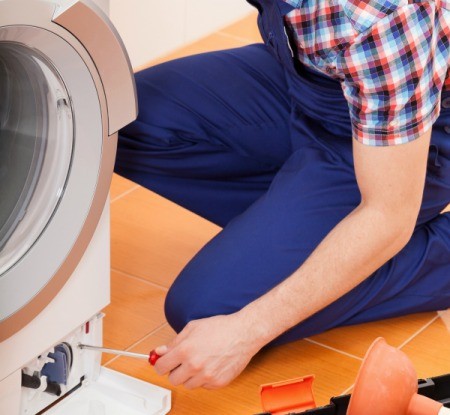 Archives
ThriftyFun is one of the longest running frugal living communities on the Internet. These are archives of older discussions.
February 5, 2011
0

found this helpful
Our Kenmore washing machine is a Model#-110.26852503, Type-111, Serial#-CS5119524. It has stopped spinning our clothing during the spin cycle. It doesn't make any strange noises and I already replaced the motor coupler, thinking this was the problem.
One interesting point, the tub spins when it is full of water as it drains the water from the tub, but once the tub has emptied the water, it stops spinning and leaves the clothing soaked. Occasionally it will spin the clothing, but not often.

Any help would be greatly appreciated, as I am trying to keep from hiring anyone to come out and fix it. Thanks.

By Ryan from Indianapolis, IN

Answers:
Professional Repair
When I have problems with my washer, I call the repair guy in town. He usually comes the same day, fixes the problem in a half hour or less, and I pay his bill, less than $100. It is so worth it!

By Louise B.
November 8, 2010
0

found this helpful
The spin cycles have stopped working on my older Maytag washer. All other cycles run fine and it fills and drains properly. When it comes time to spin, it just completely stops. If I lift and then shut the lid, it seems to kick start the spin, but then it stops again after 10 seconds or so. (It will temporarily start for as many times as I open and close the lid.)
Is this any kind of easy fix I could do myself? The washer is so old, it wouldn't be worth calling a repair man. (I could just get another washer.) Thanks!

By graphixgrl from Indianapolis, IN

Answers
Change Stopping Washer
I had the same thing happen. My husband took the bottom kick plate off to expose the motor, and underneath there is a rubber type boot where the water drains (I know you said it drains ok). Take it off. I found over $10.00 in change caught in there. Once removed it worked fine. Worth a look.

By cindy
Transmission
It's probably the transmission. If it is as old as you say, I would seriously consider just replacing the machine for a new one. I believe that would be more cost effective. This is just my opinion.

By Deborah570
Simple Repair
My washer quit spinning, and it was a small part that attached to the motor. I had called the repair man, who diagnosed the problem over the phone, and had the problem fixed that afternoon. The service call was about $75-$100, you could not buy a new machine for that. There is no transmission or gears on a washing machine. My repairman told me that this "no spin" problem is very common. I would call a repair person.
By the way, my machine is 11 years old and good to go for much more, now that the little part is replaced.

By Louise B.
May 15, 2010
0

found this helpful
My washer will empty the water, but the tub does not spin. The switch will activate when depressed, and after releasing the switch the motor will continue to run, but the tub still doesn't spin. Please help.

By Gary from Indianapolis, IN

Answers:
Broken Belt or Transmission
It could be something as simple as a broken belt, but also a more expensive fix like the transmission.