Uses for Pickle Juice
Before you pour that pickle juice down the drain, consider that there are ways to use it. This is a guide about uses for pickle juice.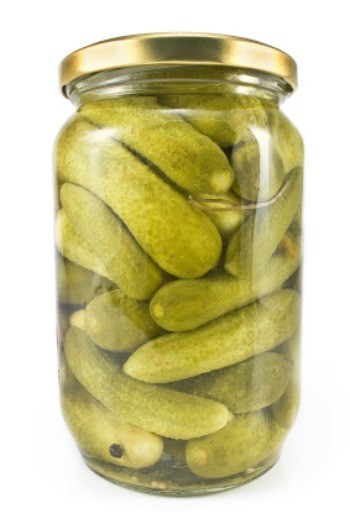 Filter

: All Articles
Sort

: Relevance
These popsicles are made from pickle juice. My grandkids love them. Pour the pickle juice in Popsicle molds, and freeze. The kids love them, and even my pregnant niece loves them.
Source: They sell them at my grandson's T-ball games.
By branbrumom from Vian, OK
When your kids have a sore throat and they don't want medicine, try having them gargle with pickle juice. They get the salt and vinegar in one go, and the kids usually love pickles.
I recently got a huge jar of pickles for under a dollar due to overstocking. My aunt always did this with her pickle juice, and I plan to do the same: Once all of the pickles have been eaten from your jar, save the pickle juice.
Buy a cucumber, slice into wedges or thin slices, and put into your old jar of pickling juices for 5-7 days. Now you have ANOTHER cheap jar of pickles, for only the cost of one little old cucumber!
By AlaskanAurora from Dutch Harbor, Alaska
Is the pickle juice from pickles good for a puppy? Also, what can a dog eat and not eat? I am taking care of my sisters dog and I need to know this stuff!

rhindy from Hartford, NY
By guest (Guest Post)
Flag
January 12, 2008
0

found this helpful
But what about pickles are they ok?
By guest (Guest Post)
Flag
May 11, 2008
0

found this helpful
I'm not sure, but I love pickles, and my girlfriend's dog thinks `Everything is good for DOGGIES!" I think it'd be okay to give pickles to dogs, unless the vinegar is bad for them. Vinegar is usually made from grapes, which are poisonous to dogs. I heard that grape extract might be okay, but I'm still looking. As for why I'd give him pickles, well, he wants to eat everything, and I don't mind sharing, unless it's dangerous.
Editor's Note: Distilled white vinegar, which is usually the type of vinegar used in mass produced pickles, is made like grain alcohol. Apple cider vinegar is also sometimes uses, and is usually made from apples (but sometimes is distilled white vinegar with apple flavoring). The only vinegar made from grapes would be red or white "wine" vinegar.
Read More Answers...
Use up pickle juice by adding mayonnaise, garlic powder, onion powder, salt, and pepper until it is the consistency and flavor you prefer. Adding pickle juice with spices to sour cream makes a tasty dip for veggies too.
By fossil1955 from Cortez, CO
Not long ago someone here asked for ideas to use pickle juice. The question definitely got me thinking ;) I found one chicken recipe at Allrecipes but didn't like a few of the ingredients so here's my tweak on it.
Ingredients:
1/4 cup all-purpose flour
salt and black pepper to taste
4 skinless, boneless chicken thighs
1 Tbsp. extra virgin olive oil
1/2 cup chicken broth
3 potatoes, quartered
1 cup dill pickles, thickly sliced
1/2 cup celery, thickly sliced
1/2 cup pickle juice
Directions:
Place the flour on a plate or in a shallow dish and season with the salt and pepper. Dredge the chicken in the flour. Heat the olive oil in a large skillet over medium high. Cook the chicken in the hot oil until golden, about 3 minutes. Flip chicken and brown on the other side for about 3 more minutes. Pour in the chicken broth.
Stir in the potatoes, pickles, celery and pickle juice. Reduce heat to medium, cover, and cook about 40 minutes or when a meat thermometer inserted in the chicken reads 165 degrees F.
By Deeli from Richland, WA
Drink a full glass of pickle juice leftover from when you run out of pickles or if you have more juice than the pickles for a good laxative.
I never knew what to do about all that tasty dill pickle juice after the pickles were gone. I did some searching on the internet and found this. People thought I was nuts, until they tried it. I get frequent requests for this dish now. It has a unique taste that is impossible not to enjoy (if you enjoy dill pickles). It even tastes great cold. Great for a picnic and is what I'll be making for our Canada Day picnic.
Ingredients:
3/4 cup milk
1 cup flour
1 broiler-fryer chicken, cut into pieces
oil (for frying)
dill pickle juice
Directions:
Dip pieces of chicken in milk and then into the flour mixture.
In a frying pan, cook chicken in oil just long enough to brown the crust. Drain on paper towels.
Place pieces in a 9x13 inch pan or glass casserole dish.
Pour dill pickle juice half way up chicken.
Cover with foil and bake at 350 degrees F for 1 1/2 hours, basting occasionally. Turn chicken over after 65 to 70 minutes and continue cooking, uncovered.
The juice will be absorbed.
Servings:
4-6
Time:
5 Minutes Preparation Time
1 3/4 Hours Cooking Time
Source: recipezaar.com
By sooz from Toronto, ON
My dad puts dill pickle juice on his hydrangea roots to make them turn purple and pink instead of just white. They are very pretty.
What uses does pickle juice have?
By Sue
January 23, 2012
0

found this helpful
We like sweet pickle juice on our turnip salad. I also use it when making deviled eggs and potato salad.
I made my usual unimpressive corned beef hash (leftover corned beef, diced and pan sauteed onions and cubed potatoes). On a whim, I added a couple of splashes of pickle juice at the very end.
What other recipes or uses for pickle juice are there?

By jamish
Answers:
Reusing Pickle Juice
My husband likes peeled boiled eggs marinated in it for a while (yuck!), but I like any cut veggie, broccoli, cauliflower, carrots, beets, onions, celery, etc, even add black pepper and garlic to help flavor it a bit, then you can either eat off and on, or drain and have a great salad with a meal. (07/15/2009)

Reusing Pickle Juice
My father-in-law adds garlic, Mrs. Dash; whatever spices you like and he uses it to baste ribs on the grill. It's good! (07/15/2009)

By kghsave
Reusing Pickle Juice
My mom used to put pearl onions in the leftover juice and let sit in the fridge for a while (how long I don't remember). I don't buy pickles because of the sodium levels but I recall them being pretty tasty. (07/15/2009)

By COflower
Reusing Pickle Juice
I use pickle juice to let down mayo when making coleslaw. It adds a very nice flavor! (07/15/2009)

By tresenm
Reusing Pickle Juice
I have never tried this but read about it. Freeze the juice to be used as ice pops. If any one has tried this, could you give us your opinion about it? Thanks. (07/16/2009)

By mkymlp
Reusing Pickle Juice
I make my cole slaw with pickle juice. I put cabbage, cut up tomatoes, cut up pickles, add mayo, salt and pepper, pickle juice. From my grandmother. (07/16/2009)

By MomSc2002
Reusing Pickle Juice
Use pickle juice as the acid in a marinade for meat. Pickle juice, garlic, pepper, mustard mix to a thin paste, brush on meat. Leave for an hour up to overnight Cook as you like BBQ, or broil. Works well for tougher cuts or wild meat. Sweet pickle juice will make a sweet flavor and works well on chicken (07/16/2009)

By Lazateda
Reusing Pickle Juice
I slice up hot peppers and put in the pickle juice. My husband likes to put these on sandwiches. Just remember to wear some rubber gloves when slicing, especially if the peppers are very hot. (07/20/2009)

By K Kwaak
Reusing Pickle Juice
You can use it to pickle beets and eggs. (07/22/2009)

By marymargaret
Reusing Pickle Juice
You could add it to a Bloody or Virgin Mary drink. (08/18/2009)

When you eat all the pickled peaches from the jar, pour the juice off a can of regular peaches, put them in the jar, tighten the lid and refrigerate them for several days before eating. Do the same with left over sweet pickle juice and put canned beets in them. Put boiled eggs in dill pickle juice.

Source: This is just tips that have been passed down through the family.

By BJ from Mid MO
Answers:
Reusing Pickle Juice
We always dropped all kinds of veggies in our pickle jars. Love onion that way. My kids always liked broccoli and cauliflower soaked in the pickle juice. Thankfully I only had one out of five that was a picky eater. All the rest of them loved most vegetables and meat. (02/26/2009)

By CindyM56
Reusing Pickle Juice
I save the juice from sweet pickles to add to salad dressing to make a fast cole slaw dressing. By the way, I always buy my sweet pickles at the Dollar store, $1.00 vs @2.50 in grocery store. (02/27/2009)

By WIsgal
Reusing Pickle Juice
We all think of the great uses of the pickle juice to pickle other veggies and things. But, did you know you can use the pickle juice to also settle an upset tummy. In a small container, save some of the juice for "medicinal" purposes. You will be happy you did.

Try making pickled watermelon rind. Take off the skin, and then drop the pieces into some pickle juice. You can also come up with a great pickling juice of your very own for this one.
(03/02/2009)

By TxBluEyes
Click to read more ideas from older posts on ThriftyFun.
Related