Wall Hanging Craft Ideas
Making a decorative wall hanging, whether for the holidays or to enhance your decor is a great craft project for the novice or experienced crafter. This is a guide about wall hanging craft ideas.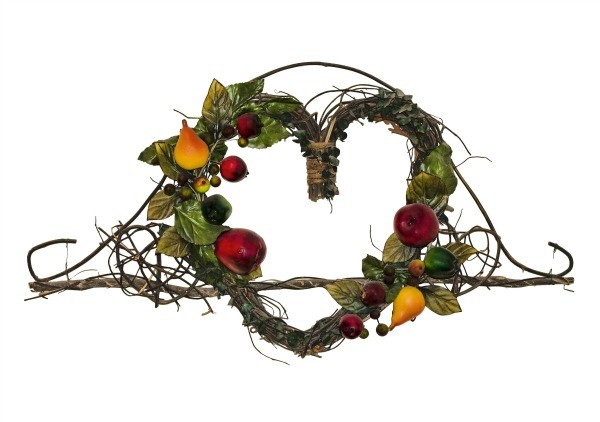 Filter

: All Articles
Sort

: Relevance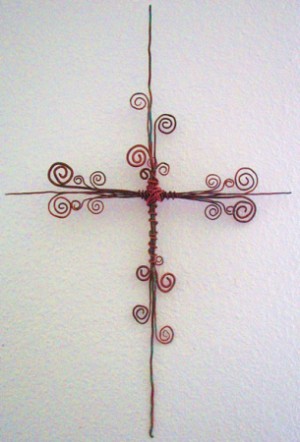 Every time I go beachcombing here where I live, on the shores of the Bering Sea, I find sea glass and tangled balls of thick copper wire on the sand. I started picking the copper up, hoping I would be able to one day figure out something beautiful and one-of-a-kind to make from it, which I now have! This copper wire cross makes the perfect Easter gift; mine looks divine on the wall of my kitchen!
Approximate Time: 1 hour
Supplies:
approximately 3 yards of copper or otherwise found wire
gardening gloves
needle-nose pliers
old towel
snips
Instructions:
Put on gloves and spread out the old towel over your work space.
Take your ball of wire and use your hands to gently straighten it out until you have long pieces.
Snip off a section of wire approximately 15 inches long.
Snip off another section, approximately 9 inches long.
Gather your remaining pieces of wire, and cut 6 equal sections off; place these next to your 9-inch cross-section.
Now cut five slightly longer pieces of wire in varying lengths; mine are (from shortest to longest): 6 inch, 8 inch, 9 inch, 10 inch, and 12 inch.
Place those five longer pieces with the 15-inch long wire.
With your remaining wire, cut into two equal pieces; snip one of those into two (so that you now have three total) and set aside from all others.
Starting with the 9-inch piece and its accompanying six, use one of the two last smallest wires from step eight to wind around and make those seven into a bundle, positioning the nine-inch piece toward the very middle of the bunch.
Using your needle-nose pliers, curl all six ends either outward or inward, working in a symmetrical fashion (see picture).
Now gather up the 15-in piece of wire and its accompanying five pieces of copper wire; again, use the other smallest piece of wire from step eight to wind around and make those six into a bundle as you position the 15-inch piece toward the middle of the bunch.
Use the pliers to once again curl the wires, this time all outward into little spirals (I staggered my curls in reminiscence of waves; see picture).
You should have two curly bundle pieces and one piece of stray wire left.
Position the shorter bundle over and at a ninety-degree angle over the longer bundle to form the shape of a cross.
Holding firmly in place, use that last piece of wire to secure the two together, wrapping in an "x" pattern until all the wire is used and the tails are tucked behind your cross, leaving about an inch on both ends to make a loop for hanging.
With the last inch of both tails, twist back upon themselves until you have a satisfactory little loop; now fold it up so that it lays flat against the back of the cross.
Find a deserving piece of wall to hang your newest treasure on, and pat yourself heartily on the back!
By Brianna from Dutch Harbor, AK

Make your own scenes outside your "window". If you don't have a window, just paint one! I love beach and lighthouse scenes. So, I made my window looking out at a lighthouse.
Approximate Time
Supplies:
large oval wooden plaque
acrylic paints
clear satin spray sealer
paint brushes
picture hanger for back
Instructions:
Paint the plaque with a sealer such as Kilz.
Draw your "window frame" around the outside of the plaque.
Paint frame in white or brown to match your molding.
Draw out and paint your scene.
Draw a cross through the middle of the oval, making sure it is centered.
Enlarge the cross to the same size "pieces" as the outside of your "window frame." Paint in white or brown.
Use a gray or dark brown, depending on your molding color, make shadows on the inside of your frame. Also on the cross to make it look like the pieces are joined. This gives it depth and makes it look more real.
Spray with the clear sealer.
Affix picture hanger on back side.
By Artlady from Edmond, OK
Are you having a hard time with trying to decide what to place on your wall in your open foyer? Or even just on a long wall? I have the solution for you!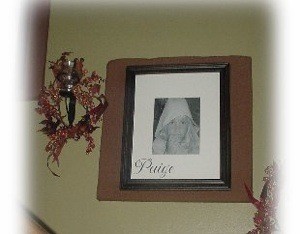 This is a guide about making a heart shaped wall hanging. A heart shaped wall hanging will make a nice addition to your holiday or everyday decor.
This is a ruined lace tablecloth that was reincarnated into a wall hanging!
I cut a broom handle to fit and painted it. I put the drawer pull on the right end to go with the leaf rod finial on the other - its attached to the wall with 2 cup hooks. A dragonfly pop jewelry pin sits on the left end by the leaves.
By melody_yesterday from Sedalia, MO
Looking for instructions for how to make handmade wall hanging or craft.
By sanjyot from Mumbai
August 21, 2009
0

found this helpful
What kind of wall hanging were you looking for? There are quilts, crafty with felt, macrame, crocheted. What season if any? What room? It depends on what you are looking for.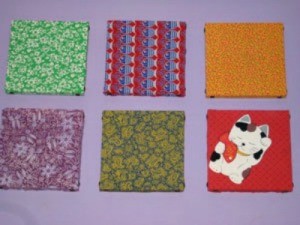 Can't figure out what to do with all that extra fabric hanging around in your crafting bags?

I used a hot glue gun to put it on square blocks of wood and then found funky upholstery tacks to put around the edges.

Put em up on the wall, and the room just pops with color!

By Julianna from Princeton, NJ
Make a gorgeous fabric picture frame to coordinate with your curtains or drapes!
Pick large frame like the size of 11x14 inches, 16x20 inches, or 18x20 inches. Larger sizes look more dramatic.
Use left over curtain fabric or a coordinating fabric for your frame. Also, use left over thin batting to have a more refined look.
Buy and inexpensive foam board 1/4 inch thick or less or cardboard from a large box.
Cut it a few inches smaller than the frame, so you leave enough allowance for the fabric that is going to be wrapped around it.
Cut your fabric to the size of the board with batting (very thin so you can get in frame after), with 1 1/2 inches extra to seal over corners/sides.
Using spray adhesive, spray your board, and gently place batting on on board, smoothing out all the wrinkles.
Place fabric on top, sealing on corners and sides with hot glue. Place back into the frame and secure down.
Optional: add multiple sizes of family photo for a more personal touch. Sepia or black and white photos look great on fabric frames. Now you have a nice unique coordinating picture in your room everyone will rave about.
By Kerry from Flat Rock, MI
Using only felt, buttons, and thread I hand sewed this Christmas wall hanging while watching TV at night!
Use decorative edge scissors or pinking shears to cut around edge of fabric. Glue to center of craft foam or construction paper. Glue ribbon under each corner of fabric for hanger.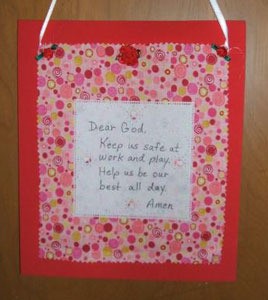 I bought a piece of material at WalMart that has the 23rd Psalm on it. The piece measures 33 inches wide by 42 inches long. I want to make a wall hanging out of it but I am not sure how. What I would really like to do is to stretch it across and tack it to the frame so it is tight and the words and the picture stand out. I know that if I could do this it would make a beautiful, but inexpensive wall hanging. Has anybody out there ever done this? Would you share your method with me?

Thank you.
Louise from FL
Answers:
Making a Fabric Wall Hanging
There is an article in this months issue of Better Homes and Gardens on how to do just that. They took a piece of material and a piece of plywood and just pulled the material tight and used a staple gun to staple the material to the back of the plywood. They folded down the corners, kind-of like wrapping a present. It looked really nice even w/ out a frame around it. (05/25/2005)

By Rebecca
Making a Fabric Wall Hanging
I've made fabric wall hangings by placing dowels through pockets, made like you would curtains. The bottom dowel weights the fabric to stretch it. Tassels can be placed on the corners, and a piece of silky braid tied loosely at the two top corners will provide something to hang it. Good luck with whichever method you choose. It sounds lovely. (05/25/2005)

By Alex
Making a Fabric Wall Hanging
You can get wood stretcher bars like used in artist canvases from any art supplier in almost every size. Try the Dick Blick advertisement in this newsletter. Simply put them together (they interlock at the corners) and staple or tack the edge of the material to the back of the stretcher bars neatly. Good luck! sounds like it would make up lovely. (05/25/2005)

By Donna
Making a Fabric Wall Hanging
I am thinking that it is poly/cotton blend.So you need some wonder under-the stiff white stuff you can put on the back to make it not be so flimsy. Cut the wonder under the same size as the Psalm fabric.Choose a solid color same size as the Psalm fabric.By putting the wonder under between the Psalm fabric and the solid color and fold the edges down and stitch down all but the top edges. Get a dowel rod and cut it the same size as the fabric at the top of the hanging,leaving an inch on either side. Fold the top of the fabric over the dowel rod and stitch it down. Tie colorful cord or heavy rope-like twine on the dowel rod,and hang from the middle.

Hope this makes sense.
(09/06/2006)

By Nancy
Related
© 1997-2016 by Cumuli, Inc. All Rights Reserved. Published by
ThriftyFun
.
Page
generated on August 21, 2016 at 6:44:40 PM on 10.0.0.66 in 3 seconds. Use of this web site constitutes acceptance of ThriftyFun's
Disclaimer
and
Privacy Policy
. If you have any problems or suggestions feel free to
Contact Us
.