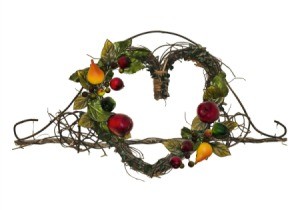 Making a decorative wall hanging, whether for the holidays or to enhance your decor is a great craft project for the novice or experienced crafter. This is a guide about wall hanging craft ideas.
Ad
---
Solutions: Wall Hanging Craft Ideas
Read and rate the best solutions below by giving them a "thumbs up".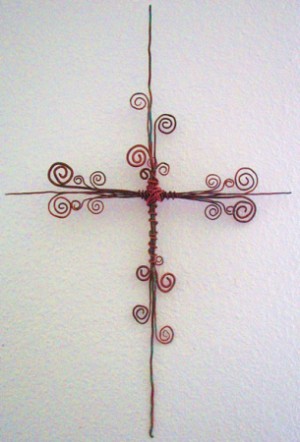 Every time I go beachcombing here where I live, on the shores of the Bering Sea, I find sea glass and tangled balls of thick copper wire on the sand. I started picking the copper up, hoping I would be able to one day figure out something beautiful and one-of-a-kind to make from it, which I now have! This copper wire cross makes the perfect Easter gift; mine looks divine on the wall of my kitchen!
Approximate Time: 1 hour
Supplies:
approximately 3 yards of copper or otherwise found wire
gardening gloves
needle-nose pliers
old towel
snips
Instructions:
Put on gloves and spread out the old towel over your work space.
Take your ball of wire and use your hands to gently straighten it out until you have long pieces.
Snip off a section of wire approximately 15 inches long.
Snip off another section, approximately 9 inches long.
Gather your remaining pieces of wire, and cut 6 equal sections off; place these next to your 9-inch cross-section.
Now cut five slightly longer pieces of wire in varying lengths; mine are (from shortest to longest): 6 inch, 8 inch, 9 inch, 10 inch, and 12 inch.
Place those five longer pieces with the 15-inch long wire.
With your remaining wire, cut into two equal pieces; snip one of those into two (so that you now have three total) and set aside from all others.
Starting with the 9-inch piece and its accompanying six, use one of the two last smallest wires from step eight to wind around and make those seven into a bundle, positioning the nine-inch piece toward the very middle of the bunch.
Using your needle-nose pliers, curl all six ends either outward or inward, working in a symmetrical fashion (see picture).
Now gather up the 15-in piece of wire and its accompanying five pieces of copper wire; again, use the other smallest piece of wire from step eight to wind around and make those six into a bundle as you position the 15-inch piece toward the middle of the bunch.
Use the pliers to once again curl the wires, this time all outward into little spirals (I staggered my curls in reminiscence of waves; see picture).
You should have two curly bundle pieces and one piece of stray wire left.
Position the shorter bundle over and at a ninety-degree angle over the longer bundle to form the shape of a cross.
Holding firmly in place, use that last piece of wire to secure the two together, wrapping in an "x" pattern until all the wire is used and the tails are tucked behind your cross, leaving about an inch on both ends to make a loop for hanging.
With the last inch of both tails, twist back upon themselves until you have a satisfactory little loop; now fold it up so that it lays flat against the back of the cross.
Find a deserving piece of wall to hang your newest treasure on, and pat yourself heartily on the back!
By Brianna from Dutch Harbor, AK
With some round disks, buttons, a drill, and a wooden placard, you can make this wonderful wall hanging for a gift or to keep.
Approximate Time: 2 hours
Supplies:
two sizes of round disks
a wooden placard
crochet thread and needle
buttons
raffia or ribbon
hot glue gun
scrap fabric
white glue and foam brush
fine tip felt pen
options: paint
Instructions:
When you search for a placard, you can use just about any kind.
Test the bleed factor on the back of it to make sure your felt pen will work.
If you have a steady hand and good spacial recognition, you can make the "stitch mark" like on this one. If you do not, you can always paint it or leave the edges blank.
Write "Friends are like unique buttons. You collect them one at a time." Center it and write it on paper if you want to make sure it's right.
Once that part is done, you can set this aside.
The round disks can be found in about any craft shop, so if you can, get the 2 inch and 1.5 inch for a variety. Drill holes in them like for buttons, mixing two and four holes for variety, as well.
You can paint these, or do what I did. The scrap fabric needs to be prepared with glue. This makes the fabric stiff and easy to cut like paper.
Once they are dried, lay the disks on them and circle cut them to glue onto the disks. You will need the foam brush to make sure the fabric gets glued to the edges of the disks.
Weigh them down for at least 15 minutes to bond the glue. You may need to trim any excess.
I painted the edges of the buttons black to match the felt tip. You can leave them tan if you wish.
Pick some scrap buttons to match the colors of the fabric you chose. Once the wooden and fabric buttons have dried, get some crochet thread to match the colors of the fabric. If you don't have any, yarn can work or just plain thread. However, keep in mind you will need a lot of it.
Thread the needle and get the effect you want, tying some in front and some glued to the back.
Hot glue the wooden buttons to each other using 2 in the front and 2 in the back, keeping it level. Make sure not to cover the nice threads.
Glue the buttons onto the wooden ones, and the top if you choose. If you have raffia, use it to hot glue to the back of the outside buttons and loop around to the back of the placard for the loop.
Give as a gift to a friend, or keep and hang on your wall. This is a craft best left inside out of the elements.
Enjoy.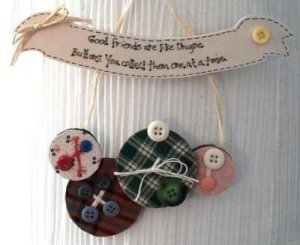 By Sandi from Yorktown, VA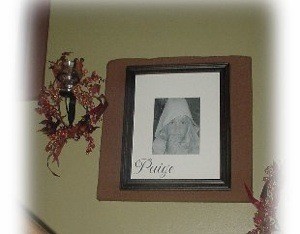 Are you having a hard time with trying to decide what to place on your wall in your open foyer? Or even just on a long wall? I have the solution for you!
Materials
24x24 inch plywood
1x2x24 inch wood strip
wood glue
sheet foam
favorite material
staple gun
picture hangers
Instructions
Glue the wood strip onto the board.
Glue foam on smooth side of board.
Stretch the material over the foam and staple it to the back of the board. Then nail the photo hanger in the center and you are ready to hang your photo.

Place several in a row to cover your wall! Looks wonderful. Functional Decorating! :)

By Kerry from Oak Harbor, OH
A recycled CD and flower makes a pretty wall hanging.
Approximate Time: Half an hour
Supplies:
Discarded CD
16 inches of gathered lace (straight lace will not lie flat)
16 inch strand of seed pearls
Artificial flower with leaves
Glue gun
Instructions:
Using a glue gun, glue the lace to the back edge of CD so just the ruffles show on the shiny side.
Glue the strand of seed pearls around the front edge of CD just inside the lace edging.
Glue leaves and flower at center.
Make a loop out of string or ribbon. Glue to back of CD for hanging it up.
These would also look nice edged with small seashells instead of lace.
By Preserver from Winnipeg MB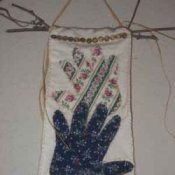 They won't be little for long! Children grow unbelievably fast, and it's the simple things that develop into treasured memories over the years. Capture your children's little hands with a subtle and natural wall hanging. This art piece looks great hanging amid framed photos on a wall.
What you'll need:
an 8 inch to 10 inch twig (yes, from a tree)
12 inch x 6 inch strip of solid colored fabric (cotton works best)
2 6 inch x 6 inch squares of calico fabric
needle and thread or sewing machine
buttons
one 12 inch raffia strand
two little hands
permanent marker or chalk
scissors
Instructions:
On the calico squares, trace two children's hands.
Cut out the handprints and set them aside.
Turn under and sew the edges of the 12 x 6 inch fabric.
Pin the calico handprints to the right side of the solid strip of fabric and stitch them onto the fabric. You may hand stitch them or use a zigzag stitch on a sewing machine.
Place the twig against the backside and top end of the solid fabric strip, then fold the fabric to envelop the twig. The twig should protrude from both sides of the wall hanging. Stitch this top fold straight across.
Tie the raffia to both ends of the twig to create a hanger.
Sew or hot glue the buttons along the stitches as embellishment.
This lightweight wall hanging can be suspended with a small tack or pin. Grandparents, aunts, and preschool teachers love handprint wall hangings as gifts. You can also sew calico handprints onto aprons, pillows, cup towels, valances, and vests.
By Shauna Smith Duty

Make your own scenes outside your "window". If you don't have a window, just paint one! I love beach and lighthouse scenes. So, I made my window looking out at a lighthouse.
Approximate Time
Supplies:
large oval wooden plaque
acrylic paints
clear satin spray sealer
paint brushes
picture hanger for back
Instructions:
Paint the plaque with a sealer such as Kilz.
Draw your "window frame" around the outside of the plaque.
Paint frame in white or brown to match your molding.
Draw out and paint your scene.
Draw a cross through the middle of the oval, making sure it is centered.
Enlarge the cross to the same size "pieces" as the outside of your "window frame." Paint in white or brown.
Use a gray or dark brown, depending on your molding color, make shadows on the inside of your frame. Also on the cross to make it look like the pieces are joined. This gives it depth and makes it look more real.
Spray with the clear sealer.
Affix picture hanger on back side.
By Artlady from Edmond, OK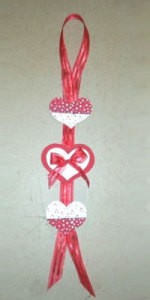 This sweet decoration is small enough to fit in any little nook, but pretty enough to be displayed on your favorite wall. Both children and adults can have fun creating this wooden heart and sheer ribbon craft.
Approximate Time: 30 minutes without drying time
Supplies:
large woodcut heart - one - 3 inches big
medium woodcut heart - three - 2 inches big
sheer red ribbon - 1 inch wide, 3 feet long
red paint
white paint
black paint
paintbrush
pencil
glue
scissors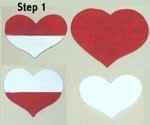 Instructions:
Paint the large heart solid red. Paint one small heart white.
Take two smaller hearts and draw a light line across the middle.
Paint one smaller heart red on the top and white on the bottom.
Paint the second smaller heart white on top and red on the bottom, as shown in the "Step 1" picture. Let dry.
Paint polka dots on the two smaller hearts. Use big and small, white, polka dots on the red parts. Use big and small, red, polka dots on the white parts, as shown in the "Step 2" picture. Let dry.
Paste the white heart on top of the red heart, as shown in the "Step 3" picture. Paint or draw a thin black line across the color break on the two, smaller, red and white hearts. Let dry.
Cut about 6 inches from the ribbon. Tie the cut piece into a bow. Cut off any ribbon ends that hang too long. Glue the bow to the middle of the white heart on the big red heart, as shown in the "Step 4" picture. Let dry.
Loop the remaining ribbon, lining up the ribbon ends. Glue the hearts on the ribbon, as shown in the finished project picture. Let dry.
By Aysha from Boise, ID
Using only felt, buttons, and thread I hand sewed this Christmas wall hanging while watching TV at night!
Approximate Time: 1-2 hours
Supplies:
9x12 inch green felt
Holiday buttons
Red ribbon
Scissors
Pins
Two 9x12 inch white felt
White thread
Needle
Coloring book page
Fabric glue (optional)
Instructions:
Find a coloring book page with the Christmas design of your choice (I used a tree) for your pattern. Cut out the design and pin to your felt. You can trace the pattern before cutting, but I just cut around the pattern.
Pin tree to white felt. (I found the felt at Walmart for $.25 a sheet already cut).
Stitch around tree.
Choosing which buttons to use took the most time, as I got a bag of them from Michael's for $3.00. After choosing which you want to use to decorate your tree, sew them on.
Cut two pieces of red ribbon, depending on how long you want the hanger to be and if you want to tie a bow. I cut mine approx. 24 inches each.
Attach ribbon by sewing a button on the front of the hanging through the ribbon.
Tie ribbon to desired hanging length and tie a bow.
To hide my stitches, I glued another piece of felt to the back.
By Jenn from Vineland, NJ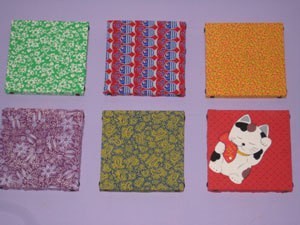 Can't figure out what to do with all that extra fabric hanging around in your crafting bags?

I used a hot glue gun to put it on square blocks of wood and then found funky upholstery tacks to put around the edges.

Put em up on the wall, and the room just pops with color!

By Julianna from Princeton, NJ
Make a gorgeous fabric picture frame to coordinate with your curtains or drapes!
Pick large frame like the size of 11x14 inches, 16x20 inches, or 18x20 inches. Larger sizes look more dramatic.
Use left over curtain fabric or a coordinating fabric for your frame. Also, use left over thin batting to have a more refined look.
Buy and inexpensive foam board 1/4 inch thick or less or cardboard from a large box.
Cut it a few inches smaller than the frame, so you leave enough allowance for the fabric that is going to be wrapped around it.
Cut your fabric to the size of the board with batting (very thin so you can get in frame after), with 1 1/2 inches extra to seal over corners/sides.
Using spray adhesive, spray your board, and gently place batting on on board, smoothing out all the wrinkles.
Place fabric on top, sealing on corners and sides with hot glue. Place back into the frame and secure down.
Optional: add multiple sizes of family photo for a more personal touch. Sepia or black and white photos look great on fabric frames. Now you have a nice unique coordinating picture in your room everyone will rave about.
By Kerry from Flat Rock, MI
This is a ruined lace tablecloth that was reincarnated into a wall hanging!
I cut a broom handle to fit and painted it. I put the drawer pull on the right end to go with the leaf rod finial on the other - its attached to the wall with 2 cup hooks. A dragonfly pop jewelry pin sits on the left end by the leaves.
By melody_yesterday from Sedalia, MO
Give a "thumbs up" to the solution that worked the best! Do you have a better solution? Click here to share it!
Questions
Here are questions related to Wall Hanging Craft Ideas.
Looking for instructions for how to make handmade wall hanging or craft.
By sanjyot from Mumbai
Ad
---
---
Most Recent Answer

By susan cantin [5]08/21/2009
What kind of wall hanging were you looking for? There are quilts, crafty with felt, macrame, crocheted. What season if any? What room? It depends on what you are looking for.
Does anyone have any idea of how to make a recycled craft using a plastic cake keeper? I am thinking of trying to make a decorative wall hanging or so on?
By chitra from Fremont, CA
Ad
---
---
Most Recent Answer

By kathleen williams [23]12/22/2009
You can hot glue plastic flowers to it for a pretty wall hanging, good luck.