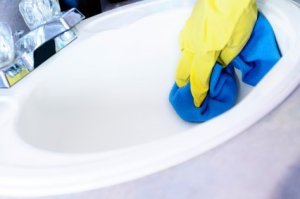 Microfiber cloths can be used without cleaning products for a wide variety of cleaning tasks. This is a guide about cleaning with microfiber cloths.
Solutions: Cleaning With Microfiber Cloths
Read and rate the best solutions below by giving them a "thumbs up".
Microfiber cloths work very well for all types of cleaning. However, they should not be washed with regular laundry. It is better to wash them separately. Do not use fabric softener. Some of the cloths state not to use bleach. Always shake them out to remove any collected dust or debris before washing. I wash them in hot water and detergent and hang to dry. While they can be put in a dryer, I think they last longer when hung to dry.
If microfiber cloths washed with other items, they will collect lint and will not clean well. Basically, they will just be ordinary rags. Think of the cloth as having microscopic "hooks". When they clog with small fibers, the "hooks" no longer work. It's impossible to remove any fibers once they clog. They have a "Velcro type" texture, so they are not for rough surfaces, only smooth. I have enough of these cloths to make a small wash load.
I use these cloths in the kitchen as dish cloths. They work very well when washing dishes, pots, pans, and other kitchen duties. When used for house cleaning, you can use them dry or dampened with water or any cleaner. This will depend on what you are cleaning. Rinse or shake out occasionally when using.
Microfiber cloths can be found at most stores. They come in many sizes and thickness. The best deals are usually at dollar discount stores. Also, check the automotive departments for a good bargain. They are reasonably priced and long lasting if cared for properly. My husband has his own batch of microfiber cloths for cleaning the cars and outside work. They, of course, get much dirtier than the house cloths. I wash those separately and sometimes will soak them a bit. Being there are so many different colors of these cloths, he has his colors and I have mine.
My favorite are the ones I bought at Dollar Tree, four in a pack for $1.00. I found them in the automotive department.
By mkymlp from Northeast PA
Like many others, I have discovered the glory of microfiber cloths and I use them everywhere and have been for years. One tip that has really helped to eliminate the use of paper towels, is to use a rubber band and attach a microfiber cloth to each one of my cleaning bottles. Now when I go to clean the windows, I grab the can, cloth is attached, throw the rubber brand on my wrist, and clean away. After a few cleanings, I throw the cloths in the wash and replace them with clean ones. Easy!


After showering, wipe the tiles and glass down with a "Magic Cloth" (microfiber) and you will never need to use cleaners or scrub your shower again.

By Muzza from Yarrawonga, Vic., Australia
To clean glass mirrors and windows, I use a microfiber cloth. Wet the cloth well and wring out as much water as you can. spray the window with glass plus, that is what I use, then quickly wipe the mirror dry. It should sparkle like a diamond. If you have large windows or mirrors, do a section at a time.

By Judy from Rapid City, MI
Instead of buying expensive furniture polishes, just buy 2 microfiber cloths from the super market. Wet 1 of them wring it out so its just damp and use that to wipe over the furniture and dry with the other one. I do this because I get bad dermatitis on my hands. This saves a lot of money and works just the same as furniture polishes.
I put several microfiber cloths in a basket in each bathroom. We use them for drying our hands and for cleaning. I have a small basket that holds the dirty cloths, then I wash them all at one time. It's easy to return them to the bathrooms and when washed separately they don't have anything else clinging to the microfiber cloths.

By Bonnie from Lascassas, TN
Give a "thumbs up" to the solution that worked the best! Do you have a better solution? Click here to share it!
Questions
Here are questions related to Cleaning With Microfiber Cloths.
I hate the feeling of microfiber towels or cleaning cloths. Is there anything that takes that pinchy feeling away?
By Donna