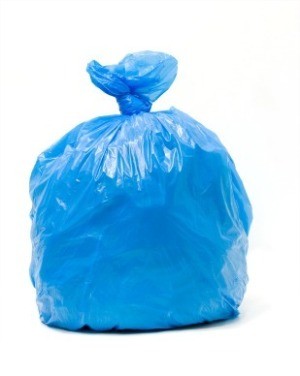 Keeping your garbage can odor free can be a challenge. This guide is about reducing trash can smells.
Ad
---
Solutions: Reducing Trash Can Smells
Read and rate the best solutions below by giving them a "thumbs up".
An inexpensive way to keep a room smelling fresh is to spray the plastic garbage liner in your waste basket with a room or body spray. The scent will linger for a long time!
By Diane from Phillipsburg, NJ
When having shrimp or fish, to deal with the smell of peelings, shells, bones, or cleanings afterward put the peeled shells or bones in a plastic bag and seal before throwing in your garbage. This will help to control the smell until you can take the garbage outside. It will also help keep the friendly neighborhood animals from making a mess of your garbage can.
By latrtatr from Loup City, NE
I have 6 cats in my house and empty a lot of litter pans. The stench of dirty litter can quickly overwhelm my garage from the trash cans, so I've designated one as my dirty litter can. That can has a tight fitting lid, and to keep the can and the garage smelling nice, I buy those little car air freshener trees, and tape one to the inside of the trash can lid, with packing tape, by the string. Makes a world of a difference in the odor that greets me when I open up my garage door!
By Jazzyjuls from Ellicott City
Save your cereal boxes or cake mix boxes and use them to scrape your food off your plates in when cleaning kitchen or doing dishes. That way if your trash starts to stink before you can get it outside to the trash, all you have to do is remove the box, and take it out. I started doing this and usually I end up putting the scrapes into the box and then the box into a plastic grocery bag.
Makes it easier too, not to have food falling out of your trash bag, or leaking into other items while waiting to fill the big can.
By Nana Lee
Wait; don't throw that empty microwave popcorn bag in the trash! After popping the corn, fold the empty bag flat and store them till you need one. Use it instead to put smelly trash items in to keep from stinking up your house. Put the Styrofoam flats and meat pack that are used by grocery stores for steaks, chops, chicken breast, burger meat, etc., in them instead. Give the flats a quick rinse and fold up as small as you get them and them stuff them into the empty microwave popcorn bag, roll top of bag down tightly and throw it in the trash. The microwave popcorn bags are tough enough to contain hot oil and popcorn so keeping the smell out of your home is a snap.
By John from Columbus, GA
I put a scented fabric softener sheet under every trash bag and inside of the bag, too, for the trashcans in my house. It seems to really help not only the trashcans by absorbing odors but seems to freshen the air in the room too!
By julrobs from North Augusta, SC
Keep your kitchen trash can fresh and sweet every time you open the lid! Just squirt your favorite room freshener inside the lid and enjoy for days, even between bag replacements!
By Neelie [3]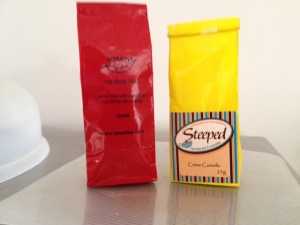 We tend to buy more tea, rather than use up what we have, but we can't give it away because the package is already open. So instead of throwing it out, pour some of the dry loose tea inside your smelly garbage can. This will eliminate the smell until the bag is packed and you're ready to toss. If you use tea bags, just cut them open and pour into your garbage.
By Wendy from Calgary, Alberta
Give a "thumbs up" to the solution that worked the best! Do you have a better solution? Click here to share it!
Questions
Here are questions related to Reducing Trash Can Smells.
How do I get rid of the rotten smell in the wheelie bin (garbage bin)?
By Jan62 from Netherlands
AnswerWas this interesting? Yes No
Ad
---
---
Most Recent Answer
By Keeper 58 1,056 07/24/20100 people found this helpful
First washing it out w/baking soda should help a lot. I drilled holes in the bottom of mine this allows fresh air to circulate and placed a layer of newspaper on the bottom (replacing when necessary). In between trash pick up I hose the can out and turn upside down until I use it.
Photos
Below are photos related to this guide.
I live in the country and don't have a disposal. I bag up my "stinky" stuff every day and take it to the dump once a month. In the meantime, I don't like to keep it in the house, so I put it in a double bagged can out on the porch. Sometimes, however, I get something that gnats love, like bananas or cantaloupe that needs more bagging than usual.
That is when I get a single bread wrapper to do triple duty. I put the offensive items in the bread bag, then twist it really close to the bottom. I pull it back over itself and twist it again. Then, I repeat. That is triple the wrapping without triple the bags!
Sometimes, the last wrap isn't enough to twist it for a tie, but a little tape is all you need. This almost completely protects the 'stinky" stuff from attracting anything. It is also really good for diapers!
By Poor But Proud from Coos Bay, OR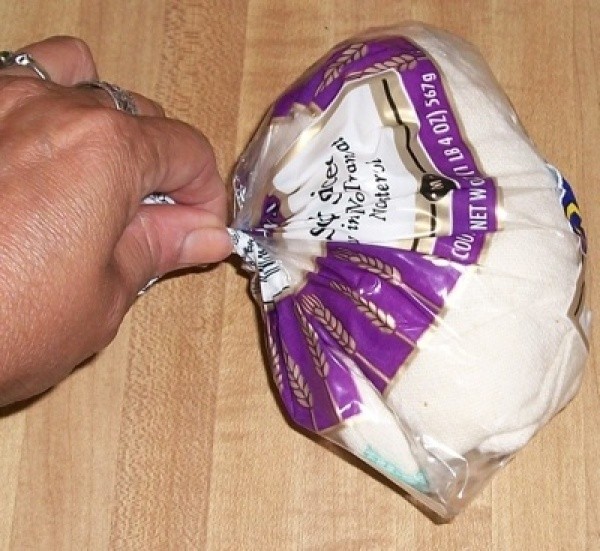 Archives
Thrifty Fun has been around so long that many of our pages have been reset several times. Archives are older versions of the page and the comments that were provided then.
Tips for keeping trash from smelling in the kitchen. Post your ideas.