Videos
Watch and rate the videos below.
Solutions: Homemade Easter Baskets
Read and rate the best solutions below by giving them a "thumbs up".
Share Your Feedback:
Once you try any of the above solutions, be sure to come back and give a "thumbs up" to the solution that worked the best for you. Do you have a better solution? Click "Share a Solution" above!
Questions
Here are questions related to
Homemade Easter Baskets
.
Use a Balloon to Make an Easter Basket
Years ago I made Easter baskets using crochet thread and sugar water. I have read the 'instructions' found on ThriftyFun, but cannot find the type/size of crochet thread to use. I have not been successful with a size 10 thread, but it is very tight. It will get stiff, but will not stick to the other threads, therefore you end up with a pile of stiff thread on the table when you pop the balloon. Help!
By Joyce from Oroville, CA
---
Most Recent Answer

By cuppink
02/15/2012
http://www.youtube.com/watch?v=YlXzaOEe_2I
Cut and paste this address to your browser. This video on youtube should help you create beautiful crochet easter egg baskets. It is step by step.
Making Bleach Bottle Bunny Easter Baskets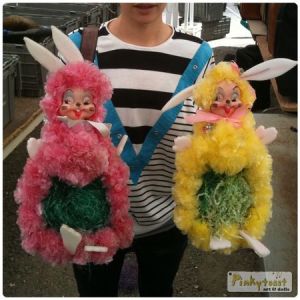 I am looking for directions on how to make an Easter basket like one I received as a child in the 60s. (something similar to the attached photo of a pinkytoast basket) My mother made it out of a bleach bottle and it had a hole cut in the front or back. The "fur" was made from colored plastic attached to the bottle with pipe cleaners. It was fluffed up like a pom-pom. I got a pink bunny and my brother got a yellow duck. I would like to make some for my grandchildren. Any ideas?
By Cindy S
---
Most Recent Answer

By ikestine
03/29/2013
Supplies: Hot glue gun and glue sticks, Bleach bottle or any strong plastic bottle, Styrofoam ball (large), Bunny ear headband, Doll face or rabbit face (very hard to find I am using my originals from the 60s), Pipe cleaners cut into 1 inch pieces, a few rolls of cellophane wrapping paper cut into 2X3 inch squares, 1 inch pompoms, 3 inch pompom for tail, accessories to decorate with flowers, birds etc.

Directions: first cut the hole in the bottle where you want the opening, then Hot glue the Styrofoam ball firmly to the top pressing down. Glue on headband, glue on face, Take each square of cellophane and fold it like a bowtie then take a pipe cleaner and twist it in the middle of cellophane.

After you have your cellophane pieces ready begin gluing them into the Styrofoam head or you can use the pompoms for the head, Then glue the cellophane pieces directly to the bottle. After all cellophane is glued in place you can take scissors and trim cellophane to look nice. I hope this helps.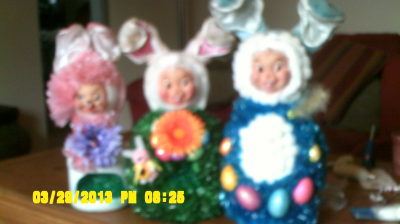 Photos
Here are photos related to this page. Rate the photos that you like the best.
Click here
share a photo.
I designed this Easter Basket for my 1 year old granddaughter. I drew a bunny on both sides by hand, with beads for eggs under him. Then I put a pom pom tail on the end. I spelled her name out on the handle, with more egg beads.
READ MORE
Related Guides
Related Posts