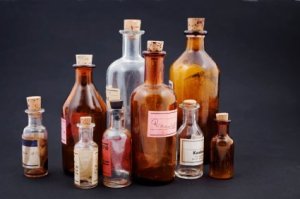 Solutions: Crafts Using Old Glass Bottles
Read and rate the best solutions below by giving them a "thumbs up".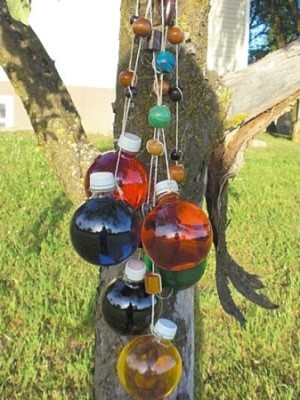 Finding pop in round bottles last week sat my heart to racing to realize that a little colored water in each hung from beaded twine would do wonders for my yard which is mostly "basic green."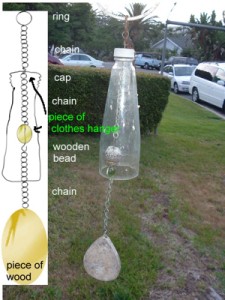 Materials
1 bottle, bottom removed using glass cutter
3 different lanes of chain
Two pieces of clothes hanger (used to connect lines of chain indeed up in an S shape)
Wooden bead
Key ring
Instructions
I make the wind chimes out of liquor bottles, wine bottles, and this one happens to be a wine cooler bottle. I use a glass cutter and cut off the bottom. I use a ceramic knife sharpener to smooth the sharp edges. If it has a screw on top, that's a plus.
Starting on the bottom, you need something to catch the wind this happens to be a small piece of wood, I have used old CDs, cut up place mats and Plexiglas shapes, connected to a length of chain (it varies with each bottle). Use a piece of clothes hanger and make a loop connected to the first piece of chain. Triad a large wooden bead (clapper). Make another loop on the opposite end of the piece of clothes hanger. Add another piece of chain and feed this piece of chain through the cut bottle from the bottom to the top determine the right length of chain and then cut. After poking a hole in the middle of the cap, use another piece of clothes hanger connected to the chain and feed it through the cap. Make another loop with another piece of chain on the opposite end of the cap. Determine the length of chain from the top of the cap to the hanging ring.
If your bottle does not have a screw on top, I use a bead just big enough that it won't slide through the opening or you can use another key ring. Just remember to feed it through the bottom of the bottle out the neck before you attach your hanging ring. I have never had one break from the weight.
By Babbie from Lemon Grove CA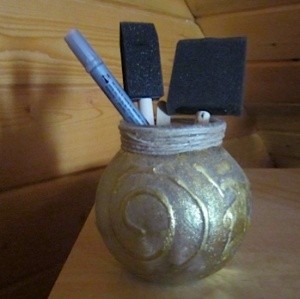 I cleaned my old rose bowls with soap and water and then added gold or silver leaf. I glued hemp string along the top for more flare.
Approximate Time: 1 hour
Supplies:
glass bowl
low temp glue sticks and gun
gold/silver leafing sheets
hemp string
spray glue
Instructions:
Wash the old rose bowl and dry very well.
Use a low temp glue gun to draw designs on the outside of the glass.
Use spray glue over the whole outside when hot glue sets up, to get some of the wider spots sticky. Then the sheets will fill it in.
Once the glue is cool, lay sheets of gold or silver gold leaf sheets. Press with your finger where you'd like the gold or silver.
Remove gently and you'll have the glue covered with color.
Add the string to the top and you are ready to go.
By Louella from Billings, MT
You can make a bottle tree. Just put on branches in or near the garden. Blue ones look great for this.
Turn upside down and put in ground, evenly spaced apart as a border for a garden.
Make a lamp.
Use to store herb/citrus infused olive oils and vinegars. Decorate with dried herbs and flowers, if you like.
Use to store bubble bath or lotion.
Use as a vase, put 1 stem in each.
Break and use for mosaic tables, planters, stepping stones, bird baths, wind chimes (wrapped with wire), etc. Be very safe and wrap in a towel or large rag first before breaking and wear heavy gloves to protect your hands while handling.
By Karen from Pawtucket, RI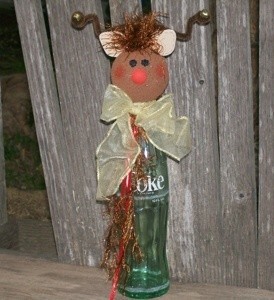 Create this fun Reindeer decoration using an old vintage Coke bottle. Collectors of Coke memorabilia will love this red nosed icon, as well as those who enjoy decorating with antiques.
Approximate Time: A few hours
Supplies:
Glass Coke bottle
2 1/2 inch Styrofoam ball
Brown, red and black acrylic paint
Paint brush
Table knife
Brown chenille stem
Tan craft foam
Ruler, scissors
lightweight cardboard
Fine tip black permanent marker
Craft glue, hot glue
1/2 inch wood plug
Small stencil brush
New pencil
1 1/2 inch wide gold wired ribbon, 24 inches
1/8 inch wide satin ribbon, 18 inches
Eyelash yarn, 1 yard
3/8 inch gold jingle bells, two
Instructions:
Place the Styrofoam ball over the top of the bottle and press down. You want the neck of the bottle to penetrate about one inch. Remove the ball and paint around the hole and the bottom half using brown acrylic paint. Apply craft glue to the rim of the bottle and replace the ball on the neck. Note: Do not apply too much glue, you do not want it to drip inside the bottle where it can be seen. Finish painting the remainder of the ball brown.
Paint a 1/2 inch wood plug using red acrylic paint and allow it to dry. Press the plug into the center front of the ball for the nose. Remove the nose. Apply craft glue to the indentation and reinsert the nose. Use a stencil brush to lightly pounce the cheeks with the red paint. Dip the eraser end of a new pencil into black acrylic paint. Dot two eyes a 1/4 inch above the nose and a 1/4 inch apart. Allow the paint to dry.
Draw a 1 inch leaf or tear drop pattern on lightweight cardboard for the ear shape and cut out. Lay the pattern on tan craft foam and trace around it. Do this twice for two ears. Cut the ears out. Use a fine line black permanent marker to make stitch marks around the edges of the ears. Fold the brown chenille stem in half. Pull the sides apart, forming a "V" shape. Form the antlers, one side at a time. Measure 1 1/2 inches up from the bottom of the "V" and bend the stem down. Measure another 1 1/2 inches and bend up. Measure another 1 1/2 inches and wind the remaining end of the antler around a pencil. Repeat for the other antler side.
Insert the blade of the table knife in the top of the head and cut it from right to left, creating a 2 inch slit. Rock the knife slightly to widen the slit. Apply craft glue to the bottom center of the antler "V" and the bottom of each ear and insert into the slit, using the picture as a placement guide.
Cut the eyelash yarn in half. Cut 4 inches from one 18 inch length and set aside. Wrap the remainder of the piece around three fingers. Carefully slide the yarn off your fingers and tie the 4 inch piece around the center to create a tassel. Apply hot glue to the top of the head, between the ears and antlers. Set the tassel in the glue. Hot glue a jingle bell to the end of each antler.
Hold the remaining eyelash piece and the 18 inch red satin ribbon together. Wrap around the neck of the reindeer and knot. Tie the gold wired ribbon around the neck and tie into a two inch bow.
By Cyndee from Winfield, Kansas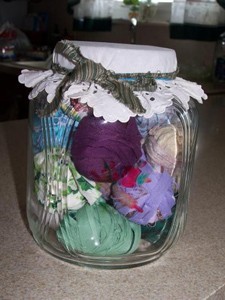 Some people like the looks of old vintage jars filled with items to remind them of the olden days. This one is filled with rags rolled up like they use to make the old rag rugs.
Approximate Time: 30 minutes
Supplies:
pickle jar
doily
rubber band
cotton rags torn into narrow strips
decal or sticker
Instructions:
I found an old pickle jar at my father-in-law's that had sugar stored in it for ages. The plastic lid was cracked and the jar was stained. I first threw away the sugar and lid and washed it well.
I applied a water transfer decal I had gotten from e-Bay and never used. First you dampen the area where you want to apply the decal with water. Soak the decal for 30 seconds in warm water. It slides off the paper unto the jar. Pat it gently with a dry towel and smooth out the air bubbles. Let dry. I wasn't really happy with the results. It was too transparent. Maybe a sticker would work better.
I made enough rag balls to fill the jar by simply wrapping the torn strips around until they were the right size. Put in the jar.
I found a doily that was the right size and centered it on the top. I took a large thick rubber band and put it on the jar to hold the doily in place. Then I took a longer strip of fabric and tied around the top of the jar into a bow.
You may want to fill with the old clothespins, potpourri, dried berries, marbles, etc.
By Little Suzy from OH
I like to recycle glass bottles, such as soy sauce, sweet and sour sauce, etc. into decorative glass bottles. Here is one I made using scented candles to drip onto the bottle.
Do not use little tea candles, as the center can come out while still on fire. I have had this happen before. This bottle smells so good, and then I put things like flowers, pretty rocks, potpourri, etc. in them.
In order to make them, you light a candle that smells good, and then hold it over on its side until the flame makes the wax melt. I hold the bottle sideways and let the wax fall down the length of it. Sometimes I do dots and patterns. But is it supposed to look like an old, old, candlestick that has years of candle drippings on it.
I put some leftover lace around the top this time. They do not make suitable candle holders, since the wax would melt (obvious to some, but I tried it once :)
I like to look at them. I have made them all my life, they are kind of a fall tradition around here at our house.
Blessings.
Source: From Girl Scouts, a long, long time ago.
By Robyn from Tri-Cities, TN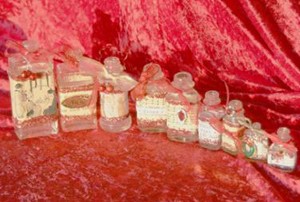 I picked up a huge box of little vintage bottles at the flea market last summer for $5. They were pretty dusty but salvageable. I trimmed them up as shown and popped in tiny message scrolls and gave them as gifts. They are cute conversation pieces. Add hooks and they make nice ornaments.
Approximate Time: Approx. 20- 30 minutes each
Supplies:
old bottles, various sizes
images or music for labels
glitter, ribbon
vintage jewelry parts
scrapbook embellishments
handwritten messages
decoupage medium (like Mod Podge)
cup of cold tea and cloth for dipping (optional)
Instructions:
If bottles are dirty, place a tiny bit of steel wool on the end of a small, flat artist's brush and scrub inside. Turn upside down and dry thoroughly.

Scan images or music from old books and save as jpegs.

Measure bottle size and reduce images to fit.

Print images and cut out with paper cutter.

Stain with tea-dipped cloth if desired. Allow to dry.

Apply glue to long edges of labels with small brush. Dip in glitter. Lay flat to dry.

Attach labels to bottles with decoupage medium.

Tie ribbons around bottle necks.

Add jewelry parts and embellishments, such as word stickers, as desired.

Measure a square of thin paper or vellum and cut so it will stick out of the top of the bottle. Stain with a damp cloth dipped in tea (optional) and let dry. Write desired message. Roll tightly and tie with tiny red string and stick into bottle.

Slip hook under ribbon on bottleneck for hanging.
By Cindy from Waynesburg, PA
Give a "thumbs up" to the solution that worked the best! Do you have a better solution? Click here to share it!
Questions
Here are questions related to Crafts Using Old Glass Bottles.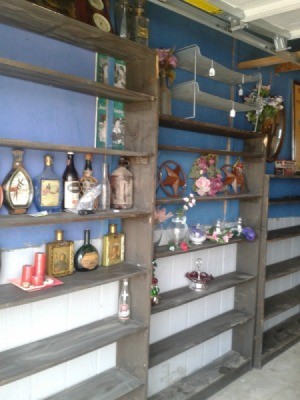 I personally have over 1200 old bottles. I would like to know how to make these into arts and crafts. Can someone help me please?
By Brad M. from Harker Heights, TX
---
Most Recent Answer

By worrellnorma [2]12/02/2013
Years ago my husband & I went to a diner, and on the table was an old bottle where they kept adding different colors of candles where they would melt down. It looked like a bit of Italy.
I have been digging up old vintage glass bottles from old trash dumps. These bottles are different shapes and sizes. The bottles vary in color, lime green, dark olive green, dark amber, blue, and clear. Some bottles have very thick glass and have a variety of openings. The bottles range in age from 20 years to 60 years old. I have dug them up and brought them home.
Some of them I have cleaned up and have on display in my house. The ones that I have in my house are small ink bottles or small perfume bottles. I would like to decorate the brown flask liquor bottles, brown glass Clorox bottles, cobalt blue bottles, the wine bottles, and a variety of other glass bottles and jars that I found unique enough to bring home. If I had some craft ideas, I think I could get busy making some money from my hobby.
By Wanda
---
Most Recent Answer

By Frugal Sunnie [11]03/12/2012
My husband says you should do some research online and in library books because some of those bottles could be worth a serious lot of money. We have one old bottle (about 60 yo) that is worth over £1000-that's $1565 at current exchange rates. In the UK the apothecary bottles are the valuable ones, I expect it to be the same in the US.
I would like to know how to decorate a variety of decorative bottles. Maybe how to put items in the bottles like flowers, etc.?
By Trinity from Portland, OR
I left an empty stainless steel pot on my ceramic glass top cook top and now I have a foggy type ring stain on the burner. Any suggestions on how to remove it? I tried vinegar, baking soda, stove top cleaner and nothing worked. Am I stuck with the stain?

Dianne G. from Miami, FL
---
Most Recent Answer

By (Guest Post)04/30/2008
Just setting an empty pot on your stove would not leave a ring. Did you place the pot on a hot burner? That might cause a burn mark on the stove top that you probably couldn't get out. It will probably darken the more you use the stove.
Archives
Thrifty Fun has been around so long that many of our pages have been reset several times. Archives are older versions of the page and the feedback that was provided then.
***
*** These used to be glass water bottles but after some easy decoupage they now are some little flower vases that you can use anywhere!
By Orquidea from Porto, Portugal
***
*** I love vases and I am the recycling queen, so I use all kinds of bottles for vases: for flowers, beach finds, etc. For these, I painted one white and wrote symbols on it with markers. One has rub-ons. There is a vodka bottle, Prego jar, garlic jar and incense jar.
By moonseekerjade from Onset