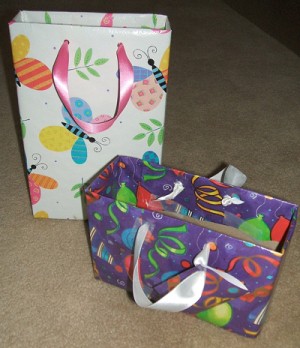 Making your own gift bags is a great recycling and money saving project. This is a guide about homemade gift bags.
Ad
---
Solutions: Homemade Gift Bags
Read and rate the best solutions below by giving them a "thumbs up".
If you don't have the right size gift bag on hand, create your own by recycling a box. These are much sturdier than gift bags and can be used over and over again.
Approximate Time: About 20 minutes
Supplies:
empty box, such as a cereal box
wrapping paper
scissors
tape
hole punch
ribbon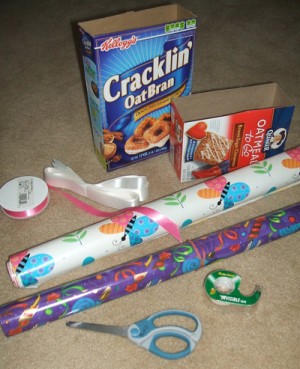 Instructions:
Trim the top flaps from your box. Wrap the box with gift wrap as you would a gift, leaving about two inches of paper at the open end of the box. Fold the excess paper to the inside of the box and tape to secure.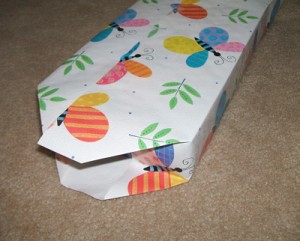 For the handles, punch two holes on opposite sides of box, thread ribbon through the holes and knot the ends.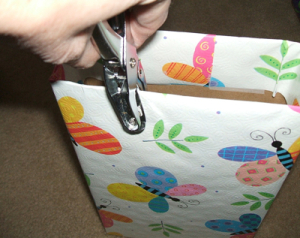 You can even create a gift tag from leftover wrapping paper. Fold a piece of the paper in half, punch a hole in the corner, and thread it onto one of the ribbons before threading the ribbon through the hole.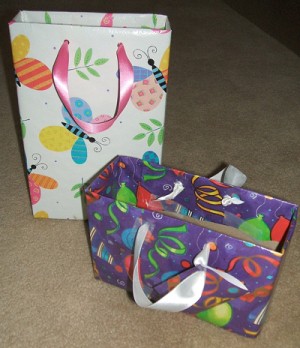 By Rachel's Mom from Wilkesboro, NC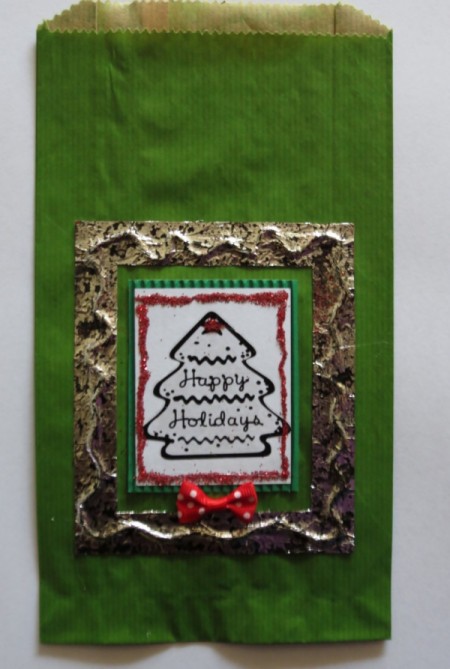 Use aluminum foil and some shoe polish to create this mock pewter gift bag. Fill it with stocking fillers or candies, and you are ready to spread some Christmas cheer to friends and neighbors alike!
Approximate Time: 15 minutes
Yield: one bag
Supplies:
green gourmet paper bag
4 x 4.6 in cardstock
2.3 x 3 in green corrugated cardstock
2.2 x 2.6 in ordinary white printer paper
aluminum foil
red fabric bow with white polka dots
self-adhesive Christmas sticker of a Christmas tree
red glitter
thin white twine
pencil
ruler
scissors
Kiwi Instant Wax Shine for shoes (black)
quick-drying craft glue
stocking filler or candies
Ad
---
Steps:
Take the piece of 4" x 4.6" brown cardstock and cut out the inside, leaving a space of 0.5" from the outer edges of this piece to make a "frame."
Glue pieces of twine onto the frame.
Glue aluminum foil over the frame and cut out the inside. Also cut off any protruding edges on the outside. The foil will have texture when it is glued over the twine. Note: The glue must be added to the dull side of the foil.
Use the shoe polish to add some detail to the foil frame and allow to dry thoroughly.
Glue the frame to the front of the gift bag.
Centre and glue the green corrugated cardstock in the middle of the frame.
Apply the Christmas tree sticker onto the piece of white ordinary printer paper.
Centre and glue the piece of printer paper on top of the corrugated cardstock.
Make a frame around the piece of printer paper with glue.
While the glue is still wet, sprinkle a liberal amount of glitter over the glue.
Shake off any excess glitter.
Glue the bow in place below the piece of printer paper.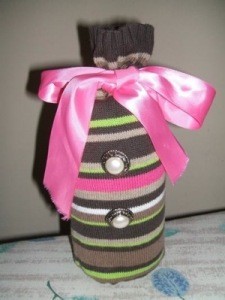 Turn the sleeve of an old sweater into a personalized gift bag. Place it over a canning jar filled with homemade soup, layered cookie mix, or some homemade goodies and you'll have a warm and cozy gift for a friend or shut-in!
Approximate Time: About 30 minutes
Supplies:
old sweater
scissors
needle and thread
26 inch length of ribbon
2 or 3 coordinating buttons
canning jar with lid
cardstock for tag
colored marker
Instructions:
Cut about an 11 inch length of sleeve off of sweater (starting measuring at cuff and going up.)
Slide sleeve over jar with cuff at top of jar.
Use needle and thread to slip-stitch around cut edge at bottom. Pull thread tightly and knot to secure.
Remove sleeve from jar and set aside.
Fill jar with soup, layered cookie mix, or homemade treat of your choice.
Place lid on jar and slip sweater sleeve back over jar. Gather sleeve above lid and tie ribbon around top into a bow.
Cut a tag from cardstock and write a personal message on the tag, such as "Get Well Soon," or "Happy Birthday."
Use needle and thread to attach buttons to front.
By Rachel's Mom from Wilkesboro, NC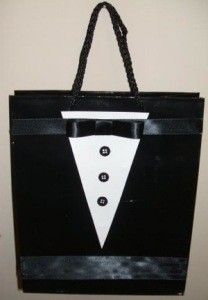 Dress a wedding gift in formal wear with this tuxedo-style bag, or use it for a special gift for that special man in your life.
Approximate Time: About 20 minutes
Supplies:
black gift bag
3/4 inch wide black satin ribbon
white card stock
3 small black buttons
scissors
pencil
ruler
craft glue
Instructions:
Cut white card stock about 2/3 of the length and 2 inches shorter than the width of the gift bag.
On wrong side of the card stock, mark the center of one short edge and draw a line from each of the corners on the opposite end to the mark, forming a triangle. Cut along the lines.
Apply glue to the wrong side of the triangle along all edges. Attach paper to the front of the gift bag, centering it just below the handles.
Cut 4 pieces of ribbon that are the width of the gift bag. Glue 2 pieces of ribbon side-by-side to the front of the gift bag, so they are centered between the bottom point of the triangle and the bottom of the bag. Apply small amounts of glue to the cut edges of the ribbon to prevent fraying.
Center and glue another piece of ribbon on top of the affixed ribbon pieces to resemble a cummerbund.
Glue the last strip of ribbon to the bag about a half inch from top of triangle. Apply small amounts of glue to the cut edges of each side of the ribbon to prevent fraying.
To make the bow tie, cut a 7-inch length of ribbon. Glue ends together (forming a loop) and overlapping ends about 1/4 inch. Apply glue to center of the ribbon loop and pinch opposite sides together, creating two loops.
Cut a 2 1/2-inch length of ribbon and wrap it around the double loop bow and glue in place.
Glue bow to the bag, centering it over the ribbon near top of bag.
Glue the buttons below the bow, making sure to space them evenly apart.
By Rachel's Mom from Wilkesboro, NC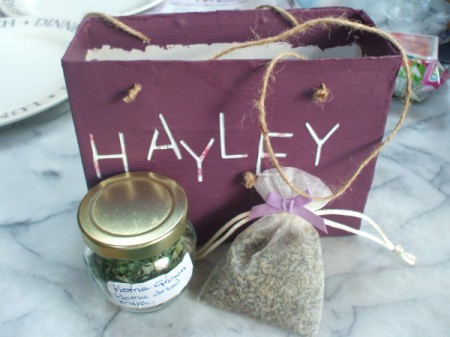 This gift bag is made from a crispbread box, painted using a 99p test pot. For the handles I used twine/string. I filled it with homemade items; home grown and dried mint, and a lavender sachet. I used a letter stencil on some craft paper I had for a guide on the letters of the recipient's name, but magazine pages can be used and are very effective.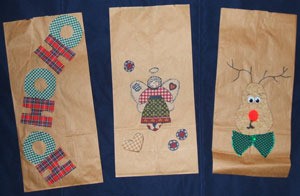 Create your own gift bags using ordinary brown lunch bags, fabric, and fusible web. I cut out the words "Ho ho ho" from plaid fabric and fused them on a bag. On another, I cut out an angel that was pre-printed on the fabric and fused it to a bag. I also cut out a reindeer head and bow tie and fused them onto a bag and then added details using craft paint, moveable eyes, and a pom pom for the nose. You can even use white lunch bags; I created an elf on the white one. The possibilities are endless.

By Momof1 from Wilkesboro, NC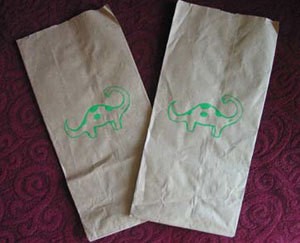 These bags make great inexpensive gift bags or you can use them for parties.
Materials:
paper lunch sacks
acrylic paint or any kids paint
crayons
pens
paint brushes
stencils or stamps if desired and available
Instructions:
Get all the painting supplies ready for kids.
Lay out some lunch sacks.
Let them make designs on them with whatever supplies they like.
If you want a bunch of bags that are the same, have the kids use inexpensive stamps or stencils and help them.
We used a dinosaur stencil I had made and painted it on the sacks and used these for a birthday party. They are fun to make and the kids loved them!
By Mara from Seattle, WA
By Mara Rivet
Materials
9x12 inch felt
scissors
sewing machine or glue or needle and thread
ribbons, elastic ties, etc for decorating
Instructions
Take a 9x12 sheet of felt and cut it in half longways with decorative scissors (you can use straight cut scissors, too). Then fold in half short ways. Sew 1/4 inch seam with machine or by hand or glue side openings only, to close. Leave the top open. Makes a nice little gift bag. Decorate as desired. Let your imagination go wild :)
I put zipper plastic bags inside with 1 cup of flavored coffee creamer or chocolate mix and tie with covered elastic (in the holiday ribbon section at WalMart). I placed a sticker on the zipper bag with name of ingredients and directions for use. I then placed a sticker on the outside of the felt bag with the name of what was inside. Makes a cute stocking stuffer or small gift. Also, it is another idea for craft shows for the holidays. I make my own "gourmet" mixes to put inside.
By Hvnlyhills from Peebles, OH
If you ever come into possession of the shopping bags with twine handles, used by some of the more "upscale" stores, turn them into gift bags! For example, cut the front off of a Christmas card picturing Santa, a winter scene, etc. Glue the card front to the bag over the store name. Now use it as a Christmas gift bag! Gluing a generic picture, such as a flower, sunset, etc over the store name would make the gift bag suitable for birthdays and other occasions.

By Becki in Indiana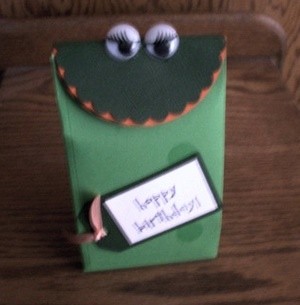 This little froggy gift bag is very easy to make, using a 12x12 inch piece of card stock and scoring a bit, two circles and a couple of eyes. The bag itself isn't very big but fun. I made it for my granddaughter's birthday!

By Jill from Albert Lea, MN
Keep the kids busy and have great, cheap gift bags. Get a pack of brown lunch bags at the dollar store and let the kids decorate them with markers, stencils, glitter-glue, whatever is on hand. Punch 2 holes in the top and thread a ribbon, yarn, or raffia thru and tie a bow. Custom gift wrap! As elaborate or simple as you like AND it keeps the kids very busy having fun!

By Linda
Give the kids a stack of brown paper lunch bags to decorate. Use them for small gifts. Add a ribbon tie, a raffia bow or staple shut and add a stick-on bow and you're good to go!

By Linda
Give a "thumbs up" to the solution that worked the best! Do you have a better solution? Click here to share it!