Valentine's Day Crafts for Kids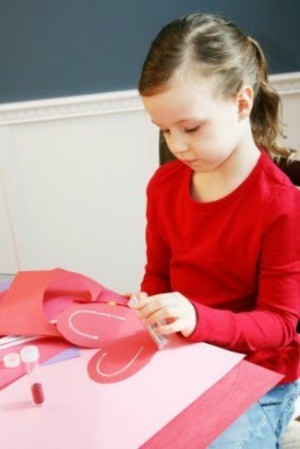 Kids love to create crafts for any occasion. Valentine's Day is a popular time for making crafts, with hearts abounding. This is a guide about
Valentine's Day crafts for kids
.
Use paper plates, various types of paper, and a scrap piece of ribbon to create cute holders for Valentine's Day cards. A quick, easy and inexpensive craft for kids.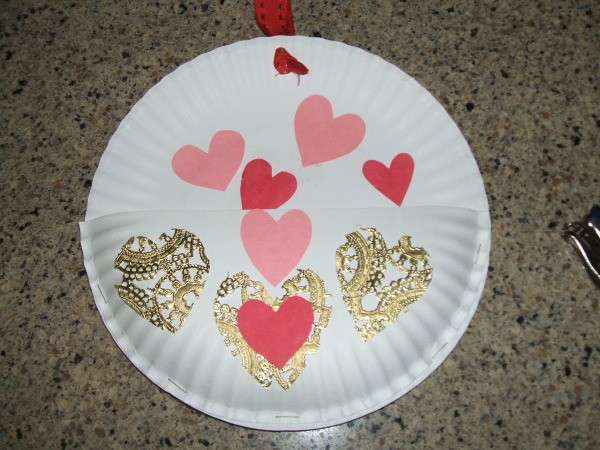 Approximate Time:
Supplies:
2 paper plates
scissors
stapler
hole punch (optional)
various types of paper or fabric
glue stick
ribbon scrap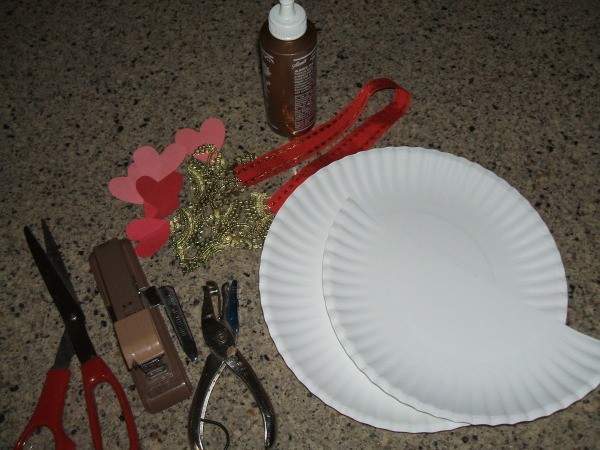 Instructions:
Cut one paper plate in half.
Invert the plate on top of a full size plate.
Use stapler to staple the two halves together along the bottom.

Cut out different sizes of hearts from construction paper, doilies, scrapbook paper, or fabric.
Use a glue stick to apply the hearts.
Use a hole punch (or scissors) to create a small hole at the top of the holder. Using a scrap piece of ribbon, slip both ends through the hole from the back and knot the two ends together to create a hanger.
By Rachel's Mom from Wilkesboro, NC
This is a great craft where you can recycle and get the children involved also. Kids love to create and they will be proud to give grandparents or even a teacher this card!
Approximate Time: approx. 2 hrs.
Supplies:
CD or DVD with case
construction paper
photo of child
double back tape and foam double back tape
finished hearts paper that child drew
ribbon-optional
Instructions:
The case I used had a see thru plastic sheet on top that the insert sat under.


If yours does not, just adhere straight onto the cover. You can cover the picture with clear contact paper first, if desired.

Cut a background from construction paper for the cover. Cut your child's drawing slightly smaller. Use double backed tape to adhere together. Slide this under the plastic sleeve on top.
For saying inside, print out on computer or have the child write it. Cut to fit inside on left side.

Most CDs and DVDs sit on a raised button. I did not want a hole poked through the photo so after adhering the photo to the CD, I turned it over and covered the hole with a square of thin cardboard. I used pieces of thick sponge foam double sided tape and built up on the case where the CD sits until the CD sat evenly with the button.

Now put small dots of glue on the tape and the cardboard in the center to help adhere the CD. Between the foam tape and the glue, the CD sits securely.


This card was made for my grandchildren to give to their parents. The oldest is 15 and finding pictures of all 4 kids together is a rare thing. At that age, unless he is in his football clothes, he doesn't care much to get his photo taken. To incorporate him also into this card, I chose a "cool" photo I had of him and made his into a tag for the front cover.

You can also add ribbon like the one pictured here by using double backed tape. The saying on this card reads, "Valentine, you make our hearts spin!".

By Mary from FL
I am looking for a simple valentine craft to do with my 7 year old 2nd graders. Anyone have any good fast and easy ideas? Thanks for the input.

Helga from Andover
February 1, 2005
0

found this helpful
You can go to Orientaltrading.com, they have a craft section on the site and have all kinds of kits. You don't have to buy the kits, just look and see if there is anything you can duplicate.
February 2, 2005
0

found this helpful
One year for my son's teachers we made homeade valentines. I cut out a heart shape in the middle of a construction paper card (folded into fourths) on one side. Had my son use a crayon sharpener with crayons in reds, pinks and purples to get shavings onto wax paper, then folded it and ironed on low the wax paper until the shavings melted. We then taped the stained glass looking wax paper into the heart shape on the card.
February 2, 2005
0

found this helpful
go to http://www.familyfun.com or look for a family fun magazine on newstands...I get all my ideas for girl scouts, etc...it's a great, simply resource...
I saw an adorable heart wreath with hearts glued or taped together making a circle; each heart had the initial of each child in the class. I am sure this is not one of the simplest crafts, since it involves so many hearts, but I still have the one my child did when was younger and now she is almost a teenager...<3
You can make little books and have the kids paste a picture from a magazine about things they love.
One of the cutest crafts I ever received was about Easter, but it was a handmade book, and it had each child telling what the holiday meant to them. When the children couldn't write the teacher wrote what they said. It was so cute, I still have it.
You could have the kids make valentines for soldiers overseas.
Blessings, Robyn
I am the room mom for my son's 3rd grade class. I am in charge of the Valentine's Day party. PTO gives money to throw the party and they provide the drinks. They request we do a craft, game, and snack. My question is, "is there a craft 3rd grade boys will enjoy doing for Valentines Day?" Please help.
By Kacy from IN
February 8, 2010
0

found this helpful
Try making doorknob hangers with very silly, "boy-type" messages, or even bookmarks. Or make covers for small, snack-size or full-size candy bars. These have always worked in the past for me.
February 8, 2010
0

found this helpful
How about gluing craft sticks (Popsicle sticks) together to make a mailbox or just a regular box for the kids to put their Valentine's Day cards in? Or you could have them make one out of construction paper. Another idea is to have them make some sort of airplane to "deliver" the Valentine's Day cards. I'll keep thinking and let you know if I come up with anything else. These are just off the top of my head. Good luck!
February 8, 2010
0

found this helpful
We always make scrapbooks for the kids to put their valentines in. Staple down the side of construction or cardstock paper with 3-4 pages copy paper in between. We have the kids put the valentines in using stickers or tape. I usually make a cover page for kids to color saying "My 3rd grade friends" with a picture. When my kids got older I made the cover sheet look like the trendy tatoos. I also had music on. If the kids get too rowdy we do a freeze dance. just stop the music and have the kids freeze. You could even vote for the craziest pose. Have fun!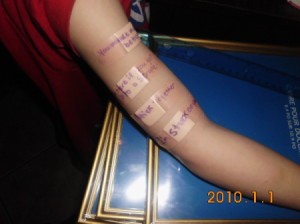 Use bandaids and have the kids write on the bandaids with marker.
I'm stuck on you
Let's stick together
You make me feel better
I'm there if you get in a scrape
They can add stickers on them or decorate with markers. Add a sucker to give with them.
By Coville123 from Brockville, Ontario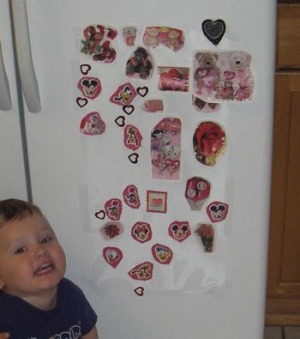 I have a two year old that loved this project. It's a new spin on an idea that I saw on Family Fun.com.
I cut Valentine pictures out of the local store ads and glued them on plain white cardboard. I then cut around the picture, leaving a 1/4 inch around it. I had some free stickers that came in the mail that my son put on red construction paper. Then I cut around them as well. I also had large pieces of Valentine confetti.
I hung up a sheet of clear laminate on my refrigerator using regular tape. If you decide to use your wall, use painter's tape. I then let him touch the clear laminate and showed him that his pictures would stick and come off. He then proceeded to put the pictures on it and made a great collage.
I plan on doing this for St. Patrick's Day and Easter. If you wish to preserve it, just put another piece of laminate over the picture. You can find a big roll of this where shelf liner is sold. I know older kids can select, cut, and glue the pictures.
As I'm typing this, my son is still rearranging the pictures.
By Heather from Sebring, FL
Related
You are viewing the desktop version of this page:
View Mobile Site
© 1997-2016 by Cumuli, Inc. All Rights Reserved. Published by
ThriftyFun
.
Page
generated on November 18, 2016 at 8:37:08 AM on 10.0.2.205 in 3 seconds. Use of this web site constitutes acceptance of ThriftyFun's
Disclaimer
and
Privacy Policy
. If you have any problems or suggestions feel free to
Contact Us
.