Shopping for a baby shower gift can sometimes be frustrating, trying to find just the right thing. This is a guide about baby shower gift ideas.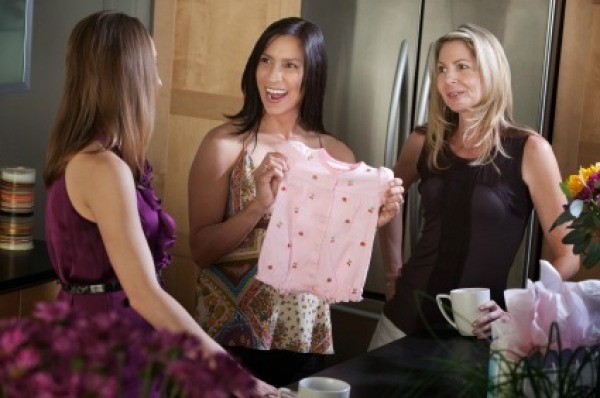 Filter

: All Articles
Sort

: Relevance
A friend of mine is having her first baby soon, so I have been having a ball knitting and crocheting for the new little one. Now that most everything is made, I have it all set to give her at the shower this weekend.
Included with all the things I made, I printed out a 4x6 card with washing instructions. Then I got to thinking. These tiny dresses, hats, and everything else could very easily get ruined in the spin cycle of the washer. They could also get lost in the dryer (we've all gone through the "lost sock" syndrome, right?). So, I went to the dollar store and picked up a bunch of those mesh laundry bags. On the washing instruction card I said to put a few items in each bag. This way the items are protected and nothing will be lost of destroyed. Even the delicate cycle on the washer can be rough during the spin cycle.
Oh, another thing. As I was making the baby things, I also crocheted a cape for my friend that will come down to elbow length. I remember how cold it gets laying in that hospital bed. Plus those gowns aren't exactly pretty! This will be just enough to keep the chill off her shoulders and arms, and at the same time add a touch of pretty for her too. It'll also be easy to maneuver for breast feeding and anything else she needs to do.
By Cricketnc from Parkton, NC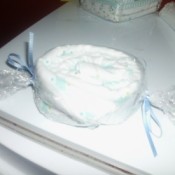 I did these for my son's baby shower. They are really cute. You can fill a small basket with blankets, they look like candies.
Approximate Time: 1/2 hour
Supplies:
receiving blankets
Saran Wrap
ribbon
scissors
Instructions:
Spread your blanket out, start folding your blanket about 2 inches each time until you have folded the whole blanket into about an inch.
Then start rolling it at the end until you have the whole blanket in a roll. Secure the end with tape to hold it.
Wrap with Saran Wrap or coloured paper and tie a ribbon around both ends. Then put them into a basket for decorations.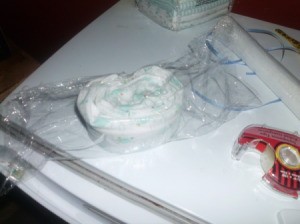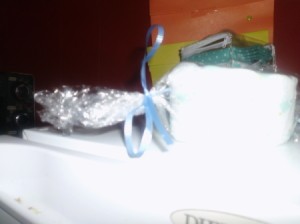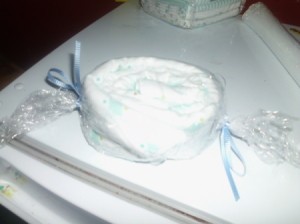 By coville123 from Brockville, Ontario
Comment
Was this helpful?
Helpful?
Yes
I attended a baby shower last weekend and the hostess had the cutest centerpiece on the buffet food table. It was a shallow wide glass bowl which was filled up with water, and then she put the mini rubber duckies to float. As we got our food, we would take a rubber duckie to take home!

The rubber duckies are found on this site: http://www.orientaltrading.com and the item is #RUBBER DUCKY SQUIRTS

Item Number: IN-39/311

$4.95 per Dozen

By Pam
A couple of suggestions:
a pack of newborn diapers with a gift certificate/gift card for a store to buy more (diapers cost A LOT!)
A Diaper Genie
A "Mom on the Go" bag: A nice diaper/carry all bag filled with wipes, diapers, pacifier, cotton towel/changing pad, baby bottle with the changable bags that hold the milk, small bottle of hand/cleaning lotion, etc.
What to Expect When You're Expecting book
a subscription to a magazine for mothers (I used to know the name of one but forget)
Source: 3 baby showers
By Suntydt from Tazewell, TN
Comment
Was this helpful?
Helpful?
Yes
This week at a local discount drug store I found children's sand pail/shovel sets on sale for a quarter. I bought several for gift containers for anticipated showers in the near future.

For 3 baby showers a variety of small infant items will be tucked in a pail and covered with a small mesh laundry bag for corralling little socks in the washing machine. The mesh bag will be stitched in yarn with the word "Baby". A simple bow then can be attached as well.

The pail can be used as a small toy box for Baby's little rattles and blocks now and later as a sand pail.

For a wedding shower, a variety of cleaning supplies will be gathered in a pail without the shovel. This will be covered on top with a dish cloth and bow. The pail will provide a kitchen pail for small cleaning jobs.

No gift wrap will be needed with these and everything can be used by the recipient.

Charlotte
Comment
Was this helpful?
Helpful?
Yes
Base your gift to the new baby on the month of the baby's birth. Crochet/knit/quilt/purchase a baby blanket in the color of the baby's birthstone, and include a package of seeds/bulbs for the birth month flower (a chart for both can be found on Hallmark's website).
Comment
Was this helpful?
Helpful?
Yes
I usually make up a basket for the baby with the usual baby bath lotion and such but here is where it really gets good, I also always make up a basket for the new mom.
Comment
Was this helpful?
Helpful?
Yes
Wrap baby shower gifts with a recieving blanket and secure with diaper pins. Or for a larger gift use a crib sheet. No wasted wrapping paper! :) By Kim in NJ
Comment
Was this helpful?
Helpful?
Yes