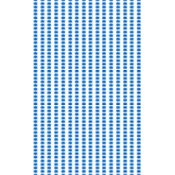 Plastic bottle caps can be used to make fly and insect door curtains.
Measure a piece of timber dowel the width of the door. Drill a small hole (1/8") in the centre of each cap and string them together like beads, with knots along the string to keep them separate from each other. A creative person could make a design or picture on the curtain out of different coloured caps.
Affix at the top of the door, with two screw-eyes and hooks for easy removal during the winter months when insects aren't a problem or for cleaning if necessary.
By Mopoke from Huon, Victoria
December 15, 2011
1

found this helpful
Love this recycle idea! Reminds me of the psychedelic late 60's and early 70's era bead curtains - LOL :-)
Unless there's at least a slight breeze that makes these move to distract the bugs I don't know how it would be very realistic as a bug deterent though.
December 15, 2011
0

found this helpful
Ingenious! There's a lady who makes welcome mats out of these plastic bottle caps, but I don't know how she attaches them or what she attaches them to. I save them and have plenty, but don't know what exactly to do with them. Thanks so much for the idea!
December 15, 2011
0

found this helpful
Okay I do not get how this can keep insects from coming indoors. Can anyone explain why they would not come in thru the little holes between the caps.
December 14, 2016
0

found this helpful
This sounds very questionable to me as well
My four cats were constantly losing their store bought toys under the appliances and furniture, and down the basement stairs. One day I realized they got the exact same amount of joy chasing a plastic bottle cap around. Milk cap, soda cap, water cap, it doesn't matter. They don't cost me anything that I wouldn't have spent anyway and because I can replace them constantly, they always have a fresh scent. Cats tend to get bored with something that smells familiar. Once a week, I scoop all of them up that I find and start all over again.
By guest (Guest Post)
December 18, 2007
0

found this helpful
My cat likes playing with the tab that you tear off milk containers. She also found a piece of a PVC pipe loves that too. One day she stole a powder puff and loves to bat it around!
By guest (Guest Post)
December 18, 2007
0

found this helpful
PLEASE BE CAREFUL about what your cats play with. A few years ago, my cat got very sick with a bowel obstruction. We spent about $1,600 on veterinary care - including X-rays, surgery and 2 or 3 trips into the big city to the animal hospital at the university vet school - all because my cat found a plastic ring from a gallon milk jug, chewed on it and SWALLOWED it.
February 14, 2012
0

found this helpful
I would think there could be a choking hazard involved with items this small. Cats are very smart and wouldn't intentionally want to eat one of these, but there's always a chance they'd accidentally swallow one. I don't think I'd give these as toys to my cats and advise you to refrain from offering these up as toys, too. It doesn't sound like a good tip to me. Sorry ...
February 14, 2012
0

found this helpful
That is so true, cats will find any small item and make a toy out of it.
I have seen a lot of animal groups tie these caps onto a string and hang it from the cage.
It goes wihtout saying that people need to watch their cats and dogs. Some people go as far as to not give their pets any toys unless they are there to watch them.
Cats love t he simplest toys, like the boxes that things come in and the brown paper bags that people bring home. I don't see many brown paper bags anymore...but once upon a time, long, long ago, my cats loved them!
Blessings and thanks for the tip!
Robyn
February 15, 2012
0

found this helpful
If you let your cat play with small objects like this them drill a hole in the middle, use a small twine and knot under each one. A single bottle cap can get caught between their teeth and or lodge in the throat. Please be very careful on small items like this.
February 15, 2012
0

found this helpful
Again, the strips that come off your gallon milk jugs and bottle caps; this is a real hazard and if you care about your pet and its safety.
My nephew's elementary school collects all kinds of bottle caps and gets some kind of money for them. We always put our bottle caps is a basket and when we see Jacob we give them to him. They take every kind of bottle cap as long as it has a screw top, so I put in everything large or small from any bottles we use. Maybe you could check with your school to see if they know about this program.
By TheThreadLady from Eden Prairie, MN
Editor's Note: According to Snopes, there are no charities that accept plastic bottle caps, they are worthless. Some companies will collect them for recycling, such as Aveda. There are also recycling programs for bottle caps. Check with your local waste management company or municipal offices for more information.
February 27, 2014
1

found this helpful
Comment to Editors Note: TheThreadLady from Eden Prairie, MN is correct.
Coke Rewards has a charity program associated with their full product line bottle caps. A code is on the inside of the cap, and when entered online, points are accumulated. Points can be converted to school donations. Points can also be awarded from the code on the inside of 12-pack and 24-case boxes. This program has been going on for several years.
"~... I'd like to teach the world to sing ...~"
December 27, 2011
0

found this helpful
I save my bottle caps in a large juice bottle. It will hold about 100 caps. I also saved an empty square tissue box and put caps in them. If I knock the bottle over, none spill out and they are easy to transport in the bottle.
February 18, 2016
0

found this helpful
But they only need the code, and you still have the bottle cap to do something with, is that right?
April 12, 2016
0

found this helpful
Some elementary school art programs collect caps for art projects.
July 12, 2016
0

found this helpful
Coca Cola bottle caps and cartons can be put into MY COKE REWARDS and select free items in return
July 12, 2016
0

found this helpful
I also save mine in large juice bottles and Kleenex boxes
August 16, 2016
0

found this helpful
I wonder if kindergarten teachers could use them for some kind of craft. Teachers have to spend their money for supplies and they might help
Guess how many tops. Nearest guess wins a prize! This is a good game or any charity event: summer fete, Brownies, Boy Scouts, Christmas event, etc.
You can collect bottle tops (washed). After counting them, put them in a large see-through container. I use an 8 liter water bottle. Either charge a small fixed amount or just ask for any loose change they may have. You need a pad and pencil. Write down the person's name, number of tops they have guessed and phone number. The one who gets nearest to the actual figure wins the prize. The prize could be a bottle or wine or a box of chocolates.
Keep it for another event and adjust the amount of tops
By Linda M from UK
In the last few years, Aveda Cosmetics started recycling plastic soda bottle caps. They made a strong case for the fact that land and marine animals suffer when the mothers mistake these things for food and feed them to their young, accidentally killing the babies. Unfortunately, Aveda stopped taking these recently. Not all recyclers will take these small things.
Any ideas as to where these can be recycled or how they can be used en mass? Please, can somebody give me a workable solution to this almost unaddressed problem?
By Jacquelyn
May 28, 2013
2

found this helpful
You can go to http://www.terracycle.com/ and sign up to mail your caps in. They will take anything from deodorant dispensers, to toothbrushes, to even cigarette butts. You can print a mailing label from the site, then you can get credits that you can redeem to help charities that you choose :D
February 18, 2016
2

found this helpful
Seems to me they could be great educational toys, for kids old enough to not put them in their mouths. They could count them, add and subtract them, and if you have an assortment, they could group them by color or size.
May 11, 2016
2

found this helpful
Google "buddy benches". We collect bottle caps @ work as part of a (university) campus-wide recycling initiative. Once we've collected 400 lb., we turn them over to a company that recycles them into benches &/or tables for schools. They take pop/water bottle caps, cottage cheese lids, laundry detergent lids, etc. Our building alone has collected almost 150 lb. in the past 6 months! The campus has already collected enough for our first bench, which has gone to the on-campus childcare center.
July 20, 2011
0

found this helpful
If you go to Earth911.com and search for where you can recycle the lids, you'll find an answer! (I'm an environmental educator, and applaud your willingness to recycle - when you find out what litter does to our land and habitat, it just breaks your heart, so thanks for being so responsible!)
Another option is to reuse the lids as decorative pieces (glue several pieces and sizes, all the same color or different, into a frame) or game pieces, or donate them to after-school programs and encourage kids to make things for Earth Day ("snakes", bugs, etc.); the activity could also include some education about the need for recycling!
July 20, 2011
0

found this helpful
You can also check with your local waste company, they may not take the tops with the bottles, but you might be able to put them into your general recycle bin.
July 20, 2011
0

found this helpful
If you can't find a recycling place to take them, put them in your trash. As long as the trash goes to a landfill no animals or sea life can get to them. It is the ones thrown by the wayside or into the ocean and lakes that cause the problem.
July 22, 2011
0

found this helpful
I so wish that Horst Rechelbacher would never have sold his Aveda company to the conglomerate Estee Lauder company. :-( As soon as Lauder took it over they slowly began becoming more and more unsustainable and that's why I quit selling Aveda products in my salon (and my salon was a Concept Salon) before I retired.
In any event, if you can't find a recycling center that will take them in your area you could call around to retirement homes and assorted types of schools who most likely would be more than happy to use them for crafts.
March 17, 2013
0

found this helpful
Our waste/recycle collector will accept the caps if they are ON the bottles/containers, but if they are off, I think the automatic separator separates them as trash. Check with your Township recycling person.
December 25, 2016
0

found this helpful
I love Terracycle, but you have so many pounds of recyclables before you can mail them to them. It's best to ask your friends and family to also participate and then it's a win win for everyone.
December 25, 2016
0

found this helpful
I think the issue is that sometimes even if they start out in the landfill, they can eventually end up in the ocean. And plastic bags are really bad for the animals too. I saw a documentary about it. It's sad. :(
Read More Answers