Uses for Plastic Bottle Caps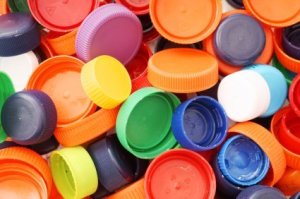 Water and soda bottle caps can be difficult, if not impossible to recycle. Finding other uses for plastic bottle caps helps prevent them from ending up in the landfill. This is a guide about
uses for plastic pop bottle caps
.
Solutions
Share on ThriftyFunThis guide contains the following solutions. Have something to add? Please share your solution!
May 23, 2017
0

found this helpful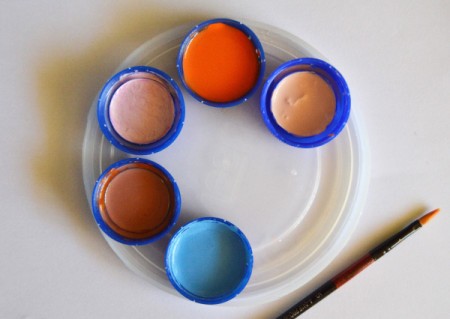 The caps off of milk bottles are just right for use in making an impromptu palette for your next craft painting project. This is a guide about how to make a recycled milk bottle cap palette.
Read More...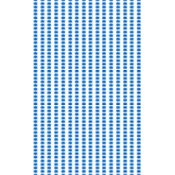 Plastic bottle caps can be used to make fly and insect door curtains.
Measure a piece of timber dowel the width of the door. Drill a small hole (1/8") in the centre of each cap and string them together like beads, with knots along the string to keep them separate from each other. A creative person could make a design or picture on the curtain out of different coloured caps.
Affix at the top of the door, with two screw-eyes and hooks for easy removal during the winter months when insects aren't a problem or for cleaning if necessary.
By Mopoke from Huon, Victoria
December 15, 2011
1

found this helpful
Love this recycle idea! Reminds me of the psychedelic late 60's and early 70's era bead curtains - LOL :-)
Unless there's at least a slight breeze that makes these move to distract the bugs I don't know how it would be very realistic as a bug deterent though.
Read More Comments
I was at McDonald's the other day, and I purchased three of their little bottles of milk. I immediately knew that they would be used as some kind of craft or toy or decoration at our home. I decided to use them as a seasonal cat toy. I put in a picture, from a seasonal gift bag that I had recycled, into the middle of the milk bottle cap. Now my cats have a toy to bat around the house.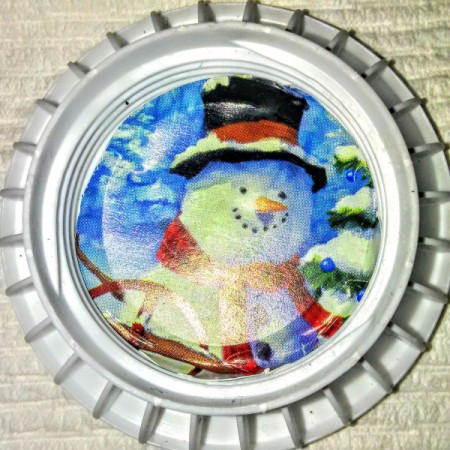 They seem to really enjoy the little caps and play a form of feline air-hockey with them all over the house. Cats are amazing!
October 16, 2016
2

found this helpful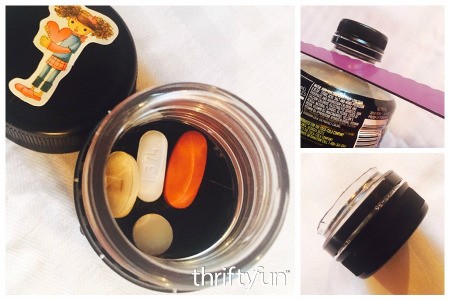 This is a guide about plastic bottle top container. Reuse a bottle top and 2 caps to make a handy pocket container.
Read More...
My nephew's elementary school collects all kinds of bottle caps and gets some kind of money for them. We always put our bottle caps is a basket and when we see Jacob we give them to him.
Read More...
My four cats were constantly losing their store bought toys under the appliances and furniture, and down the basement stairs. One day I realized they got the exact same amount of joy chasing a plastic bottle cap around.
Read More...
I lost the cap to my mouthwash. I didn't want to put it in a soda or flavored water bottle because moving being what it is, I couldn't find a felt pen to mark it with. So I found the next best thing. A water bottle cap worked perfectly. Being the frugal person that I am, I didn't want to waste the bottle or have it spill. I hope this helps.
Guess how many tops. Nearest guess wins a prize! This is a good game or any charity event: summer fete, Brownies, Boy Scouts, Christmas event, etc.
Read More...
What do you do with the milk and soda caps nobody wants? I believe I pretty much covered before their use as game pieces. How about Holiday Decorations or just small vessels that can be used to decorate holiday decorations?
Read More...
Questions
Ask a QuestionHere are the questions asked by community members. Read on to see the answers provided by the ThriftyFun community or ask a new question.
In the last few years, Aveda Cosmetics started recycling plastic soda bottle caps. They made a strong case for the fact that land and marine animals suffer when the mothers mistake these things for food and feed them to their young, accidentally killing the babies. Unfortunately, Aveda stopped taking these recently. Not all recyclers will take these small things.
Any ideas as to where these can be recycled or how they can be used en mass? Please, can somebody give me a workable solution to this almost unaddressed problem?
By Jacquelyn
February 18, 2016
2

found this helpful
Seems to me they could be great educational toys, for kids old enough to not put them in their mouths. They could count them, add and subtract them, and if you have an assortment, they could group them by color or size.
May 11, 2016
2

found this helpful
Google "buddy benches". We collect bottle caps @ work as part of a (university) campus-wide recycling initiative. Once we've collected 400 lb., we turn them over to a company that recycles them into benches &/or tables for schools. They take pop/water bottle caps, cottage cheese lids, laundry detergent lids, etc. Our building alone has collected almost 150 lb. in the past 6 months! The campus has already collected enough for our first bench, which has gone to the on-campus childcare center.
December 25, 2016
0

found this helpful
I love Terracycle, but you have so many pounds of recyclables before you can mail them to them. It's best to ask your friends and family to also participate and then it's a win win for everyone.
December 25, 2016
0

found this helpful
I think the issue is that sometimes even if they start out in the landfill, they can eventually end up in the ocean. And plastic bags are really bad for the animals too. I saw a documentary about it. It's sad. :(
Read More Answers
I collect Coke plastic bottle caps for the Coke Rewards program. After entering the codes, I then have lots and lots of plastic bottle caps. Is there anything useful I can do with them?

Jean from Detroit, MI
July 26, 2009
2

found this helpful
i have a pattern for a wind chime using bottle caps if u would like to have a copy. my email address is biskitbrnr AT yahoo.com. email me and let me know if you would like it.
February 17, 2016
0

found this helpful
Yes I would love the pattern. My email
is. chey AT tds.net. Thank you Sharon H.
August 23, 2016
0

found this helpful
I live in the UK and found the Coke bottle top fits the trigger spray bottles (sanitiser and shower spray) perfectly. I simply take off the trigger spray and replace with coke top reducing the height of the bottle for easier storage.
September 20, 2016
0

found this helpful
Yes I would like the pattern my email is genie 4922 AT aol.com. Thank u very much Sharon H.
Read More Answers
Related Content