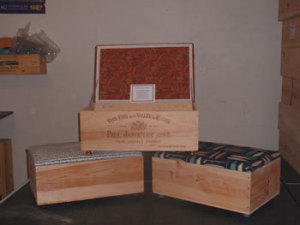 A few years ago I was looking for a way to help supplement my son's savings to pay for his 8th grade trip from San Diego to Washington , D.C. I am very fond of watching the HGTV network and finding ways to recycle everyday items into something new and useful. As luck would have it, I noticed my neighbor regularly discarding wooden wine crates in the alley.
On one of my evening walks with my dogs, I dragged one of the crates home, and the rest is history. I have probably made hundreds of these by now, and have actually done pretty well selling them at local craft fairs. It took a few trials and errors, but I am quite satisfied with the finished product I have come up with.
First I take the crate and sand it smooth, removing all staples or stickers that may be on it. Next I measure the top, and cut a piece of 5/8 inch thick plywood or wafer-board (also scavenged from the alley,) to fit neatly on top. I drill holes on the bottom at each corner and attach wooden knobs, usually scavenged from old discarded dressers etc. which act as feet on the bottom of the footstool.
After sanding the ply-wood top, I measure a piece of fabric to line both sides with, one piece about 1 1/2 inches larger on all sides, than the actual lid. Initially I used remnants from sewing projects, but it only requires 1/2 yard of fabric, so I can afford to go a little wild when fabric goes on sale. I cover one side with spray adhesive, and carefully cover it with the smaller piece of fabric. Next I cut a piece of 10 oz. quilt batting to the size of the lid. Laying the batting against the other side of the lid (the unlined side,) I cover it with the second, larger piece of fabric, turn it over , and staple it tightly around all four sides. I cover the staples with gross-grain ribbon, which matches the color of the fabric.
After the glue has dried, I place the lid on top of the box (padded side up,) and attach 1 1/2 inch hinges to the back edge about 2 inches from each end. When it's finished, it makes a great storage footstool or bench, strong enough to sit on. They make great gifts, and are a wonderful conversation piece to give as a gift to a wine collector, perhaps including a nice bottle of wine.
My son uses his to store all of his video game junk. I put casters instead of wooden feet on the bottom, so he can just roll up to the TV, sit on it while he plays, then put everything back inside, and roll it back into the corner.
You can make them to match any decor. They make especially wonderful baby gifts, which match the nursery, and can be filled with a matching quilt, or any other baby gifts you can think of. As the child grows, they make a great toy box! I think they would make a great addition to any college dorm room. When any gift giving occasion comes around, I just go down to my work room, and pick one that suites the recipient. Making these little storage footstools, has become my own personal therapy.
By Donna Napolitan from San Diego
September 8, 2006
0

found this helpful
I really love your idea, practical, and they are so pretty.!! I can see why you get such enjoyment from creating them. I like the plan of the wheels on them , being able to move it around, is so much easier when using it as a storage piece. I really like the recycle aspect of it as well. With work, a vision, look what can be made. I am inspired.Thank you
By guest (Guest Post)
September 8, 2006
0

found this helpful
They look very nice! You don't say how you price them.?
September 9, 2006
0

found this helpful
WOW very nice. Thank you for the great photo and the details. I might try one for me.
By guest (Guest Post)
September 9, 2006
0

found this helpful
This really is a great idea and I can say from my
own experience with doing the same thing that it's
easy and well woth the time to do.
I made a Barbie doll trunk with a box the same size
as the ones shown in your picture. I cut and covered thick cardboard sections to glue into place on the inside of the box, padding them as well to make
them as "comfortable" for Barbie to stay with her
clothes as possible. Mine also had a 1"x 1" strip on all four sides of the bottom and casters installed to
allow it to be moved around easily by a sweet little
girl. The outside of the box was sanded, and rubbed with a good oil which not only sealed it, but
it kept the beautiful wood grain darkening and Wine Company words "Far Niente" to show.
The box is now sitting on top of her dresser (casters removed and wooden drawer pulls installed) and serves as a glove and scarf storage chest...almost 20 years later.
Your chests are beautiful and so well done. Thank you for sharing them with us.
All the Best,
Julia in Orlando, FL
June 9, 2011
0

found this helpful
Very unique idea. I have to say that you have a real knack for making those. They look great, and the craftsmanship is excellent! Thank you for sharing.
Patrick
I am in the process of trying to locate some old wine storage boxes. You know, the kind that are made like lots of X's and you lay the bottles down in them?
Anyway I think those would make a fantastic way to store and organize all my yarns! And it'd look nice too because I plan on painting them a nice happy color!
Once I get them all done, I'm going to attach some small 3-drawer units to the top to store smaller things in.
By Cricketnc from Parkton, NC
August 23, 2009
0

found this helpful
Well, try a wine store. they are always looking to get rid of wine boxes. Also, if toy have a Trader Joe's. They have tons.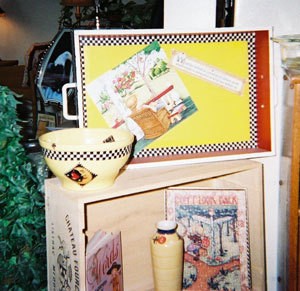 I have acquired many wine crates recently, so I made some of them into serving trays. I have given a lot of these as gifts and sold quite few also. I use them when we BBQ to carry all the things needed outside.
Paint them the colors you want, I get my paint from the hazardous waste recycling center in my area for free. I choose the water based paints and have gotten pints, quarts, and gallons for re-doing projects. Outside type paint works great too. I had some handles that I have picked up here and there or removed from past projects, and put one on each end for carrying. This one I decoupaged some ME pieces on from an old calender. Can you tell I'm a packrat? :0)
Also in this pic is a old ceramic bowl gleaned from a thrift store with decoupaged fabric on it. This I just use for chips and such and wipe out the inside with a damp sponge.
By Maggie from Bloomington, MN
December 26, 2007
0

found this helpful
Very goodlooking!
June 3, 2014
0

found this helpful
Wouldn't those make great shadow boxes to hang on the wall? How about something old, new borrowed (or kept) and something blue.
August 20, 2009
0

found this helpful
Next time you are at the grocery store, ask for those empty boxes used to hold bottles of wine. They fit really well under most bathroom sinks and with the 12-bottle insert left inside (most important!) you can store all the various bottles of shampoo, liquid soap, toilet bowl cleaner, ajax, etc; one in each slot. I even wallpapered my boxes, because I wanted them to look pretty every time I opened my cupboard. Best of all, the stuff under our sinks is now organized (it is so much easier to find things!) Who could ask for more, free stuff, easy to do, and it looks good.

By Liz A. from Escalon, California
Answers:
Reuse Wine Boxes
These boxes are also great to store Christmas tree bulb ornaments in. (10/01/2008)

Reuse Wine Boxes
I love those boxes too for holding breakables. (10/03/2008)

By mulberry204