Foot Care Tips and Tricks
Solutions: Foot Care Tips and Tricks
Read and rate the best solutions below by giving them a "thumbs up".
I keep a back brush that I purchased for a dollar at the dollar store in my shower, and use it to clean my heels and toes. A light scrubbing with it exfoliates and keeps calluses from forming. It's much easier than bending over to clean my feet.
When out of the shower, I drop a dollop of foot cream or skin lotion on the tops of my feet and use the heel on one foot to spread the cream around the other foot. Rub your feet together, and again, you have not had to bend over. I have thrown my back out before by not using this method!
By Ginny from Murrells Inlet, SC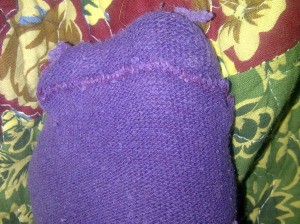 I found if you have chipped toenails, scratchy corns or rough heels that socks tend to stick to them when pulling it on your foot. One day, I decided to turn my sock inside out and wear it. I was amazed, no more socks sticking to my feet or strings of the sock pulling off and catching on my toes. The socks are smoother on the outside and glides right over your feet.
By newnelly from Ohio
To soften my feet I use white distilled vinegar. I fill a bucket with just enough hot water to cover my feet and one cup of vinegar microwaved for one minute. I soak them until the mixture has cooled. Then I use a pumice stone to exfoliate the rough spots and pat feet dry. Then I slather with lotion and cover with some type of petroleum jelly (even Neosporin). I then put on socks. I either do this at bedtime or before I go to work, so that they are being moisturized all day. It feels weird at first, but they stay soft. Vinegar is good for killing fungus and other yucky foot things too. I also use vinegar to clean my face to eliminate acne (do not get near eyes). Vinegar is great for a lot of things!
By tnphoenixrising from Clarksville, TN
When looking for shoes, an expensive pair of shoes will often last longer than a cheaper pair. Plus the better shoes will be better for your feet, especially if you're on your feet a lot. I got this advice from my Doctor. It's better to take care of your feet while you can, rather than later on wishing you had.

By Terri
Share Your Feedback:
Once you try any of the above solutions, be sure to come back and give a "thumbs up" to the solution that worked the best for you. Do you have a better solution? Click "Share a Solution" above!
Questions
Here are questions related to Foot Care Tips and Tricks.
Foot Care
I have the WORST feet! Does anyone have suggestions on keeping then callous free, soft and smooth? I sure would appreciate it. I have decided I don't want to wear polish. I am looking for a totally natural look.

Mitzi
---
Most Recent Answer

By cherwdun
09/12/2008
All my childhood I went barefoot wherever possible & I had the tough callouses to prove it. Even the big green stickers did not stick in my feet. I could walk on the blacktop in summer & never feel the heat. My feet had deep cracks all the dirt imbedded in them & they split & were so sore it hurt to walk. I would soak my feet in warm soapy water, scrub clean as I could & then work with a disposable razor. Sometimes I would cut too much & they would hurt even more. *Never use liquid bleach, it 'burns' the skin, turns yellow, peels off & make them drier. I finally found the secret- REALLY- I went to work & wore closed in shoes all day. I still had to soften my feet but used only the emery tyoe foot file while still damp after the shower & later when completely dry for a final smoothing. These best lotion I found was by Kamasutra honey almond massage cream, in a jar. It works overnight! Also going barefoot really dries then out badly. I now only need to do my feet with a foot file once a month & don't even use ltion often. ALSO the PedEgg works great, but be careful not to over do & the file car 'burn' you if you overdo it. ENJOY!
Cleaning Toenails
What can I use to clean my toenails? They are dark/dull around the cuticle area. How can I make them look white and pretty again. I was once told to soak them in Clorox for about 20 minutes a day. Can anyone confirm this? I don't think it is fungus because I do not get pedicures or wear toe nail polish.

Onesummer
---
Dry Callused Feet
I have very thick skinned feet (callused) and I have tried pumice stones, foot scrubs, lotions, you name it, I have tried it but I can't get soft feet. My feet are also very dry and scaly. Does anyone know what athlete's foot is and does this sound like it and if so what do I use to get rid of it?

Mandi
---
Most Recent Answer

By seajae
09/11/2010
I use acne astringent such as stridex and rub feet down at night and then apply Eucerin and then socks this works wonders the "syslic acid" in the astringent helps remove dead skin
Keeping Feet Soft and Callous Free
My friend told me she keeps her feet soft and callous free by rubbing them lightly with a kitchen sponge before she gets out of the shower. She advised a cheap kitchen sponge can do the same as a foot file or pumice stone. Would you agree?
By Onesummer
---
Most Recent Answer

By Stella Bella
11/15/2012
I've never heard of using a sponge, but I know once my feet are callous free I can keep them that way by slathering them with lotion and then wearing socks to bed.