Moving furniture safely, for you and your floors, is often a daunting undertaking. This is a guide about moving furniture.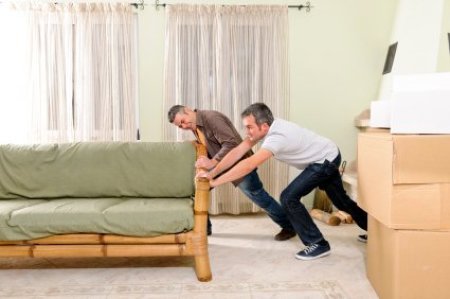 By Marti S. 20 18
The last two times we've moved, it was a breeze when moving the furniture! I took graph paper, counted each square on the graph paper as 6 inches. I then measured each piece of furniture and cut a template for it using the 6 inch rule. I measured the size of the rooms we were moving into, and using the 6 inch squares was able to place our furniture in our new place beforehand so we knew exactly where each piece would go. This way, if it didn't fit on the graph paper, or didn't look right, it wouldn't in the new place. We moved, placed the furniture where it showed on the graph paper, and no hassle!
By Marti from Athens, G
Keep all of your plastic lids. They are very handy to place under furniture when moving it around. They are slick so furniture will glide easily even on carpet, and they will protect your wood or vinyl floors.
By Tricia from Ridgeway, VA
When I bought 3 coffee tables at a thrift store, I had 3 huge panes of glass that I had to safely transport home. The table bases fit in my car, but I didn't have anything to protect the glass. I had no blankets or anything with me. So I thought, "Why not use the car mats?" I placed the glass in my trunk, put the car mats in between, and safely got them home without a scratch.
By Jennyjo from Dallas, TX
I injured my right shoulder in November 2010 while moving an antique iron bed with the mattress and box springs still on it. With that injury, I then had three cortisone shots, X-rays, an MRI, and weeks of physical therapy to help get use of my arm again. Luckily, there was no damage to the rotator cuff. The pain was awful and the costs ridiculous.
Then one day, I saw a commercial for E Z Moves Furniture Moving System on TV. OK, I am a self-proclaimed "Doubting Thomas" and do not usually buy "As Seen on TV" products. But, I saw it advertised in our local Kmart weekly ad and decided to buy one. Price $19.99.
I put the lifter together and proceeded to put four sliders under the corners of my chest freezer which is half full with food. It was so simple that I could not believe it. I was able to slide the freezer away from the wall, clean behind it, mop the floor, and slide it back into place RIGHT BY MYSELF!
Don't be foolish and injure yourself like I did. Try the E Z Moves for yourself! My husband and I have recently used it during a redecoration of our home's second story. We moved an antique Murphy bed, which weighs a ton, without any problem to either of us.
I have told all my friends about this product. Try it for yourself.
By Southeastgeorgiapeach from Jesup, GA
I could not find my furniture sliders quickly, so I used DVD movie cases (black sturdy vinyl ones) to move my very heavy dining table. I opened the cases and put each leg bottom on the solid half of the case. With the case opened up, it makes a shallow well for the leg and the leg will not slide off the case. Going slowly as to not damage the legs, I easily moved the table to another room. You don't need to buy furniture sliders if you have DVD cases.
By bpaddle from Ontario, Canada
By Michele 18 64
When moving furniture on carpet, place a magazine with a glossy cover on all corners. This will make moving the furniture easy. When moving furniture on wood floors, place a wash clothes folded in fourths on all corners and move with ease.
By michele052002 from Bangor, PA
To arrange furniture in a room, make a graph paper plan of the room dimensions. First, measure the room's walls in feet to get the accurate floor plan. Next, scale down each foot of wall space to 2 boxes on the paper and draw the outer dimensions of the room. Draw in openings of windows and doorways, fireplace, etc.
Get another piece of graph paper. Measure your furniture and draw each piece of furniture from a top view on the second piece of graph paper using the same 2 box per foot scale dimensions you used to draw the scale model of the room. Next, cut out each piece of furniture.
Now you can place the paper pieces of furniture in the drawing of the room moving the paper pieces around to figure out where you want to place each piece of furniture instead of physically moving the heavy pieces. You get to see how each piece will fit in the room for a pleasing arrangement this way, and you will be able to see where everything should go in the room and where it will fit in.
I used this when I moved from a house into a studio apartment. It worked out very well. I knew exactly what I could fit into the space and precisely where each piece should go so that the movers only had to place things where I told them to. Nothing had to be moved a second time or be rearranged. Worked out great.
By media123 from Springfield, MO
This is a tip for sliding furniture across floors that you don't wish to damage. Save cardboard milk cartons and cut the top of off four of them. Then slip a milk carton bottom under each leg of the furniture.
I bought a two piece sectional leather couch, custom made. It is 86 inches in length and 40 inches in width. I live in a first floor apartment, where the door is parallel to the stairs. As we enter in the door on the left side are the stairs. The door is not straight to stairs. The ceiling above the door is not high. How do I get the couch in the door? Please help me out. Thanks in advance.
By Cherry from MA
---
Most Recent Answer
By Suntydt 75 877 Flag
January 25, 2010
Sounds like you will need to get the couch into the door and stand it up. Take it in with what you would feel see to be the top first so as it goes into your door the end going in first gets lifted up and the end that would be the bottom is brought in under it.
Now with the couch in the hall you can turn it and hopefully have enough room to tilt the top into the door to your apartment and then lift it into the room like you did when you brought it into the hallway.
It may be possible to put a flat furniture roller under the couch while it is in the hall. This would allow you to tilt the top into the othr door and roll it into the apartment.
The only other thing I can suggest is a window. I moved out of a house and had to take the couch out through the window because we could not figure out how they had gotten it into the house to begin with.
ThriftyFun
Stand sofas on end to reduce the space used. Wrap them in plastic to prevent them from getting dirty. If you are moving a dresser, remove items from drawers to make them much easier to move. Then secure the drawers so they don't open. When you take down paintings and prints, tape hooks and nails used to hang them to the back of the frame. Use a large piece of cardboard to protect the front of prints and paintings.
So we finally purchased a rug to put under our dining table. The problem is that the table is extremely heavy, the table top is stone, 8 feet long, which is not attached to the wooden base. We must lift the stone top first, then the base, and then place the rug. This seems like an odd question, but in realizing we need to invite 6 people over to help us with this task, I want to know the best way to do this. Should we just have people lift up the table top, and the base and we shimmy the rug underneath, or is it best to move the table to the other side of the room, place the rug and then put the table back?