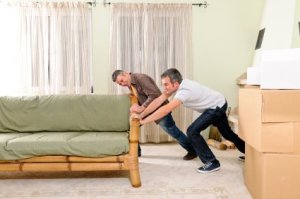 Moving furniture safely, for you and your floors, is often a daunting undertaking. This is a guide about moving furniture.
Ad
---
Solutions: Moving Furniture
Read and rate the best solutions below by giving them a "thumbs up".
Keep all of your plastic lids. They are very handy to place under furniture when moving it around. They are slick so furniture will glide easily even on carpet, and they will protect your wood or vinyl floors.
By Tricia from Ridgeway, VA
The last two times we've moved, it was a breeze when moving the furniture! I took graph paper, counted each square on the graph paper as 6 inches. I then measured each piece of furniture and cut a template for it using the 6 inch rule. I measured the size of the rooms we were moving into, and using the 6 inch squares was able to place our furniture in our new place beforehand so we knew exactly where each piece would go. This way, if it didn't fit on the graph paper, or didn't look right, it wouldn't in the new place. We moved, placed the furniture where it showed on the graph paper, and no hassle!
By Marti from Athens, G
When moving furniture on carpet, place a magazine with a glossy cover on all corners. This will make moving the furniture easy. When moving furniture on wood floors, place a wash clothes folded in fourths on all corners and move with ease.
By michele052002 from Bangor, PA
When I bought 3 coffee tables at a thrift store, I had 3 huge panes of glass that I had to safely transport home. The table bases fit in my car, but I didn't have anything to protect the glass. I had no blankets or anything with me. So I thought, "Why not use the car mats?" I placed the glass in my trunk, put the car mats in between, and safely got them home without a scratch.
By Jennyjo from Dallas, TX
I could not find my furniture sliders quickly, so I used DVD movie cases (black sturdy vinyl ones) to move my very heavy dining table. I opened the cases and put each leg bottom on the solid half of the case. With the case opened up, it makes a shallow well for the leg and the leg will not slide off the case. Going slowly as to not damage the legs, I easily moved the table to another room. You don't need to buy furniture sliders if you have DVD cases.
By bpaddle from Ontario, Canada
To arrange furniture in a room, make a graph paper plan of the room dimensions. First, measure the room's walls in feet to get the accurate floor plan. Next, scale down each foot of wall space to 2 boxes on the paper and draw the outer dimensions of the room. Draw in openings of windows and doorways, fireplace, etc.
Get another piece of graph paper. Measure your furniture and draw each piece of furniture from a top view on the second piece of graph paper using the same 2 box per foot scale dimensions you used to draw the scale model of the room. Next, cut out each piece of furniture.
Now you can place the paper pieces of furniture in the drawing of the room moving the paper pieces around to figure out where you want to place each piece of furniture instead of physically moving the heavy pieces. You get to see how each piece will fit in the room for a pleasing arrangement this way, and you will be able to see where everything should go in the room and where it will fit in.
I used this when I moved from a house into a studio apartment. It worked out very well. I knew exactly what I could fit into the space and precisely where each piece should go so that the movers only had to place things where I told them to. Nothing had to be moved a second time or be rearranged. Worked out great.
By media123 from Springfield, MO
I injured my right shoulder in November 2010 while moving an antique iron bed with the mattress and box springs still on it. With that injury, I then had three cortisone shots, X-rays, an MRI, and weeks of physical therapy to help get use of my arm again. Luckily, there was no damage to the rotator cuff. The pain was awful and the costs ridiculous.
Then one day, I saw a commercial for E Z Moves Furniture Moving System on TV. OK, I am a self-proclaimed "Doubting Thomas" and do not usually buy "As Seen on TV" products. But, I saw it advertised in our local Kmart weekly ad and decided to buy one. Price $19.99.
I put the lifter together and proceeded to put four sliders under the corners of my chest freezer which is half full with food. It was so simple that I could not believe it. I was able to slide the freezer away from the wall, clean behind it, mop the floor, and slide it back into place RIGHT BY MYSELF!
Don't be foolish and injure yourself like I did. Try the E Z Moves for yourself! My husband and I have recently used it during a redecoration of our home's second story. We moved an antique Murphy bed, which weighs a ton, without any problem to either of us.
I have told all my friends about this product. Try it for yourself.
By Southeastgeorgiapeach from Jesup, GA
This is a tip for sliding furniture across floors that you don't wish to damage. Save cardboard milk cartons and cut the top of off four of them. Then slip a milk carton bottom under each leg of the furniture.
Stand sofas on end to reduce the space used. Wrap them in plastic to prevent them from getting dirty. If you are moving a dresser, remove items from drawers to make them much easier to move. Then secure the drawers so they don't open. When you take down paintings and prints, tape hooks and nails used to hang them to the back of the frame. Use a large piece of cardboard to protect the front of prints and paintings.
By ThriftyFun
Give a "thumbs up" to the solution that worked the best! Do you have a better solution? Click here to share it!
Questions
Here are questions related to Moving Furniture.
I bought a two piece sectional leather couch, custom made. It is 86 inches in length and 40 inches in width. I live in a first floor apartment, where the door is parallel to the stairs. As we enter in the door on the left side are the stairs. The door is not straight to stairs. The ceiling above the door is not high. How do I get the couch in the door? Please help me out. Thanks in advance.
By Cherry from MA
AnswerWas this interesting? Yes No
Ad
---
---
Most Recent Answer
By Suntydt 75 877 01/25/20100 people found this helpful
Sounds like you will need to get the couch into the door and stand it up. Take it in with what you would feel see to be the top first so as it goes into your door the end going in first gets lifted up and the end that would be the bottom is brought in under it.

Now with the couch in the hall you can turn it and hopefully have enough room to tilt the top into the door to your apartment and then lift it into the room like you did when you brought it into the hallway.
It may be possible to put a flat furniture roller under the couch while it is in the hall. This would allow you to tilt the top into the othr door and roll it into the apartment.

The only other thing I can suggest is a window. I moved out of a house and had to take the couch out through the window because we could not figure out how they had gotten it into the house to begin with.
So we finally purchased a rug to put under our dining table. The problem is that the table is extremely heavy, the table top is stone, 8 feet long, which is not attached to the wooden base. We must lift the stone top first, then the base, and then place the rug. This seems like an odd question, but in realizing we need to invite 6 people over to help us with this task, I want to know the best way to do this. Should we just have people lift up the table top, and the base and we shimmy the rug underneath, or is it best to move the table to the other side of the room, place the rug and then put the table back?
Archives
Thrifty Fun has been around so long that many of our pages have been reset several times. Archives are older versions of the page and the comments that were provided then.
Since I have a bad back, I bought this little saucers that can be found at Walmart for moving furniture. You lift a small corner of the entertainment center up and slip one of these saucers underneath to each corner. These saucers come in all different sizes and all round. They have a smooth side and a rubber side. Put the smooth side down on the floor with the rubber side up. You can rearrange your living quarters in less than 10 minutes with these. These are great. Otherwise, I would have to wait for my husband to get home to move furniture around the house. This way, I can surprise him each time he does come home. Now, he hid them from me because I tend to move furniture a lot. I believe I got them in the furniture or hardware section at Walmart. Good luck!

By Bonnie from Norman, OK
Feedback:
RE: Moving Furniture Around Your House
I love those little slide things! I found some at the dollar store called furniture robots and got them. I can even move my king size bed by myself using those little wonders, they're amazing. (06/05/2008)

By bluealt
RE: Moving Furniture Around Your House
This is a great reminder that I had completely forgot about because I never had a reason to use them. But now that I am retired and sharing my home with a husband and five cats I have good reason to want to move furniture frequently and check what is underneath the couch or bed. I can't wait to make my suspected discovery's and rearrange furniture so it is more practical and pretty!
(06/06/2008)

By Penny Foss
How do I move heavy furniture that is embedded in the tufts of a thick carpet?

maggietnt from Brooklyn

Feedback:
RE: Moving Heavy Furniture On Thick Carpet
They have those furniture sliders in department stores. You can buy different sizes. They are gray plastic on one side and black on the other. They work very well. (09/22/2008)

By LITTLE SUZY
RE: Moving Heavy Furniture On Thick Carpet
Cardboard works well for moving furniture if you tip one end up and slide the cardboard underneath and then slide the furniture across the floor. (09/22/2008)

By mel
RE: Moving Heavy Furniture On Thick Carpet
Or, for FREE, you can use plastic lids from empty plastic food containers under the feet, especially easy are the ones with smooth edges. I do it all the time--works great! (09/22/2008)

By gogogirl
RE: Moving Heavy Furniture On Thick Carpet
My husband the appliance tech uses cardboard. He keeps large pieces of cardboard to move ranges and refrigerators (you want heavy try moving a refrig or a range by yourself!) He tips the appliance up slides the cardboard under and puts it down and uses the cardboard that way. And on tiled or linoleum floor it saves rips tears and scratches too! (09/23/2008)

By DEBRADJ.
RE: Moving Heavy Furniture On Thick Carpet
Someone told me years ago to use the waxy cardboard milk cartons that are rinsed out and dried and cut to the size you want. (09/24/2008)

RE: Moving Heavy Furniture On Thick Carpet
I bought those gliders that Little Suzy told you about, from Lowe's and they worked liked a miracle. I had to move a really heavy organ and it moved as smooth as glass. We also moved a heavy hutch and it work well too. I think we bought them for $5.00 this spring. I'm going out and buy some more just to keep on hand for other things. (09/25/2008)

By Mirage
RE: Moving Heavy Furniture On Thick Carpet
Magic Slides work well most of the time. I do have a very heavy desk that they don't work on, but they are definitely worth a try. Even if they don't work for this time, you will probably find them useful at another time. (09/26/2008)

By Beth
To help move heavy furniture more easily on tile or wood floors, lift just enough to slip a throw rug or one of those carpet samples, carpet side down, under the edge. It will slide across the floor and also protect the floor from scratches. I use this method to move my large file cabinet in my office. And my refrigerator in the kitchen.

By Harlean from Arkansas

Feedback:
RE: Moving Heavy Furniture
Have you seen the Moving Men sliders. They are the best! I got mine at Walmart for under ten dollars. They move bedroom furniture, loaded bookcases, on carpet, lino, tile. I just got some new recliners. We put them together in my front room and then put the sliders under the four legs and slid them on the carpet across the kitchen lino to the family room carpet with ease. It is a breeze to move furniture. I move my furniture frequently because I'm able to with these sliders. I can get those baseboards that most people overlook because furniture is difficult to move. Try them you'll love them!
(11/17/2005)

By Jennifer CA
RE: Moving Heavy Furniture
You know what is easier? I save all the shoulder pads I take out of blouses, etc and use those under anything large I want to move. The satiny ones work best!! Give it a try. (11/20/2005)

By jaxi3
RE: Moving Heavy Furniture
The idea for putting carpet samples under your couch legs also works if your furniture is on hardwood floors. Little carpet samples under the legs will keep the couch in place on the slippery hardwood surface and won't scratch the floors when you sit on the couch or the kids push the furniture around. (10/22/2008)

By CT
RE: Moving Heavy Furniture
Home Depot and I suppose most of the other big hardware stores sell plastic sliders. Slip one under each leg of heavy piece of furniturwe and slide away. Unless the bottoms of sliders get damaged they can be used over and over. Works great. (02/05/2009)

By Hairy Wolf
RE: Moving Heavy Furniture
My sister showed me that if you put a glossy magazine under the legs or leading-edge of a heavy piece of furniture, it will slide across the carpet SO easy! I have used this often. Frugal! (02/16/2009)

By OrahLee