Making Your Own Cat Tree
Cat trees provide a great place for your cats to hang out, sleep and play. Even smaller cat trees can be very expensive. This is a guide about making your own cat tree.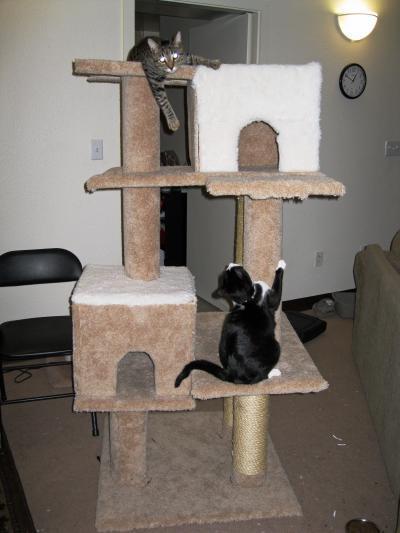 Filter

: All Articles
Sort

: Relevance
Debra Frick
20

found this helpful
Welcome to my Kitty World! I have 4 adult Siamese cats and we always have kittens. My husband Leo and I decided one day, we were going to go out and replace the scratching post that my husband made many years ago. Boy, were we in for sticker shock; we went to our local pet store and the prices were just outrageous. For a basic scratching post, we were looking at a minimum of about $60.00 and it was even ugly to look at. In looking at their limited selection, we decided that maybe the internet would give us a better deal. Well not only was the shipping ridiculous but my hubby, being the resourceful guy that he is, said we would be better off building it ourselves.
When he built our last scratching post, he used carpet and it was hard, to say the least, to get it to wrap around the post. So we looked for alternatives to carpet and plans to build one on the internet. Well, there was not any plans that we could find that we liked so we decided to design our own. We found that a lot of the manufacturers were using fake fur now instead of carpet, to our relief, so we used that instead of carpet. Hey, and while we are at it, why not spoil our babies with something more than just a scratching post. My husband looked at many of the designs of pre-made cat trees and this is his version for the "Frick Kitties."
My husband's version could be made smaller or larger depending on what your needs are. Of course smaller would mean less money spent on materials. Try and Freecycle as much of the materials as you can. Lots of people have sheets of plywood left over from a project in their garage that they would love to get rid of and old fake fur coats can be used to cover the little houses and perches. A smaller version of this could be made by a novice woodworker, a little more skill is required for a larger one.
Materials
One carpet tube: This can be gotten for free from most of your carpet warehouses as they usually end up in the garbage bin.
One sheet of plywood or particle board: I used particle board as some one was giving sheets of the stuff away on freecycle. You also should check the cut off bin at your local hardware. Home Depot has one and I have found half sheets of wood for as little as $4.
2 yards of fake fur: I used what they call the lamb's wool as it is also used in pads for wheel chairs and I wanted my one old boy to feel comfortable. I bought this at Walmart for $6.95 a yard.
1 long toothed floor or door mat: I bought this because, while at the pet store, I saw that they sold a unit that could be mounted on the wall for the kitties to rub against to basically comb themselves and I thought it was neat. I bought this at the Home Depot, it was to get ice and snow off of boots. I paid $10 for it, but it made two scratchers.
2 100 ft. lengths of jute rope: I bought this at Harbor Freight for about $8 a roll. They have a web site where you could buy this online.
staples, nails, and wood glue
kitty toys to hang from perches
Tools
circular saw to cut tubes and plywood or particle board
finish nailer to nail boards together or screw gun and screws
staple gun to staple fabric and rope and door mat
4 inch hole saw to cut round pieces of wood to fit in tubes to nail or screw into
Cutting Guide
my husband's base was 24 by 24 inches
8 posts out of the carpet tube at 14 inches
two boxes, 14 by 15 inches
two perches, 14 by 14 with a two inch rim around three sides
one L shaped board, 24 by 28 inches
one platform, 14 by 24 inches
My husband suggests that all perches and boxes be made and covered with fake fur beforehand. Attach the rounds inside the tubes with wood glue. Nail or screw tubes onto the base with nails or screws at an angle. Cover the tubes with rope or door mat cut to size. You can also cover some of the tubes with fake fur. Next attach the L shaped piece of wood, screwing or nailing into the round piece of wood at the top of the tube. Nail or screw on your houses and perches.
Attach your kitty toys where you want them and cover the whole thing in catnip. We cut the black mat with a pair of shears. Once you got down to the base, it was not very thick and pretty easy to cut. For assembly, please refer to the picture. We found that we could cover most of the pieces with fabric beforehand and that helped greatly. It will take two people to wrap the jute around the posts as one person needs to be able to staple while the other person holds the jute tight.
I believe that my husband and I saved a great deal on making our own cat tree and we had a ball making it. The kitties love their new place to play and they use the scratcher made from the black mat a lot. I hope this gives everyone some great ideas. Depending on size, this could take a weekend to complete.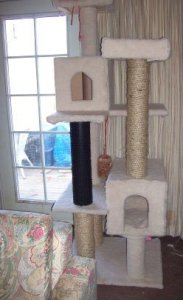 My Mom has a cat and she loves to crawl into boxes and other things to hide. I have this idea in my head about making her a cat condo or playhouse. I have some large boxes that I will be using. I'm not sure yet if I am going to paper them or leave them brown, and just make some colored shutters on the windows. I am going to cut out a door and some windows.
One box will be stacked on top of the other one with one flap cut off each box. I am going to glue the other ones together to make it sturdy for her to land on. For the top, I am going to glue the flaps shut and cover with another piece of cardboard for strength. That way she will be able to jump on the top and lay if she wants to. I know she is going to love her new playhouse.
By Tricia from Ridgeway, VA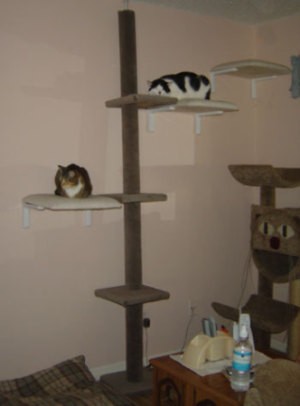 Cat tree too small? Our cats love to climb so we bought a floor to ceiling cat tree, but found the shelves were to small for our cats to enjoy. So we took the seats of some dining chairs that we no longer were using and placed them by the tree to make the shelves a nice landing spot for naps. So if you have cats and used chairs, with brackets from the hardware store they can have some very nice places to take those afternoon naps.
By Kerri from Vero Beach
Here is a very simple outdoor cat tree. While this doesn't sit outside it is made for outside (Our Havana Browns are strictly indoor cats). The base is a cutoff piece of Mesquite stump.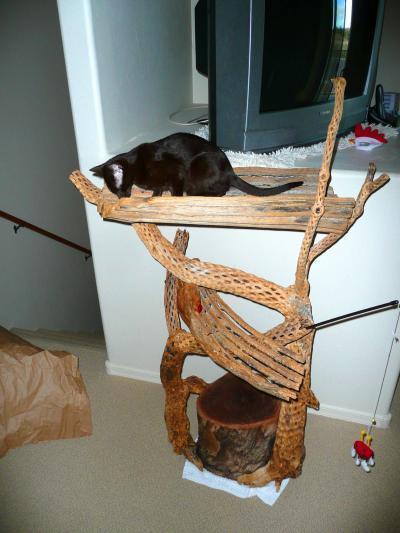 I want to make a cat tree out of some recently fallen branches (we had a nasty storm that destroyed a lot of our trees), but do I have to wait for the branches to dry before I use them? How could I dry them when they're too big to fit in the oven? The branches are birch and dogwood.
By Caitlin G.
June 24, 2012
0

found this helpful
Best Answer
I don't know if this helps but when lumber flooring is cut it needs to sit for a length of time (can't recall if it's days or weeks) inside the house so it can acclimate to the environment before being installed.
Try a web search of woodworking or DIY sites. Posters to their message boards can give you advice.
I would like instructions for how to make a cat tree?
By mc9 from San Lawrenz Gozo
November 16, 2009
0

found this helpful
Best Answer
We had a horrible had storm last year and had a rather large branch with several forks fall into our yard. My husband took a 5 gallon bucket and some concrete and set the branch upright in it. He trimmed off all the small twigs and we had a wonderful cat tree. Once the wood dried, it shrank a little and we had to redo the concrete.
Read More Answers...
How do you build a cat tree with scratchers?
By Susie from Banning, CA
March 6, 2012
0

found this helpful
Best Answer
You can get design ideas by looking at the commercially made ones and draw a plan based on the good parts of those you like and make it the size you want. You can try going to carpet stores and ask for carpet samples if you don't mind different colors on it. Also buy sisal rope and use that on a few places for a different texture to dig his claws into.
The commercially made ones that we have use a heavy duty cardboard tube that is really made to pour concrete into to make posts. At the top of each round piece is a flat piece of particle or similar, and at the bottom also. Those pieces are square and larger than the post size. You do not want this part too skinny though, you want to be able to cut a hole in at least one of them for the cats to hide in. The larger one that we have there is a post that goes right through it and that is what the square pieces of particle board are screwed into, make sure it is screwed tightly.
The bottom of our larger one has a square bottom, then three 2x4's that support a piece of plywood which is then topped with the cardboard tubing which has a hole cut out for a bed, inside you would carpet the bottom or put in a nice soft pillow as a bed that you can take out and wash. One support is inside the hide out area for extra support.
My suggestion would be go and look at those in a store or look online for designs you like and go from there. Our cats were given a tall one for Christmas which is not even three months ago and they already have the post leading to the top bed which has a hole on one side for kitty to crawl up to the top which is a piece of plywood covered with carpet and has 3" sides on it, it is not enclosed like the other bed area, anyway that post is all in shreds already, of course we have twelve cats that use it. Buy liquid catnip and spray it down when you present it to the kitty or kitties and it will draw them to it.
Every time I spray mine it is like a magnet they all gravitate to it. I am not able to upload any pictures at this time or I would send a picture, sorry. I hope this helps.
All in all the huge cat condo/gym cost me about $350 in materials and took me most of 3 solid days to make it. It is completely self standing and the cats love it. I made it very sturdy and it took most of a 12 x 8 foot piece of carpet remnant.

Dave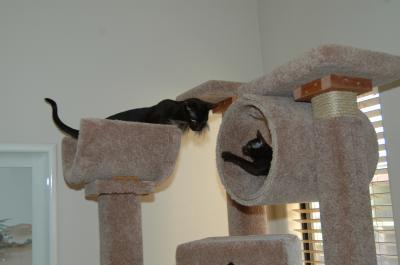 After reading many a book about cats, and observing many cats as a foster parent for the local humane society, I learned that different cats like different surfaces to scratch on. We observed our cats inside and out, and could tell that most of them liked scratching on the trees.
I have several recyclable things on my patio that I have turned into play areas for my cats. I get these Styrofoam boxes in the mail when my siser sends us turkeys and the fixings for holidays.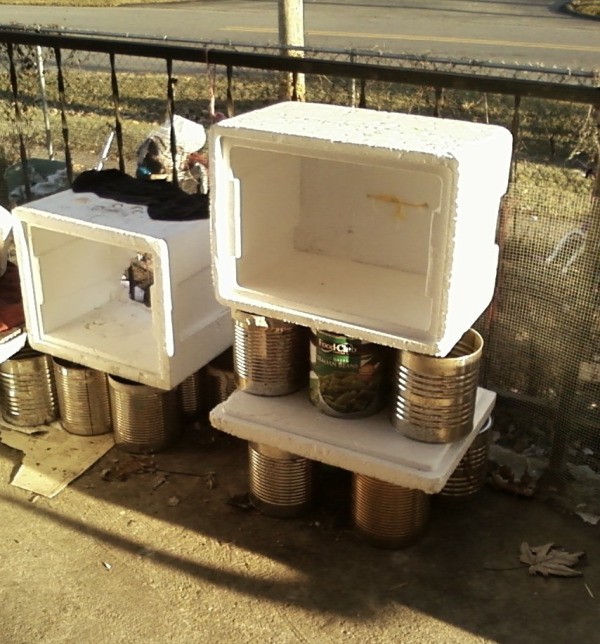 You guys are awesome. I had no idea what I was going to do, but I followed your instructions and made a huge cat tree! Thanks!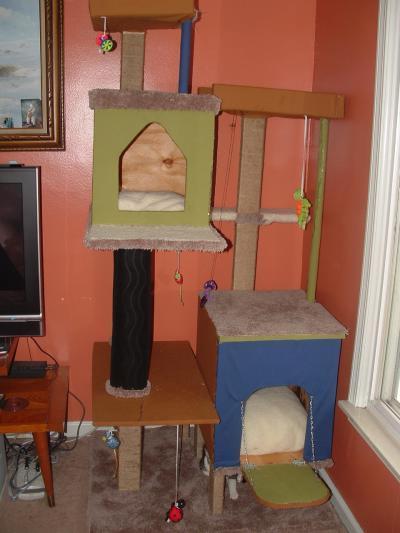 Thank you so much for sharing your plans! This was my first project so I had to invest in tools, but I was looking for a good excuse to buy tools anyway. At first, I had a difficult time with this project because I wanted precision. I studied your photo and general directions for quite some time, because perfection was my goal. However, after a while, I got tired of being frustrated, and just put it together. It was fun! It isn't perfect - it's lopsided and leans a bit - but it's sturdy and my cats love it!
I don't think I'm going to add the second platform at the top, although I still have enough materials to do so. My cats seem to enjoy hanging off of the edges, so I didn't include the short walls on the platforms. I'll be adding toys next!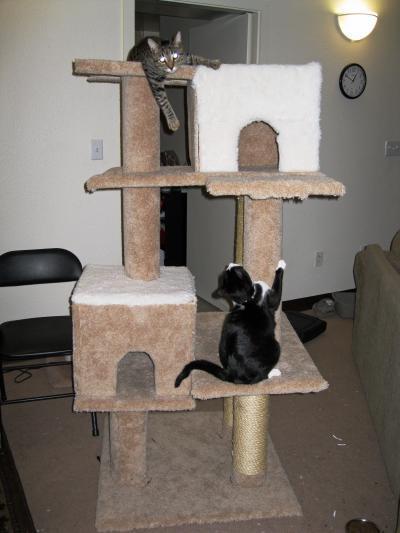 Related
© 1997-2016 by Cumuli, Inc. All Rights Reserved. Published by
ThriftyFun
.
Page
generated on August 22, 2016 at 2:19:33 AM on 10.0.0.143 in 5 seconds. Use of this web site constitutes acceptance of ThriftyFun's
Disclaimer
and
Privacy Policy
. If you have any problems or suggestions feel free to
Contact Us
.