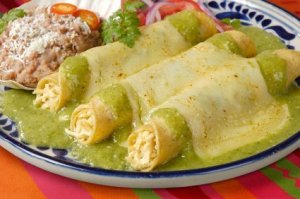 If you love having chicken enchiladas when you eat out, try making them at home. This page contains chicken enchilada recipes.
Ad
---
Solutions: Chicken Enchilada Recipes
Read and rate the best solutions below by giving them a "thumbs up".
The following suggestions will make a huge number of different kinds of "enchiladas". They are all made using flour tortillas, but you could substitute crepes if you are more ambitious.
The first recipe is the original I came up with. I like to keep these ingredients on hand for emergency meals.
Each recipe makes four enchiladas. They can be doubled or tripled, but you would have to heat them 5-6 at a time, unless you can think of a way to do this in an oven without burning.
Ingredients:
1 (5 oz.) can of cooked chicken or turkey (or leftovers)
1 (8 oz.) block or 8 oz bag of shredded Colby cheese. Block cheese melts best sliced lengthwise along the longest side (about 1/4 inch thick)
1 small onion, thinly sliced and chopped.
1 12 count package of flour tortillas (about 10 inch diameter)
Toppings (any combination or single):
sour cream (I prefer the "Real" brands of sour cream. Look for the little red water drop symbol with the word Real inside it.)
salsa, whatever heat you like. You can add at individual plate and each can use their own preference of heat.
guacamole
green chilies
refried beans, warmed first
Directions:
Stir any broth in the can of chicken in with the meat. Lay one tortilla out flat. Place approximately one fourth (1/4) of the can of chicken in a line across the center of each tortilla. Place sliced cheese across the tortilla, over the chicken, using enough pieces to cover the chicken - lengthwise only - or sprinkle the grated cheese down the line of chicken. Grated cheese doesn't seem to melt as well as the sliced. Add approximately 1/2 teaspoon of finely chopped onion down over the top of cheese. Fold tortilla over into thirds. Wet your fingers with water and "sprinkle" into the dish (will create steam). Place in a square glass baking dish, seam side down. Sprinkle a little more water over them and cover with plastic wrap with a couple of slits cut in it to vent.
Microwave one minute or a little more, just long enough to melt the cheese. Serve immediately. Top with your preference of topping(s). Serve cooked rice or corn chips on the side, if desired.
Once you get the idea, you can create all kinds of different "enchiladas". Use a different kind of cooked meat, a different kind of cheese, add minced garlic or not, onions or not (onions and garlic can be raw, just very small or thin pieces so they cook quick). You can make a "sauce" or "gravy" with canned soup:
Beefy mushroom soup with ground beef or chopped left over roast inside the tortillas and some kind of cheese of your choice
Cream of mushroom soup with cooked beef and potatoes inside
Cream of chicken soup with chicken and squash, broccoli, green beans/ or peas
Cream of celery soup
Nacho cheese soup with chicken, beef, or ham and onions, garli,c and Swiss cheese, cream cheese,or mild cheddar
Broccoli cheese soup with cooked broccoli and cheddar cheese
Just use the method for the chicken enchiladas and heat the sauce/gravy separately and top after at the table. I would suggest that you just experiment with variations until you find your favorites. These make great weeknight meals because you can use leftovers and it's fast. You can also feed in "shifts" if you have a large group to feed and they have to eat at different times.
By LynnT from Conway, AR
Ingredients:
2 cups chopped cooked chicken
2 cans cream of chicken soup
1 can green chili peppers
1/2 cup sour cream
1 small finely chopped onion
1 1/2 cup cheddar cheese
1/2 cup Monterey Jack cheese
1 pkg. 12 inch tortilla shells
Directions:
Chop green chili peppers. Mix cream of chicken soup, chili peppers, sour cream, and onions. Wrap chicken, soup mixture and cheese in tortilla shells. Line up in a cake pan (2 layers). Put remaining mixture and cheese on top. Bake, uncovered, at 350 degrees F for 20 minutes.
By Robin from Washington, IA
My friend taught me to make these years ago when our children were still small. Our families both just love them! I do not put in the jalapeno peppers, as we think they are too hot.
Ingredients:
1/4 cup onion, chopped
1/4 cup pecans, chopped
2 Tbsp. margarine
3 oz. cream cheese, softened
1 Tbsp. milk
1/2 tsp. salt
1/2 tsp. ground cumin
2 cups chicken, cooked and chopped
8 flour tortillas
1 can cream of chicken soup
1 cup milk
8 oz. sour cream
5-6 jalapeno peppers, chopped and seeded
1 cup cheddar cheese, shredded
2 Tbsp. pecans
Directions:
Saute onion and 1/4 cup pecans in margarine until onion is tender and pecans are lightly toasted. Remove from heat. Combine next 4 ingredients. Add to nut mixture and chicken. Stir well until combined. Spoon about 1/3 chicken mixture onto each tortilla near one edge. Roll up and place, seam-side down, in greased 9x13 inch baking pan.
Combine soup, 1 cup milk, sour cream, and peppers; pour evenly over tortillas in pan. Cover with foil. Bake at 350 degrees F for 30-35 minutes, or until heated through. Remove foil. Sprinkle enchiladas with cheese and 2 tablespoons of pecans. Return to oven for 5 minutes, or until cheese is melted.
Cooking Time:
35-40 Minutes
By Robin from Washington, IA
Ingredients
Enchiladas:
1 1/2 lbs. skinless, boneless chicken breasts
1 can cream-style corn
1 can whole kernel corn
1 small container (12 oz.) cottage cheese
2 tsp. chili powder
2 tsp. garlic powder
2 tsp. dehydrated onion flakes, rehydrated in water
8 flour tortillas
1 small can diced green chilies
1 lb. Monterey jack cheese, shredded
Salsa:
1 can petite cut diced tomatoes
1 small onion, diced
Fresh cilantro
1 Tbsp. garlic powder
Sour cream
Directions
Boil chicken for 30-45 minutes until done. Cool and shred. In a food processor, combine creamed corn, 1/2 can whole kernel corn, cottage cheese, chili powder, garlic powder, and rehydrated onion flakes. Pulse briefly to combine ingredients. Over medium heat, cook corn and cheese mixture until bubbly. On flour tortillas, layer approximately 3 Tbsp chicken, 2 Tbsp blended corn mixture, green chilies, and some of the shredded cheese. Roll up and place in 9x13 inch greased baking dish. Sprinkle remaining whole kernel corn over the top, sprinkle with remaining grated cheese. Bake at 350 degrees F for 30-40 minutes or until cheese is bubbly and edges are brown.
Quick Salsa: Combine diced tomatoes, onion, fresh cilantro and garlic powder. Serve salsa and sour cream with enchiladas.
Dinner for 8
By Kathleen from Dothan, AL
Ingredients
2 1/2 cups chopped cooked chicken
1 container sour cream (16oz.)
1 1/2 cups shredded cheddar cheese
1/3 cup chopped onion
dash red pepper
cumin (sprinkle on each tortilla mixture)
12 flour tortillas
oil
1 1/2 cups salsa
Directions
Combine chicken, 1 cup sour cream, 3/4 cup cheese and the onions and the pepper; mix well. Dip tortillas in hot oil to soften; drain. Top each tortilla with 1/4 cup mixture and sprinkle with cumin; roll up tightly. Place seam down in 9x13 inch pan. Top with salsa. Bake at 375 degrees F for 25 minutes. Sprinkle with remaining cheese and serve with remaining sour cream.
By Robin from Washington, IA
Ingredients
2 cans milk enchilada sauce, divided
2 cups chopped cooked chicken
1/2 cup sour cream
2 cans chopped green chilies, undrained
1/2 cup chopped green onions
1/4 tsp. salt
2 cups shredded Monterey Jack cheese, divided
10 flour tortillas (6 or 7 inch)
Directions
Preheat oven to 350 degrees F. Pour 1 can enchilada sauce in 9x13 inch baking dish. In large bowl, combine chicken, sour cream, chilies, onions and salt; stir in 1 cup of the cheese. Spoon about 1/3 cup chicken mixture down center of each tortilla. Toll up tortillas and place, seam-side down, in prepared baking dish. Pour remaining 1 can enchilada sauce over top; sprinkle with remaining 1 cup cheese. Bake, uncovered, 30 minutes or until cheese is melted and enchiladas are heated through.
By Robin from Washington, IA
Ingredients
4 skinless chicken breasts cooked and diced
1 bunch green onions, diced
1 small can diced green chilies
1 can cream of chicken soup (as is from the can)
flour tortillas
8 oz. sour cream
( reserve some of the cheese and green onions for
garnish on top.)
1 bag of shredded mild cheddar cheese (2 cups)
Directions
Mix, roll and sprinkle a little cheese and the rest of the diced green onions on top.
Bake 30 min. at 350 degrees F. Will make about 10 and they freeze well. Enjoy! From Jennifer 2002
These are my favorite!
By Great Granny Vi from Moorpark, Ca.
Give a "thumbs up" to the solution that worked the best! Do you have a better solution? Click here to share it!
Questions
Here are questions related to Chicken Enchilada Recipes.
I am trying to find a chicken enchilada recipe. Does anyone have a good one? Thank you.
By Sabrina from Council, NC
Ad
---
---
Most Recent Answer

By Mary Koehler [8]02/09/2010
Here is the one I use. It is from the Better Homes website. You can make one dish of 12, or two dishes of 6, and freeze one for later.

Creamy Chicken Enchiladas.
Prep: 35 minutes
Bake: 25 minutes
Cook: 15 minutes
Stand: 5 minutes

Ingredients:
1 pound skinless, boneless chicken breasts
1 14-ounce can chicken broth
1/2 teaspoon black pepper
8 cups torn fresh spinach or one 10-ounce package frozen chopped spinach, thawed and well drained
1/4 cup thinly sliced green onion
2 8-ounce carton light dairy sour cream
1/2 cup plain low fat yogurt
1/4 cup all-purpose flour
1/2 teaspoon salt
1/2 teaspoon ground cumin
1 cup milk
2 4-ounce cans diced green chili peppers, drained
12 7-to 8- inch flour tortillas
1 cup shredded cheddar or Monterey Jack cheese (4 ounces)
Chopped tomato or salsa (optional)
Thinly sliced green onion (optional)

Directions:
1. In a large skillet place chicken, chicken broth, and 1/2 black pepper. Bring to boiling; reduce heat. Cover and simmer for 12 to 14 minutes or until chicken is no longer pink. Drain well. When cool enough to handle, using 2 forks, pull meat apart into shreds. (You should have about 3 cups.) Set aside.

2. If using fresh spinach, place spinach in a steamer basket over boiling water. Reduce heat. Steam, covered, for 3 to 5 minutes or until tender. (Or, cook in a small amount of boiling water, covered, for 3 to 5 minutes or until tender.) Drain well.

3. In a large bowl combine the shredded chicken, cooked fresh spinach or thawed and drained frozen spinach, and the 1/4 cup green onion; set aside.

4. In a bowl whisk together sour cream, yogurt, flour, salt, and cumin until smooth. Stir in milk and chili peppers. Divide sauce in half. Set 1 portion aside.

5. For filling, combine 1 portion of the sauce and the chicken mixture. Divide filling among tortillas. Roll up tortillas. Place, seam side down, in two ungreased 2-quart-rectangular baking dishes. Divide remaining sauce evenly between the two casseroles.

6. Bake, uncovered, in a 350° F oven about 25 minutes or until heated through. Sprinkle with remaining cheese; let stand for 5 minutes. Transfer to a serving platter, if desired.

7. To serve, garnish with chopped tomato or salsa and additional green onion, if desired. Makes 12 servings.

Make-Ahead Tip: One or both casseroles may be chilled or frozen. Prepare enchiladas as directed through step 5, except do not spoon sauce over the casserole(s) to be chilled; add sauce to casserole(s) to be frozen. Transfer sauce to an airtight container; cover and chill in the refrigerator. Cover the baking dish and chill in the refrigerator for up to 24 hours. To bake, spoon the reserved portion of sauce over the chilled enchiladas. Bake, uncovered, in a 350° oven about 40 minutes or until heated through. Sprinkle with cheese. Let stand 5 minutes. Serve as above.

For frozen casserole, thaw enchiladas overnight in refrigerator. Bake casserole, covered, in a 350° oven for 20 minutes. Uncover and bake 20 minutes more or until heated through. Sprinkle with cheese; let stand for 5 minutes. Serve as above.


Archives
Thrifty Fun has been around so long that many of our pages have been reset several times. Archives are older versions of the page and the feedback that was provided then.
I am looking for a recipe for chicken enchiladas.
Sandra from North Las Vegas, NV
---
RE: Chicken Enchilada Recipe
I don't have a regular recipe, but I'll share with you how I make them.
Dice a couple of boneless, skinless chicken breasts and cook in a bit of oil with some chopped onion. Add about 3/4 can of green enchilada sauce and some shredded cheddar cheese. Put some filling into flour tortillas and place seam down in a greased casserole dish. Cover with more green enchilada sauce and top with more shredded cheddar cheese. Bake in a 350 degree oven until the top is nicely browned.
Hope you enjoy. I do the same thing when I make beef enchiladas but I use ground beef and red sauce instead. (11/18/2008)
By Mellinda62
RE: Chicken Enchilada Recipe
Here's a great recipe that I use a lot!
1 can (16 oz) refried beans
10 flour tortillas (6-8 in)
1 can (10 3/4 oz) condensed cream of chicken soup, undiluted
1 cup sour cream
3 to 4 cups cubed cooked chicken
3 cups shredded cheese, divided
1 can (15 oz) enchilada sauce
1/4 cup sliced green onions
1/4 cup sliced ripe olives (optional)

Spread about 2 tablespoons of beans on each tortilla. Combine soup and sour cream; stir in chicken. Spoon 1/3 to 1/2 cup down the center of each tortilla; top with 1 tablespoon cheese. Roll up and place seam side down in a greased 13 x 9 x 2 baking dish. Pour enchilada sauce over the top; sprinkle with onions, olives and remaining cheese. Bake uncovered at 350 degrees for 35 minutes or until heated through. Yield: 4-6 servings. ENJOY! (11/18/2008)

By Lea
RE: Chicken Enchilada Recipe
This is my favorite from Campbell's Kitchen

Easy Chicken and Cheese Enchiladas
Prep: 15 minutes
Bake: 40 minutes
Serves: 6

Ingredients:

1 can (10 3/4 ounces) Campbell's Condensed Cream of Chicken Soup (Regular or 98% Fat Free)
1/2 cup sour cream
1 cup Pace Picante Sauce
2 tsp. chili powder
2 cups chopped cooked chicken
1/2 cup shredded Monterey Jack cheese
6 flour tortillas (6-inch), warmed
1 small tomato, chopped (about 1/2 cup)
1 green onion, sliced (about 2 tablespoons)

Directions:
Heat the oven to 350 degrees F. Stir the soup, sour cream, Picante sauce and chili powder in a medium bowl. Stir 1 cup Picante sauce mixture, chicken and cheese in a large bowl.

Divide the chicken mixture among the tortillas. Roll up the tortillas and place them seam-side up in a 2-quart shallow baking dish. Pour the remaining Picante sauce mixture over the filled tortillas. Cover the baking dish.

Bake for 40 minutes or until the enchiladas are hot and bubbling. Top with the tomato and onion. (11/19/2008)

By PICO
RE: Chicken Enchilada Recipe
This is a family favorite; so much so that when I moved up here to Illinois from Florida to take care of my terminally ill mother, my sister in Florida asked me to make, freeze and overnight some to her! Lol.

Creamy Chicken Enchiladas:
1 can chunk chicken (like tuna)
1 8 oz container sour cream
1 can "Cream of" (whichever kind you prefer i.e. chicken, mushroom, celery)
1 soup can of milk
1 can diced green chilies
1 large bag (2 cups?) Fiesta Blend cheese. (My favorite because it has like 4 different cheeses.)
10 flour tortillas

Preheat oven to 350 degrees F. Spray 9x13 pan with nonstick spray. Mix first 5 ingredients in bowl. Add about 1/3 of the cheese. Put some of this mixture in the bottom of the pan (cover bottom of pan).

Now here's where the fun starts! Kid's LOVE to help with this part!

Spread some of this mixture on each tortilla and roll tortilla up. Place rolled tortilla in pan. (I usually double this recipe and make 2 layers of tortillas in the pan.) Put some of the mixture over the top of the 1st layer of tortillas, followed by about 1/3 of the cheese, then 2nd layer of tortillas with last layer being cheese. Cover tightly with aluminum foil and place in oven for about 25 minutes. Remove foil and return to oven till cheese is your favorite degree of 'doneness'. (11/19/2008)

By GrammySheila
RE: Chicken Enchilada Recipe
I use:
1 1/2 to 2 dozen "Lala's" flour tortillas
1 whole chicken
1 - 2 large cans Las Palmas mild red enchilada sauce
1 can chopped olives
2 lbs Colby cheese shredded

Boil the chicken until done. I usually boil it about 1 1/2 hours, cool, separate meat from skin and bones, and then I squish the chicken with my hands adding salt to taste. Add the can of olives to shredded cheese, dip tortilla in enchilada sauce, lay flat on cake pan, at the edge nearest you add chicken, and shredded cheese. Roll up mostly tight and scoot to side of pan nearest you. Continue doing this with the rest of chicken and cheese. When pan is full, top with extra enchilada sauce and cheese. Bake at 350 degrees F for 15 minutes. My family loves these enchiladas. I hope yours does too. (11/21/2008)

By Donna
RE: Chicken Enchilada Recipe
This enchilada recipe is 3 generations old. I use any variety of meat I have on hand. Leftover chicken, turkey, roast beef etc. Cut or shred into bite size pieces. Saute some onion, add to meat with sliced black olives and moisten with red enchilada sauce. Then soften corn enchiladas and dip in enchilada sauce. Fill with meat mixture, add some grated cheese (longhorn, cheddar, Monterey jack. Whatever is your preference or on hand). Roll up and put in baking dish. Top with a little more enchilada sauce and grated cheese. Bake at 350 degrees F until warm and bubbly. (11/22/2008)

By merlene