Chili while a meal in itself can also be used as an ingredient in other dishes. This page contains recipes using chili.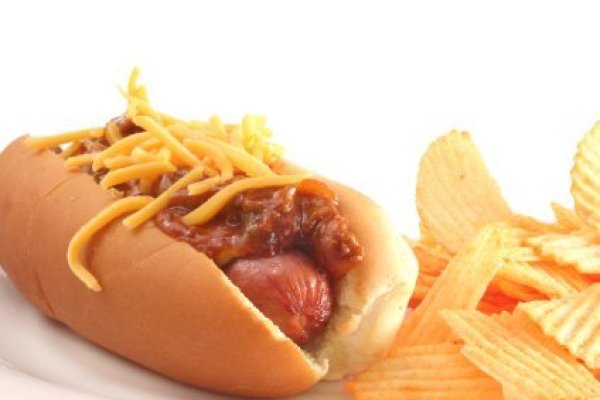 Filter

: All Articles
Sort

: Relevance
When I spring clean, it even includes going through the pantry and freezer searching for foods coming close to the stale date and making sure they get used up soon or are given to the food bank.

In this case, a couple of the items were canned chili and (frozen) refrigerated pie crusts that needed to be used. What to make with them? Well, a Chili Pie of course ;-)
Ingredients:
3 (15 oz.) cans chili
1 pkg. of two refrigerated flat pie crusts
1 cup cheddar cheese, or more to taste
diced onions, to taste, if desired
sour cream, for serving
Directions:
Preheat oven to 425 degrees F. If the chili you are using has an excessive amount of water/fat content, you will want to drain one or two of the cans so you don't end up with an overly soggy crust.
Place one pie crust in a 9 inch pie pan. Sprinkle inside of the crust with 1/4 of the cheese, top evenly with one can of chili, sprinkle with diced onions, then with 1/4 more of the cheese and repeat process. The top layer will be the last of the cheese. Top pie with remaining pie crust, trim, flute well and make vent cuts on top.
Place pie on a cookie sheet in case the chili bubbles out over the edges and bake until crust is golden, about 35 to 45 minutes. If edges begin to brown too much before the top is golden then cover the edges with strips of foil.
Remove pie from oven, let rest for 5 minutes before slicing and serve with sour cream.
By Deeli from Richland, WA
Easy whimsical Southwestern appetizer that can be made in minutes.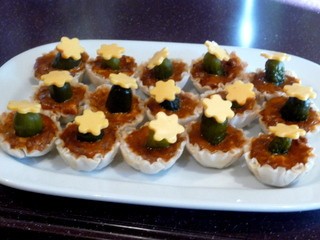 Approximate Time: 10 minutes
Yield: 15 appetizers
Ingredients:
2 3/4 oz. slices slices American or yellow cheddar cheese
1/2 cup canned chili without beans
1 jalapeno pepper, stemmed, seeded, finely chopped
1 box mini phyllo shells (15 count)
15 small sweet gherkin halves
Steps:
With a small canape cutter, cut 15 flower shapes from the cheese slices, reserving the cutting scraps.
Place chili, chopped jalapeno pepper and cheese cutting scraps into a microwave-safe bowl and microwave on High for 60-75 seconds until cheese is melted and mixture is hot, stirring once.
Spoon mixture evenly into phyllo shells. Place a gherkin half, cut side down, into each filled shell.
Place a cheese flower on top of each gherkin.
Source: Original Recipe
Comment
Was this helpful?
Helpful?
Yes
I was reading a tip on the recipes for chili dip and it stated to use half a chili brick. What's that? As I live in the U.K, I have never heard of it. Many thanks. xxx This is a link to the specific recipe in question: Chili Dip
By Helen from U.K
Answer
Was this helpful?
Helpful?
Yes
Hi, I also live in the UK and whenever I make chilli or dip I use dried chilli flakes, you don't need many unless you want a real strong dip or chilli. If you want beans there are plenty of tinned choices in the supermarkets. It depends on where you live but Adsa and Tesco stock world foods, if you have any asian stores they stock chilli flakes, if you think they are to large you can always grind them down. Just wash your hands after handling them and don't touch your face or eyes. Boy will you know about it if you do. Any problems, let me know. Go luck.
Reply
Was this helpful?
Helpful?
Yes
Read More Answers...
This is a delicious, quick and easy dip. Only 2 ingredients! Great for when unexpected guests come over.
Ingredients:
Half brick of chili (or approximately 2 cups)
8 oz. cream cheese
Directions:
Put chili and cream cheese in a microwavable safe dish. Microwave on high for 2 minutes. Stir and serve with tortilla chips or Fritos. That's it! Super easy and sooo delicious!
Source: My mother
By Kim from Fairland, OK
Recipe for Wendy's Chili (Copycat). Brown ground beef over medium heat, drain. Add remaining ingredients and simmer over low heat, stirring about every 15 minutes for 2-3 hours.
One of my kids' (now grown) favorite quickie meals was to open a can of chili, spread it on toast, put a slice of cheese on top and broil it in the oven for a very short time, or microwave it. It is quick, tasty, nutritious - what's not to love about that?

By Marlene from Larimore, ND
Combine cans of chili and 3 cans water in baking dish. Fold the pasta into chili mixture making sure it is well mixed.
In a Dutch oven or soup kettle, brown sausage and onion; drain. Add remaining ingredients; cover and simmer for 20 minutes, stirring often.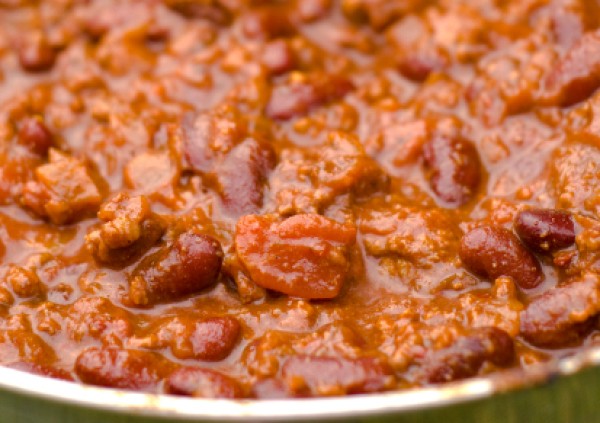 Comment
Was this helpful?
Helpful?
Yes
Ingredients
1 pkg. cream cheese
1 can chili with or without beans
Cheddar cheese (shredded)
Directions
Let cheese set at room temperature until soft. Press in bottom of microwavable dish. Top with chili. Sprinkle cheese on top. Microwave until melted and hot. Serve with taco chips.
By Robin from Washington, IA
Answers:
Chili Dip
This sounds like something that is going to appeal to my picky daughter! Thanks! (11/11/2005)

By cookwie
Comment
Was this helpful?
Helpful?
Yes
Ingredients
1 lb ground beef
1 green pepper, chopped
1 envelope chili seasoning mix
1 can tomato paste
1 package cream cheese (3oz.)
1 cup water
corn chips
Directions
Cook ground beef and green pepper in skillet, stirring to crumble, until beef browns; drain off excess fat. Stir in chili seasoning mix, tomato paste, cream cheese and water. Cook over medium heat, stirring until mixture comes to a boil. Keep warm and serve with corn chips or other chips.

By Robin from Washington, IA
Comment
Was this helpful?
Helpful?
Yes