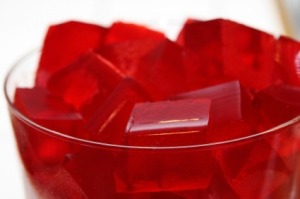 Finger Jello is just that a firmer version that is easily cut into shapes and eaten with your fingers. This page contains finger Jello (gelatin) recipes.
Ad
---
Solutions: Finger Jello (Gelatin) Recipes
Read and rate the best solutions below by giving them a "thumbs up".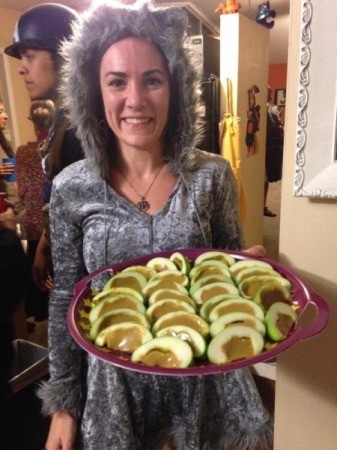 This is a great treat for a Halloween party or other fall gathering. The hollowed out apples have a nice tart note and the caramel vodka chocolate jello is very tasty. The presentation is really fun and sure to get attention at a party - and no wasteful plastic containers to deal with!
I made a second non-alcoholic batch using chocolate caramel cocoa powder and more water instead of vodka for the kids. I didn't use yellow food coloring in the non-alcoholic ones to make sure I didn't get them mixed up.
Approximate Time: 30 minutes (plus minimum of 4 hours to chill)
Yield: 48
Ingredients:
6 -8 granny smith apples
1/2 cup milk
1/2 cup cold water
1 3/4 oz. envelope hot chocolate powder (WITHOUT marshmallows)
1 1/4 oz. envelope Knox unflavored gelatin
1/4 cup granulated sugar
2 -4 drops yellow food coloring
1/2 cup butterscotch schnapps or caramel vodka (I used Smirnoff Kissed Caramel vodka)
1/4 cup lemon juice (to prevent browning of apples)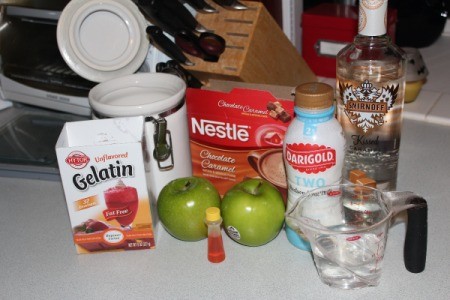 Ad
---
Steps:
Place lemon juice in a small bowl, and prep the washed apples by slicing each in half from stem to bottom (DO NOT peel). Using the smaller end of a melon scoop, carefully hollow out the inside of the apples, to where you only have approx 1/4 inch outer shell, being careful not to get to close to the outer peel. While carving each apple, dip the hollowed halves in a dish of lemon juice to coat the rim of the apples to prevent browning (you will not taste it). Place each hollowed out half in muffin tins.
In medium sauce pan, whisk together the cold water and hot chocolate envelope until no clumps are visible. Do not heat yet!
Once mixed thoroughly, sprinkle the envelope of Knox gelatin over the top and let it sit. Don't stir for 2 minutes.
Turn your stove top burner to a medium low setting and completely mix in the gelatin, then add the milk and sugar. Slowly bring the mixture to a low simmer a few minutes just until the sugar is dissolved.
Add food coloring to the color you like.
Remove the pan from the heat and let sit until it cools to room temperature.
Once the mixture is room temperature, stir in the alcohol. Mix well.
Make sure each apple slice is level in the muffin tin, and pour in jello mixture, filling to the very top. Place in fridge for a minimum of 4 hours. (I only let mine sit for 3 hours, because I needed to go to the party, and they weren't "quite" set as well as I would have liked.)
Once set, remove apples from muffin tins and slice each half into 3-4 wedges, depending on the size of your apples. Plate them on whatever tray you plan to serve on and return, loosely covered, to the fridge. TIP: It is best to cut the apples just before serving, since the freshly cut edges will brown. You can trim off any brown edges before serving.
Source: www.food.com
This is the recipe for jello you can pick up and eat with your fingers. It can be made with the same amount of splenda or sugar. You can cut them into squares or make use of cookie cutters.
I always do this the night before. I don't know how long it takes to have the jello set during the day.
Ingredients:
2 1/2 envelopes plain gelatin
1 cup cold water
6 oz package fruit flavored gelatin
1 cup cold water
1/4 cup sugar or splenda
1/2 cup cold water
Ad
---
Steps:
Combine plain gelatin and 1 cup water and let stand.
Mix fruit flavored gelatin, one cup water and sugar and bring to a boil.
Take off heat.
Add 1/2 cup water and plain gelatin water. Mix lightly.
Pour into flat bottomed dish 11x9x1/2 inches.
Put in the refrigerator to cool.
When set, cut into squares.
By Robyn [369]
This is great for little ones in your home!
Ingredients:
3 sm. pkgs. any flavor Jello
3 envelopes Knox gelatin
4 cup boiling water
Directions:
Mix Jello and gelatin together. Pour boiling water over mixture and stir until mixture is dissolved. Pout into a 9x12 inch pan and chill. Cut into shapes after mixture is well chilled.
Cooking Time:
minimal - only long enough for water to boil Minutes
By Robin from Washington, IA
Ingredients
3 envelopes Knox unflavored gelatin
1 1/2 cup orange juice (cold)
1 1/2 cup orange juice (heated to boiling)
2 Tbsp. sugar or honey (opt.)
Directions
In medium bowl, mix unflavored gelatin with cold orange juice. Add hot juice and stir until gelatin is completely dissolved; stir in sugar. Pour into an 8 or 9 inch baking pan and chill until firm. To serve, cut into 1 inch squares. Makes about 6 dozen.
By Robin from Washington, IA
Give a "thumbs up" to the solution that worked the best! Do you have a better solution? Click here to share it!
Questions
Here are questions related to Finger Jello (Gelatin) Recipes.
Does anyone have a recipe for "Finger Jello"? Back in the late 70's, early 80's I use to use Jello powder and Knox Gelatin and water but do not remember the amounts of each. You can cut it into shapes and it is easy to handle and take for snacks to school, etc. It is easy to pick up and eat for little fingers!
By moose-2 from Sarnia, Canada
---
Most Recent Answer

By Rita Hall [1]05/07/2009
Thanks to everyone for recipes for "Finger Jello"
I will share these with my daughter as well. She has a 15 month old son that will enjoy these recipes like his Mom did when she was his age!!
I'd like to add fruit into my finger jello and was wondering how long should I wait before adding it, before it becomes too firm. Thank you for your help!
By John
---
Most Recent Answer

By linn [50]07/01/2012
I always wait until it is about half set.