Nina Bella Loor (Jack Russell Terrier)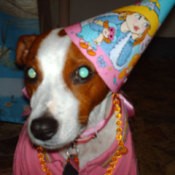 Nina is three years old. She is a pure breed Jack Russell Terrier. I got my pet after my rabbit died so I wouldn't be upset. My godmother gave Nina to me on April 8, 2003.
Nina loves to have lots of fun. She is very energetic and loves to play with other people. She is very loving and protective. She wouldn't let a stranger near my home, which makes me feel safe.
Nina is also very smart. I thought her many tricks. She knows all her tricks in both English and Spanish. She knows how to sit, give paw, lie down, do commando, and play dead. She is also learning many more.
By Andrea L from Yonkers, New York
Feedback
Read feedback for this post below. Click here to post feedback.

By
01/08/2007
Well, Miss Nina is not only a pretty girl, but a very smart one as well! Give her a big hug and kiss from Teddy's (Pomeranian) and Miss Kitty's (Bombay) Mom.

By
01/08/2007
Nina is "muy bonita!" I love her in her party clothes! Have a fun and happy life together!
Post Feedback
Add your voice to the conversation.
Related Guides
Related Posts