Yeast needs warmth to grow. When baking yeast breads, begin with a warm (not hot) loaf pan. Before putting in the dough, either set the pan in the sun, place it on range with oven on "warm" underneath, or run hot water over the pan until it is warm to the touch, then dry the pan.
This will prevent the yeast from stalling the rising process.
By judijo19 from Southern California
Ad
---
You can just put the pan in the oven while you're reheating the oven for baking.
It's important to provide an even temperature.
I leave mine in the mixing bowl and cover with a damp clothe or if it's a humid day I will just cover it with a loose lid.
The top of the fridge is perfect and leave it for at least 8 hours. Longer is even better. I aim for at least 12 hours most times depending on what works with my schedule.

The other good thing about putting it on top of the refrigerator is that you are not using anymore electricity. You are merely making use of energy that is already being provided. It's better for the planet and better for your power bill.
One of the simplest and fool-proof recipes for "No Knead Bread" is here: http://www.youtube.com/watch?v=13Ah9ES2yTU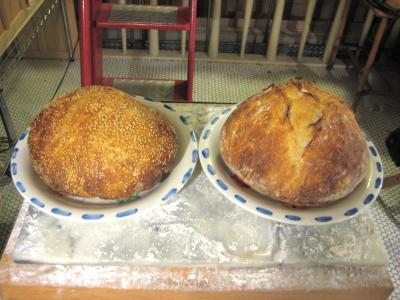 Archives
Thrifty Fun has been around so long that many of our pages have been reset several times. Archives are older versions of the page and the comments that were provided then.
I've always wanted to make bread, but what is the best way to let the bread rise in a warm place? Do I pre-warm the oven or what?