September 20, 2006
0

found this helpful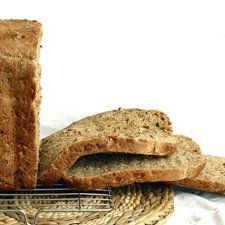 Tips and recipes for making bread.
My Bread Baking Tips
The next time you bake bread, try using leftover potato cooking water. It provides food for the yeast and a little extra flavor.
Add a teaspoon of garlic powder in your flour, you'll have a lightly garlic taste which is great warm or toasted.
When making bread in a cold kitchen, warm everything in oven, including flour and the mixing bowl. Your dough will rise higher.
By Randa from San Marcos, TX
Beer Bread Recipe
I recently posted this Beer Bread Recipe. It is so simple. I have had nothing but compliments. It rises within minutes of mixing the ingredients. Simply mix together and put in the preheated oven.
Directions
Stir three cups self-rising flour, one third cup sugar and one 12 oz. can of beer into a big sticky lump. Grease a loaf pan with spray shortening or rub solid shortening, oil or butter around. Bake at 350 degrees F for 45 minutes. Pour on as much of a stick of melted butter that will run over the top and down the sides without overflowing; bake 15 minutes longer. Let it sit in the pan for at least 10 minutes to soak up all the butter before serving
Potato Water
My mother-in law always saved the water when she boiled potatoes and used it in place of any liquid called for, bread was always light and fluffy. I have used this tip for years.
By Alice Ohlert
Four Loaves of Bread
I bake four loaves of bread at a time and do it about every 10 days. Here's my tried and true recipe for four loaves:
Dissolve 2 Tbsp. yeast in 4 1/2 cups of really warm water from the tap. Add 4 Tbsp. of sugar to this right away. I buy my yeast from the health food stores refrigerated section. The grocery store yeast is almost always dead and doesn't rise.
Let the water, yeast and sugar work for about 10 minutes until it's starting to foam or bubble a little. Mix in: 4 Tbsp. oil, and 4 tsp of salt. Add 12 cups of white flour (or 6 cups of white and 6 cups of wheat), Knead for about 10 minutes. Add a little flour if it sticks to your fingers when kneading. Let rise for 1/2 hour. Punch down and put in 4 greased loaf pans. Let rise another 1/2 hour. Bake at 325 degrees F for 40 minutes.
I haven't had this recipe fail yet but be sure to get your yeast from a health food store or coop and make sure it's been refrigerated. Good luck!
By Pat
Warm Water and a Recipe
The best tip that I can give you is to make sure the water isn't too hot when you proof your yeast. Just nice and warm, add the sugar called for in the recipe, and let it rest for several minutes (10 or 15). I am giving you my very favorite bread recipe, very inexpensive and very, very good.
Loaves of Goodness
2 pkgs. dry, active yeast
2 cups warm water
2 Tbsp. sugar
1 Tbsp. salt
6 cups or more flour
3 Tbsp. dry milk powder
1/4 cup cornmeal
1 egg white
1/4 to 1/2 cup sesame seeds
Dissolve yeast in warm water and add sugar. Let proof 15 minutes or until yeast is "bubbly." Stir in salt. Add milk powder and 3 cups flour. Mix well. Slowly add enough flour to make a nice, soft dough. Knead dough on floured board for about 10 minutes, adding small amounts of flour as needed.
Shape dough in a smooth ball, brush surface with melted butter, cover, and let rise in a warm place till doubled. Punch down divide in two equal parts, and let dough rest for 10 minutes. Shape into smooth balls or "torpedo" shapes for Vienna bread.
Place shaped bread on a cookie sheet covered with shortening (or better yet, sprayed with no-stick cooking spray), and covered with a thin layer of cornmeal. Brush with egg white, sprinkle very liberally with sesame seed and slash tops 1/4 inch deep with a very sharp knife. I usually slash 4 cuts in the torpedo shaped bread, or do a cross hash on the round ones. Let rise till almost doubled.
Preheat oven to 425 degrees F with a pan of boiling water in the bottom of the oven.
Bake for 15 minutes at 425 F, then lower temp to 375 F, and bake for 20 minutes more, until a nice golden brown. Thump bread with finger. If it sounds hollow, it is done. Immediately remove to a cooling rack.
By Margie M.
Salt and Yeast
I have made bread for several years now, with and without a bread machine. The one thing I have learned, is NEVER put the salt in with the yeast, salt kills yeast. Always put the salt in with the flour, your breads will never get hard. This was a hard lesson to learn, I had many hard loaves to throw away, or give to the ducks in our little lake.
Trying a Different Breadmaker
I had heavy, dense loafs. It turned out to be the breadmaker. It just made every recipe I tried that way so I got a different breadmaker.
By Kathy in Colorado
Wheat Gluten
I've experimented with various bread recipes for a good while now, and early on my loaves came out too dense to suit me. After doing a bit of research I discovered wheat gluten. That's the stuff in wheat that causes the dough stick together and stretch as bubbles form, making for a lighter, more porous loaf. Few recipes that I've seen call for this, but I use it now in most all my breads and it really makes a difference.
I use a bread machine on the dough cycle, then remove the dough for the final rise and bake it on a stone in the oven. My stove is an ancient GE (1945 or so) and the temp dial cannot be trusted so I use an oven thermometer to be sure it is right. I love the machine because it saves a lot of work, but you don't need one to bake really good bread.
My Recipe
My mother taught me to bake bread. She made 9 loaves a week. We always used a quart of warm (not hot) water, with 1 stick of margarine, and powdered milk to add calcium. A little bit of sugar and a little bit of salt. Make sponge dough, adding just enough flour to make a thick soup. Add the yeast mixture (warm water 1 tsp sugar) to that; let sit. When bubbles are all over start adding flour, until it cleans up off the pan.
Then use cooking spray or Crisco to grease pan. Let raise, punch down twice, then place in pans and raise again. The kitchen must be warm enough to let the bread raise; 75-80 is good. When it;'s doubled put in oven; I use 325 degree F oven, cook a little longer, spray with cooking spray, so crust is soft, get out pans and cool on the counter, or raised sheet like the broiler pan. Good luck!
By Polli from Alabama