Top Comment
I am a bread baker also...I have a warmer drawer on my stove, I put my bread dough in the bowl in the warmer drawer with the temperature set on Low; my dough rises in half the time it does sitting in a warm place on my counter. I also place my bread pans with the bread dough in them in the warmer drawer; I am able to bake the bread quicker than the conventional method of bread rising on the counter. It works for my bread baking methods.
I have a friend that puts her bread dough in her oven with the oven light on and the bread rises quicker using that method.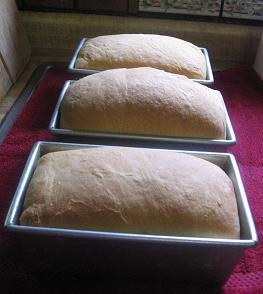 Elaine S.
Bronze Feedback Medal for All Time! 101 Feedbacks
June 13, 2011
1

found this helpful
Top Comment
Anybody with a bread maker. I have mentioned this before but mix everything in a bread maker and put it on dough setting. Take out and shape in your loaf and let rise on top of stove. It is so simple that way and no mess! I rarely do it the old fashioned way anymore.
I have no problem selling my breads at farmer's market so it must be good. Here is my last batch I sold in two hours last Friday. If you do mix it the old fashioned way, Blazincooper, that is a great idea!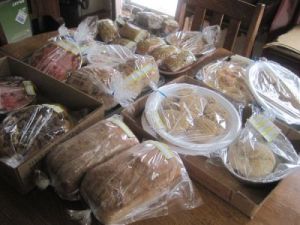 June 13, 2010
0

found this helpful
Would it rise faster if you warmed a cup of water and left it in when you put the dough in. I think my biggest problem is that my house is too cool in the winter and cold days as I keep my house in the lower to mid sixties to save on heating bills.
phil

Marjorie
Silver Feedback Medal for All Time! 290 Feedbacks
June 13, 2011
0

found this helpful
I've been baking bread for many years now and never thought of letting it rise in a microwave oven. I add vital wheat gluten along with the yeast + other ingredients when making whole wheat bread. Whole wheat bread is more difficult to rise than white bread. I've never owned a bread machine and just don't have the additional kitchen counter space for one. I've always used fresh yeast but lately my bread dough hasn't been rising the way it should. It might be due to the improper temperature. So I've given up baking bread for a while and starting buying whole wheat bread from the store.

June 13, 2011
0

found this helpful
Here in Wi. on sunny days, I let my 7grain whole wheat bread rise in our sun room. Watch it, goes quickly. I also found a recipe to raise dough in the microwave. You set the power to 10, for 5 min. Let double, punch down, use same time and setting for second rising.
Now u r ready to put in bread pans. Warm days it rises in the sun room, winter in the oven w/oven light after heating to 150 degrees. Works very well.