June 19, 2011
1

found this helpful
We have gnats which are taking over. What is the safest way to get rid of them? They are in our bedroom, as well as the rest of our home, but mainly concentrated in the kitchen and our master bedroom.

By Heather from Smyrna, TN
June 21, 2011
0

found this helpful
Put some apple cider vinegar in a pint jar with a lid, poke a few holes in the lid and the gnats will go right in and cannot get out! Change every few days!
June 21, 2011
0

found this helpful
Get some cups/styrofoam or plastic, and fill 2/3 full with applec cidar vinegar. Drop in 2-4 drops of dishwashing liguid. This breaks the surface adhesion of the liquid.
The knats will dive for the vinegar, and drown. Sure Cure!
http://www.thri 1727863.tip.html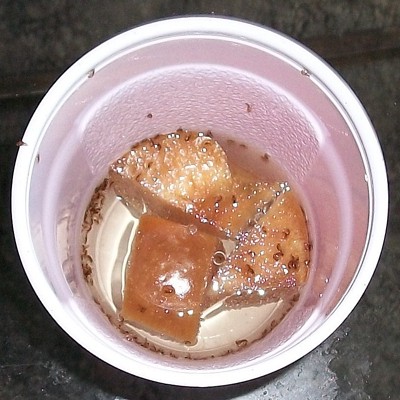 June 21, 2011
0

found this helpful
Poor but Proud hit the nail on the head. I put hedgeapples in last fall because I heard they run spiders off. But no one admitted they draw gnats, big time! I did research, came across the apple cider vinegar but it called for a dab of oil. It took about a week, I changed the vinegar/oil ever few days, but they got rid of them. Never again will I try the hedgeapples.
June 7, 2013
0

found this helpful
I just moved into an apartment. I've found a lot of dirty little overlooked areas, like caked on food on the trim of dishwasher, stove, floor corners. The gnats were coming from the pipe that is a bit larger than the drain hose from the washer stuck inside of it.
Solution...rubberbands (for now), take the hose out of drain pipe, slip the rubberbands onto the pipe &/or drain, I used several. Stick the hose back into the pipe, and reattach the little security band that keeps it in there. Wrap a piece of scrap fabric, or old towel all around and overlapping where hose and pipe meet.
Slip those rubberbands over each one, some on the pipe and some on the hose. Prevent them from flying out of the drain. It really stinks. I have run several loads of bleach rags down already, from all the gunk I cleaned up. I will have maintenance come and deal with the odor.
Best of luck with this problem!
Read More Answers
August 10, 2010
0

found this helpful
I have a gnat problem; in my bedroom. I have not seen any in the kitchen. They come out in the evening when the lights are on, or on my computer. The plant's soil seems fine. I do not have fruit out. This is a problem when trying to sleep, you feel gnats. We put fly paper out and it has helped a little.

Chris
Answers:
Gnats in the House
We are having the same problem. They were bad last year but disappeared over winter. Now they are back with a vengeance and driving me nuts. And no, I don't have fruit/food laying around but I do have houseplants!

If you look at the archives, you'll see there are a lot of posts by people with this same problem. I haven't read the archives until now, but there are some good ideas to try - I didn't know about the vinegar and am going to try this 1st thing tomorrow.
As a temporary fix, I have a spray bottle in the kitchen with water that has a few drops of dish soap added. It will kill gnats and ants, etc on contact. I'm thinking they are in my houseplants and maybe the pots of herbs in my kitchen window.

I know my mom used to make 'tobacco tea' by taking the tobacco out of an unused cigarette and soaking it in a quart jar of water. Then she used the water on her plants to kill aphids and other bugs that might be in them. I don't smoke and don't want to bum a cigarette off someone who does, so I think I'm going to try the soapy water bath for my plants first and see if that helps. (06/02/2010)

By lyonpridej
Gnats in the House
Stick with using the Apple cider vinegar and dish detergent...it works. Besides, vinegar is a natural "odor eliminator" and helps get rid of cooking odors, too, so it has a dual purpose. Just put the jars out in whatever room you're being bothered by them. I don't even bother covering them...and gnats never returned.

Has anyone tried filling baggies of water with 5 or 6 pennies inside and pinning it in front of windows to keep flies and wasps away? (Or horse trailers or wherever you want.) (06/02/2010)

By Iluv2craft
Gnats in the House
I just tried a recipe from this site. No measurements, ok? In a plastic disposable dish, pour around 1/4-1/2" apple cider vinegar. Then add a few squirts of Palmolive Lemon dish washing liquid. It must be Palmolive lemon I don't know why, but it won't work with Dawn, for example, I tried it already.

Place the plate on a table, away from children and pets, and in the morning you should see them floating around. Throw it out and start with a fresh dish for next time. I use this method outside too in the backyard where I read day and night; works like a charm!

Good luck! (06/07/2010)

By metroplex
Gnats in the House
Gnats come out at a certain time of the year. Flea spray kills them. I found that out by accident when I was using it for my dogs. (06/16/2010)

By Stngray
Gnats in the House
I noticed the insects I have seen in my kitchen are originating from the rotting part of the bottom cabinets. I don't know if they're gnats but they fly around my head from time to time in the house and are driving me crazy! I tried spraying them but now I have two kittens in my house and I don't want to expose them to insecticides. I HOPE that the apple cider vinegar concoction works!

Anyway, can anyone tell me why they are congregating in the wood at the bottom of the cabinets? I don't leave fruit or anything rotting out. (07/10/2010)

By MsAnthropy
Gnats in the House
Hey everyone, I found a proven method to get rid of gnats, once and for all.

1. Pour ammonia down every one of your drains, and immediately put the stoppers in them, leave them in overnight. Make sure you don't run any water down those drains after you have put in the ammonia. Gnats lay their eggs in the drains of your sinks and tubs.

2. Make sure you don't leave any trash out over night. Take out all garbage every night. Ladies: if you have bathroom trash with any feminine products disposed in there, you MUST take out the trash daily. It's a great idea to buy a garbage can with a lid. Also, if you have garbage in the can, pour a little ammonia over the garbage, this helps. They hate that smell.

3. DO NOT leave wet towels laying around. They love wetness of any kind. Also, it's a good idea to cover your wet dishes drying in the drain board with a dry bath towel. Remember: Standing water is a NO, NO!

4. Once you have done these things, go to Home Depot and buy a product called EcoSmart flying insect spray. It is safe for kids and pets and uses organic products like peppermint and cinnamon oil. It smells good and it kills the gnats.

**Now, if you have a gnat problem that is really bad, once you have gone through steps 1-4, I suggest using a fogger to kill all the gnats still flying around. This is a good way to kill them quickly. Please be safe when doing this and follow instructions on the fogger to a T.

Hope this helps, it worked for me!! (07/26/2010)

By Cecegirl
June 1, 2010
0

found this helpful
I would like to know where gnats come from. What causes gnats to come in your house?

By Vernette from Los Angeles, CA
Answers:
Gnats in the House
My experience is that gnats come from food left out. Such as a fruit bowl, small pieces of food that have been dropped and left unnoticed, pet food that may have gotten wet and not taken care of cause you did not know, food left in the garbage disposal and not run to empty it out enough. Gnats will come for the same things that fruit flies come to.

So you have to keep all food in air tight containers that need to be left out and in the fridge when required. You need to sweep 2 or 3 times a day and mop at least once to make sure that everything is up that you don't see without sweeping. There are many things that we just don't see that these bugs come for. It sucks and makes so much more work for us, but that is how it is I guess. (03/12/2010)

By cutepachef
Gnats in the House
I have found a wonderful product for this problem. We keep a compost jar in the kitchen for food scraps, plus there is always fresh fruit sitting out. We could never get rid of those little critters, despite everything we tried. Finally, I found this little product at K-Mart about a month ago. It's called Terro Fruit Fly Trap, and it's non-toxic. It prevents flies from breeding and multiplying. It looks like a little apple and you just squirt this liquid in it. It works! It took about 2 or 3 days before they all disappeared, and I haven't seen one now for about a month.

I went back to K-Mart to get a refill, but they said they don't even have the ability to purchase it yet; the company sent it to them to try out. The phone # they list is 800-837-7644. (03/15/2010)

By Ky1woman
Gnats in the House
Depends on the gnat. Most common gnat I deal with professionally is the fungus gnat living in the potted plant where the dirt is staying too wet. (03/22/2010)

By larflu
Gnats in the House
I, too, have what I believe is a gnat in the house problem. It's newly built construction, I do not live in the house yet and there is no food or plants in the house yet. However, I have a bunch of what look like dead and alive gnats in the house mostly by my windows and sliding glass door and dead on the floor around two lamps I have switched on at night. Since there is no food, no plants, no organic matter at all in the house, why are they in there and how do I get rid of them for good, and how do I prevent them from getting in? (04/21/2010)

By RaeTP
March 8, 2010
0

found this helpful
Is there a home remedy for getting rid of little flies (gnats) around our house?

By Ed from Reno, NV
Answers:
Gnats In the House
Plug all your sinks and tubs throughout your house.
Hang some sticky fly paper around your bathrooms and kitchen areas out of reach of children and pets.
Make sure all food scraps are kept under refrigeration until garbage day or put immediately in recycle bin for the garden which is hopefully out of your living areas.
Make sure all open windows and doors to the outside have intact screens and the windows and doors shut tightly.
I live in Florida so you know that I know about bugs. They mostly hatch out in drains in your house so keep all drains plugged after use and you will have to "train" the family to be vigilant about this. Good luck.
Hamnurse (02/06/2010)

By hamnurse
Gnats in the House
Put apple cider vinegar in an empty salt shaker, the flies are attracted to the apple vinegar they go in through the hole and they can't get out and drown. I have tried it and it works, in the morning they float on top. I put a couple around the house.
(02/09/2010)

By atinap
Gnats in the House
I call those pesky critters "fruit flies" because they appear every time I buy more than 2 bananas at the store. Even green ones. 100s of wee flies, that are so smart for so short of a time. I freeze my bananas after slicing. Good for cooking, and good for cold mixed drinks, ie: breakfast drink, etc.

The flies seem to die on their own, on a "special" place by my sideboard. Get the fruit out of the way, and all is well. Don't toss fruit skins or uneaten pieces in the trash in the house. Use plastic bags from store and freeze it til garbage day. I only have this problem in the summer. Good luck to all. I am going to try the vinegar, since I use it for everything else in the house and garden. The odor of the vinegar goes away when it dries. (02/09/2010)

By islandsage
Gnats in the House
Put about 1/4-1/2 inch of apple cider vinegar in a small jar with just a drop or two of dish washing liquid. The dish washing liquid breaks the surface tension of the vinegar and the little critters drown. Cover tightly with plastic wrap held with a rubber band and put several small slits in the plastic. Then be patient. This works every time for me.

The gnats do not come from the drain. They are attracted there by the food scrap in the disposal. Hope this works as well for you as it does for me. (02/09/2010)

By mom4boyz
Gnats in the House
If you have indoor plants like I do, put sand on the top of the potting soil. It will prevent any gnats from coming up out of the soil and ruining that great party you're planning. (02/09/2010)

By pinkmellie59