Pita (Longhair Cat)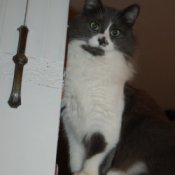 Pita is a 1 1/2 year old long hair cat. This crazy kitty hitched a ride home with us via the spare tire under our van from the grocery store 20 miles away. This was in November 2010, and Pita was about 12 weeks old at the time.
Upon exiting the store, we briefly saw a small cat run under our van in the parking lot. When we got to our van we checked all around and saw nothing (it was dark out). Assuming the cat had ran off, we got in our van and went home. Once home we opened the doors and heard a cat crying. We were shocked! Here the little cat had stayed on the spare tire for 20 miles with a few stops for stop signs and didn't jump off until I parked the van. Unhurt, but obviously shaken, we scooped her up and held her, petted her, and brought her in the house. She was frantic that night into the next day. We pinned up a found ad, but no one claimed her, so we did.
Chasing string is Pita's absolute most favorite thing to do. We had her spayed to help end the overpopulated stray pet problem. She was likely one of very many stray cats that inhabit the town she came from.
By set6231 from MN
Feedback
Read feedback for this post below. Click here to post feedback.

By
02/03/2012
It's scary to think what might have happened to her on that long ride home, but all's well that ends well! Pita's a beautiful kitty, very elegant looking. Kudos to you for having her spayed, as it will be better for her long-term health, as well as not contributing to pet overpopulation. Best wishes for many happy years together!
Post Feedback
Add your voice to the conversation.
Related Guides
Related Posts