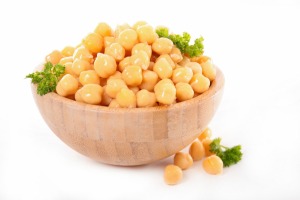 You can make the uncooked patties a day ahead and keep covered in the refrigerator, separated with wax paper.
Ingredients:
1 can (15 1/2 oz.) chickpeas, rinsed
4 green onions, trimmed and sliced
1 egg
2 Tbsp. all purpose flour
1 tsp. oregano
1/2 tsp. ground cumin
1/4 tsp. salt
2 Tbsp. extra virgin olive oil
2 pita rounds (6 to 7 inch), split and halved
Directions:
Pulse the chickpeas, scallions, egg, flour, oregano, cumin, and 1/4 teaspoon salt in a food processor just until a coarse mixture forms and then form into 4 patties.
Heat the oil in a large skillet over medium high heat, add the patties, cook until golden, about 4 to 5 minutes, then turn and continue to cook until golden brown, about 2 to 4 minutes.
Spread condiments of choice inside pita halves and add your choice of veggies such as onions, tomatoes, sprouts, lettuce, etc. along with a patty inside each pita and serve.
By Deeli