My 3 week old kittens have something wrong with their eyes. They keep closing up with crust.

Jeanine from Barnegat, NJ
Ad
---
Recent Answers
Here are the recent answer to this question.

By airbrenda08/31/2010
My cat has eyelashes on her inner eyelids which scratch her eyes and cause them to cloud over and become infected--the vet sold me a tiny tube of Butler Neo-Poly-Bac, a triple antibiotic, for $28. I noticed Neosporin has the same ingredients but a few extra, like cottonseed oil, that seems to me might burn in the eyes, but the Walmart brand triple-antibotic "Equate" has the exact same ingredients as the Butler without the extras and you can get a huge tube for $2.57. I haven't tried it yet, but, y'know, if it works, geez, what a frickin' waste of money.

By PJ Childs04/20/2010
I came looking for help with some kittens. Ones eyes are crusty I'm hoping to help her if the feral mother will let me.
I need real answers not just take it to the vet. The nearest vet is many many miles away (over 50) and I'm not sure if I remove the kitten the mother will take it back.

The kittens are 14 days old if that helps. And the mother is feral she lets me feed her and I've been lucky enough to be able to keep her area clean. But really need to know if there is something I should be doing.
Please let me know if you can help.

By Colleen from Pa (Guest Post)06/09/2008
We just got a new kitten last evening and the whole litter had crusty eyes. Today we took him to our vet to find out that he has a bacterial infection and is on two different antibiotics. The vet said that if this was taken care of when the kitten is little he could have ended up being blind. My advice, if you care for you kitten as much as I do, spend a little more money and have it treated by a professional.

By zoey zamora (Guest Post)11/10/2007
i think that you should see a vet right away, instead of waiting. I did find that this search helped me with one of my dearest friends kittens to live without their mom, after a deadly car hit her.

By Sally (Guest Post)10/12/2006
If the kittens don't have respitory problems, save yourself a vet visit and apply put Neosporin in their eyes. I've used it in my cat's eyes and also my own eyes. It does not sting and your kitten's eyes will be better in a couple hours. Years ago, a vet told my sister about this remedy and I've been using it ever since.

By Cynthia [2]10/07/2006
Please take the kittens to a vet. Don't fool around with home remedies because they are so young. They may need an antibiotic eye cream which the vet will prescribe. But, first you need to find out if they have an respiratory infection which could kill them.

Never use any product on an animal that has warnings on them as DANGEROUS to humans!

If anyone is smoking in the house, make them go outdoors. That goes for adult cats, too.

If you own the mother cat, please get her spayed!

By lynda [12]10/06/2006
PLEASE be careful should you choose to use Lysol because it has PHENOL in it, especially if it is the old
original formula, now discontinued. It is PURE POISON TO HUMANS, and can definitely poison a pet, don't you agree? I had no money for pet care but learned there are petfriends groups that give pets neutering/spaying, etc., so perhaps you could find one of them and they could advise for free? I lost several litters because I had no idea what to do and did nothing. However, they became ill after getting cold, AND from drinking milk! I know that milk as we know it is often "mucogenic", causing too much mucous in the sinuses and other membranes. I'd be tempted in looking back, to give them only tuna "water" for a short time. If improved, I'd introduce only "kitten milk",
DILUTED WAY DOWN, from the pet store, each kitten having his own kitten bottle/nipple, and washing my hands between each kitten, separating them into their own shoeboxes until well. However, if it's anything like Distemper, it is usually deadly. It broke my heart to lose a cat, ever, but they are hard to get through a winter if born in late Fall, I understand. I made a mistake by letting one litter
be born outside and stay outside allowing the mother to take care of them, only to discover the mother was ill and gave them all the same thing!
Remember also, that the govt. is about to require that all pets, domestic/commercial, be digitally chipped! They have a "microchip clinic" now in our city really pushing to have this done. I think it's cruel and I am against it especially for what ELSE is around the corner: chipping for humans!
Good luck and God bless your efforts. : )

By carla bledsoe (Guest Post)10/03/2006
i have always used a mild solution of baking soda and water.
if they are really bad, a solution of 3 parts water to one part hydrogen peroxide works.
get a cotton ball really saturated and let it drip on the crusty stuff. then squeeze the water out of the cotton ball and gently wipe the eyes. repeat as needed.
if they are kept cleaned for a few days and the kittens are healthy otherwise the problem will usually go away by itself.

By JoAnn [2]10/03/2006
When I adopted two of my cats they came home with medicine because they had an upper respiratory infection. They had crusty eyes and Bailee also had a runny nose. It could be any number of things, you should call your vet, describe the situation and they will tell you whether you need to bring the kittens in or if they can give you something without an appointment. I wouldn't count on it clearing up on it's own, and the mother could become ill as well. They need her to be healthy right now so she can take care of them. I wouldn't take any chances.
JoAnn in Elkhart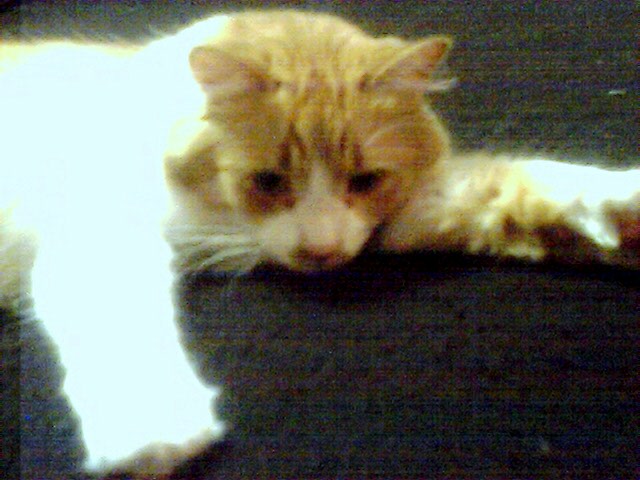 By (Guest Post)10/03/2006
Your kittens may have cat flu. Crusty eyes is one of the symptoms. Check with your vet.
Ellie.


By Debra in Colorado (Guest Post)10/02/2006
As a breeder of siamese kittens I agree that it sounds like an upper respiratory infection but I do have one thing to add, if you are using regular clay kitty litter this can add to the problem as it irrates thier eyes. Also you should disinfected all things connected with the kittens bedding, litter boxes and food bowls. Upper respiratory infections are very contagious. I have found that disinfecting with Lysol works very well. I clean the mother's cages with it and wash all things that have come in contact with the kittens with it and have noticed that it does not spread and sometimes the kittens eyes will clear up on thier own. Just my opionion I am not a vet.

By (Guest Post)10/02/2006
The teabag sounds neat to try, but if it doesn't work an improvement right away, see if your vet will sell you a tiny tube of Gentamycin. It's a broad-spectrum antibiotic that zaps all kinds of germs. If that doesn't work wonders right away, get the vet to look at the kitty. The problem is, all sorts of kitty diseases start with eye infections, including feline distemper, feline anemia, and about a dozen more. Good luck with your little baby!

By Barbara L. Moore10/02/2006
Sounds like your kittens are sickly maybe from an upper respiratory infection passed to them from the mother. Has she been vacinated? Sounds like you should have her spayed and quit bringing unhealthy animals into the world.

By Robin (Guest Post)10/02/2006
Don't take any chances. Take them to your vet!

By Tina Brown [5]10/01/2006
I do not know if this pertains to kittens, but we had a cat that had this problem and the eyes constantly drained, causing them to matt closed. Upon visiting the vet, he was diagnosed with...don't laugh...eye herpis...with drops and proper cleaning as directed by the vet, he cleared up and went on to be a pest as always.
Something to check into anyway,
Tina

By Carol (Guest Post)10/01/2006
The kittens eyes must be kept clean. Even with just a clean cloth and warm (not hot) water, wipe them. Then there is an antibiotic called teramycin that comes in a tube from the vet. You just squeeze a thin layer of it into each eye. Make sure you don't poke the eye and don't touch the eye with the tip.
Sometimes this works with just one use. Sometimes you have to use it more than once, but you must keep the eyes clean and crust-free with just water and a clean cloth. Don't use the same cloth on another kitten and use different sides of the cloth for each eye. After this, if it continues, you must take them to a vet or they can get worse and even go blind. Anymore questions that I might be able to answer, please email me: Samietooo AT aol.com I'm not a vet, but I do animal rescue and have gone through this many, many times.

By Cyndi from Ontario,Canada (Guest Post)10/01/2006
I always use the trusty old tea bag. Get a cup of warm water and dip a regular black tea bag in that is wrapped with a paper towel and apply to their eyes. Let it drip a little into their eyes as well. Make sure you use a seperate tea bag for each kitten. Do this several times a day and condition should be cleared up in a day or too. Works well on stys in humans as well. Good luck !!
Answer This Question
Add your voice to the conversation. Click here to answer this question.