Years are flying by for me. I can remember when my sons were just little boys so I wanted to immortalize them at that age. At my local Mall there was a stand that made these wonderful dolls from baby pictures. So I brought two pictures along and had these wonderful dolls made up for me. Now I can hold my children again like when they were just a year old, even though both boys are in their 20s and tower over me. I want to thank my husband for giving into to my crazy impluses and allowing me to do this.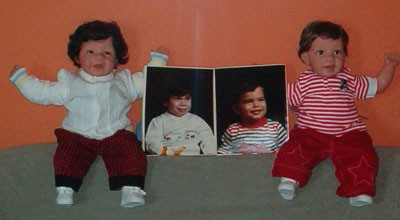 MissA112- Staten Island
Ad
---
Feedback Forum
Feedback about this article is posted here. Want to contribute? Click above to post feedback.

By Nancy G. (Guest Post)02/04/2009
Hi!
This lady makes dolls from photos or drawings!
Not as realistic as the vinyl ones but still cute!
http://www.adeeart.com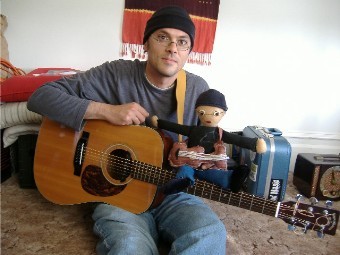 By (Guest Post)03/14/2008
I would love to know the name and number of the company that made these dolls. Can you give it to me?


By Grandma Margie (Guest Post)01/20/2006
"Expressions"
104 Row
Jamestown, MO 65046

Their "babies" look real! I have seen some of the children AND the replicas of those children. It is amazing!

By FINA (Guest Post)01/19/2006
YEARS AGO I SEEN AN OPRAH SHOW.
ON THESE SHOW SHE HAD AS HER GUEST A LADY THAT MADE DOLL TO LOOK LIKE YOUR CHILD, I JUST CANT REMEMBER WHO THESE PEOPLE WERE ANY ONE OUT THERE WITH THIS INFORMATION I WOULD EVER BE IN YOUR DEBT! MY DAUGHTER IS HAVING A COMING OUT PARTY AND I WOULD LOVE TO GET HER A DOLL IN HER IMAGE FOR HER .

By Meari [8]05/18/2005
When my niece was about 2 years old, I made her a princess halloween costume. My sister and I went all out -- It was pink with a fluffy skirt and tuelle galore! My niece then had very curly brown hair and was cute as a button! That same year for Christmas, I made a doll with curly brown hair and and identical costume. To it, I attached a 2x3 framed picture of my niece in her costume. Even though it was for my niece, my sister kept it in a special place so that I would still be around when my niece got older. My sister loves this gift. My niece is now 13!!

By Svein (Norway) (Guest Post)05/08/2005
I'm out looking for URLs. So far:

http://www.mytwinn.com/
http://www.sowatzka.com/custom.htm
http://www.justmomandmedolls.com/Photo%20Dolls.htm
http://www.dollsbydiane.com.bcentralhost.com/

By Joan [20]05/04/2005
There is a company that makes these dolls called "My Twin Doll" Company. I had one made for my granddaughter some years ago. They have a catalog and I'm sure they must have a web site. You are right about the price - it was around $200. Don't repeat this in case my husband sees it!!!

By Sharon,Ky (Guest Post)05/04/2005
I LOVE those dolls!! The QUESTION IS: Where would you get someone who does that and ---HOW MUCH??? I'm afraid to ask and you may not want to tell. Don't worry --this is just BETWEEN YOU AND ME---and a million other readers!!!
Post Feedback
Add your voice to the conversation. Click here to share feedback.