When cups are set on wood furniture without a coaster and a ring can be left behind creating an unsightly blemish on the surface of the wood. This is a guide about removing cup rings from wood furniture.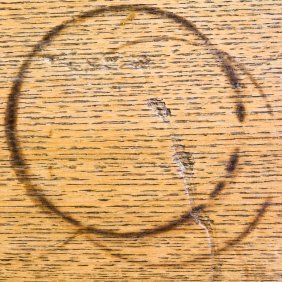 Filter

: All Articles
Sort

: Relevance
Someone visiting sat a BK paper coffee cup on my brand new, unpaid for, wooden entertainment center. It left a round circle. I sprayed Pledge and cleaned, but it is still there. Can someone please help me remove this stain?
By Sandy
Answer
Was this helpful?
Helpful?
Yes
This has happened to me more that a few times! I glob on mayonnaise (a lot because it will dry out when left too long), cover with a plastic grocery bag (keeps the cats out) and let sit overnight. Sometimes I have had to do this procedure twice! Wipe off & buff out. Let it sit for a week.
If you still see some lightened grain, use mayo mixed with ashes (I don't smoke so I used clean ashes from the burn pile). This darkens it. I had to do this to a whole poker table top once (long story) and you can't even tell there was water damage! This procedure was used on fresh stains only; I haven't used it on old stains.
Reply
Was this helpful?
Helpful?
Yes
Read More Answers...
If you have darker brown furniture and a white ring, a dab of mayonnaise on a soft cloth might fix it for you. Just rub it in and buff with a soft dry cloth. It may take a couple of times to get it done. It worked on my very old sewing machine cabinet.
P.S. Mayo works to clean green house plant leaves also. I use a soft paper towel (NOT for African Violets though).
By Great Granny Vi from Moorpark, CA
Comment
Was this helpful?
Helpful?
Yes
Removing white ring water marks on polished wood. The stain is caused by trapped water underneath the surface which needs to be dried out. Cover with a plain dish-towel and then point a hairdryer over the towel 15 cm from the stain for ten to fifteen minutes, rubbing every so often with a soft cloth.
Another tip is to soak a cloth or slice of bread with a 50:50 mixture of turpentine and linseed oil, put it over the stain and leave overnight.
Source: From the Guardian newspaper.
By Lucy L. from England, UK