Muffin Tin Ice Cream Cakes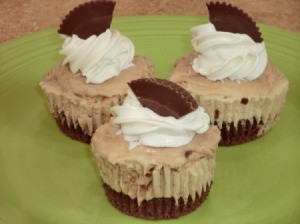 I absolutely love ice cream cakes. These mini ice cream cakes are perfect for a party or for dessert. You can even make multiple kinds with each person's favorite flavor.
Ingredients:
Devil's Food cake mix, prepared (not baked)
ice cream, any flavor (I used peanut butter cup)
Light Cool Whip
candy, any kind (I used Reese's peanut butter cups)
muffin pan
cupcake liners**
**Note: Silicon muffin cups would be easier to use if you have them.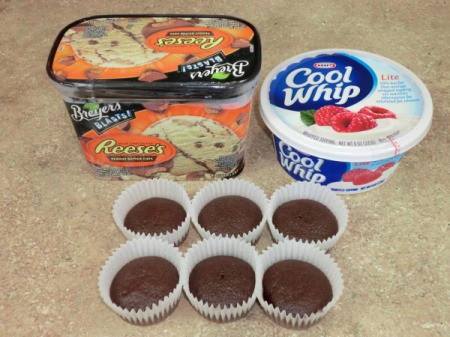 Directions:
Preheat oven according to cake mix instructions.
Take the ice cream out of the freezer and set it on the counter so that it can soften.
Place muffin liners into muffin pan. Spoon approx. 2 Tbsp. of prepared cake mix into each muffin liner.
Put muffin pan into oven and bake for approx. 10 minutes, although I recommend that you keep an eye on them as they will cook quickly.
Remove them from the oven and allow them to cool completely.
Spoon softened ice cream onto each cupcake and using a fork, gently press the ice cream to completely fill the liner. Place the cupcakes into the freezer for at least 1 hour to refreeze.
Put Cool Whip into a piping bag with tip and allow to sit on the counter for about 10 minutes to soften. Remove your cupcakes from the freezer and pipe the Cool Whip onto the top.
Top with candy and serve!
By Laurel from Port Orchard, WA
Feedback
Read feedback for this post below. Click here to post feedback.

By
04/20/2012
Look Yummy. Do the paper liners peel off easily? I think I will make these for a church doing next week. Thanks.

By
04/20/2012
What a great idea! I can't wait to try these using sugar free cake mix and ice cream! Thanks!
Post Feedback
Add your voice to the conversation.