Finding mysterious bleach spots on your laundry, even when no bleach was used is frustrating. This is a guide about preventing bleach stains on clothing.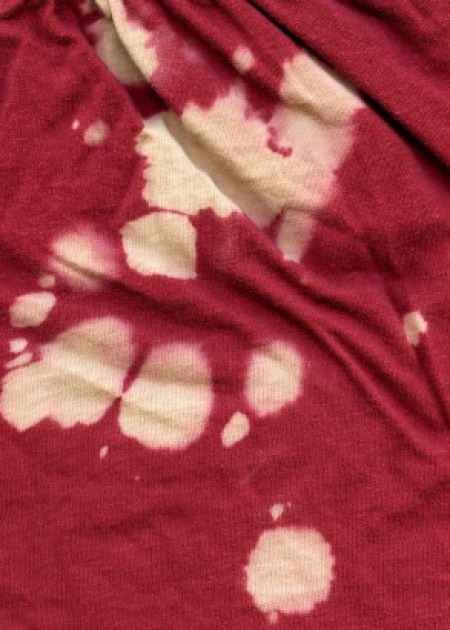 By Emma 1
I keep getting bleach stains on all of my clothes, I no longer use bleach and have washed the washing machine. Please Help?

Emma from Tas, Australia


---
Most Recent Answer
April 25, 2011
The same thing has been happening to me, I've tried everything that all of the postings suggest. Spoke directly to Whrlpool and they had no idea what could be causing it either. I'm glad I'm not the only one who is going crazy over this. I also have many friends who have this problem. We don't use acne products. My husband uses topical medication but the stains are usually on MY towels that he doesn't use! The only other thing we have thought is bad dye lots in some clothes but even that doesn't make sense. Somebody help!
---
Can someone help a dumb bachelor? I only use bleach when doing whites in a separate load. I notice periodically a small white bleach stain on an item in later loads of shirts and pants. This obviously ruins the item, and is driving me crazy. This has been happening for years, which leads me to believe I'm doing something wrong. And I don't think it's just me, because I'm starting to notice it on others clothes as well. Can someone help. Thanks.

Larry from Clearwater, FL
---
Most Recent Answer
By guest (Guest Post) Flag
January 2, 2009
I get this bleaching too, mostly around the necks of shirts, and I use a sunscreen-lotion on my face. But I also get it elsewhere (like the legs of underwear), and I rarely use _anything_ but the mildest, most natural, non-allergenic lotions or plain oils, like Jojoba and almond. My BF uses the same face lotion sometimes, but his occasional bleaching spreads evenly down his shoulders. I use maybe a liter of bleach in a couple years.
Cyinda - I used to live in Olympia! I used a few drops of Tea Tree Oil in every load to fight the allergens like dust mites and mold, and the dryer is hot enough to kill anything else! (And hydrogen peroxide works very well on stains on whites - haven't tried it with colors.) I _hate_ to endorse brands, but that Tide pen works wonders on almost all stains (even took the yellow off small a blood stain after that H2O2).
---
i need help. Every once in a while (more lately) when I do a colored load of wash clothes will come out with what looks to be a bleach stain on them. I have already lost a few shirts and some nice pants and I cant figure out whats doing it. I very rarely use bleach and I know I didnt spill it. I seperate the clothes and follow the lables. I am sick of losing nice clothes. It will only happen to one or two things a load and not every time I do wash. Anyone have any ideas what it could be?? Thanks for the help,

Missy in PA
---
Most Recent Answer
By Fay Poulish 9 Flag
March 11, 2010
Thanks everyone for the good hints. I found that I was getting white stains or residue on clothes from the detergent even when I use liquid detergent and diluted it in a jug of water and poured it on the clothes before starting the washer. Using only cold water might be the culprit, although I diluted detergent in hot or warm water first. So annoying to find when hanging clothes on the line and I had to rewash them.
Sometimes I didn't notice the marks until they were dry as I mostly hang them inside out (to avoid fading) and discovered this when putting them away. A little rubbing removed some, but not all. NOW, thank goodness, I have discovered that if I put the undiluted detergent in a large spare plastic cap from a bottle of detergent or softener and place it on top of the clothes close to where the water fills from and turn on the washer, it dissolves the liquid and I rarely get residue stains on clothes. Original we had a plastic ball with an opening until it broke up, and now we just use any large cap that has no sharp edges to harm clothes when agitating.
---
By kevin 1
I live in a dorm at school, none of the kids are supposed to use bleach, but of course they do. I've been the lucky person to put clothes in after they are done and have had 3 very nice shirts with bleach stains. How can i prevent this? I don't have the time/money to run just a load before I put my clothes in. Any suggestions?

Kevin from Philly, PA
---
Most Recent Answer
By guest (Guest Post) Flag
May 7, 2008
ok, I have had 3 of my favorite black shirts get bleach spots on them. What should I do?
p.s. I'm 15, so gimmie a solution that will make sense to a teen :)
---
By Beth S. 8
I have a new light blue sleeveless t-shirt. I pulled it out of the wash and now has white dots and white streak on it. It seems nothing is taking it out. What is this? How did it happen? Can I do anything to fix it? Thank you.
By flower51
---
Most Recent Answer
November 8, 2014
Just Googled and two answers on other threads are the chlorine from the water is doing it so use hot water not cold on darks and dilute detergent before washing Don't pour right onto clothes. I'm going to try those...grrr
---
My daughter has a problem with her laundry. She randomly gets bleach stains on her wash. She has stopped using any bleach and fabric softener and it still happens. Does anyone have any ideas what might cause it. It doesn't seem that the machine would hold bleach for months. Very strange.

Thanks for your help,
Sally from South Berwick, ME
---
Most Recent Answer