Anyone know of anything that can be used for the Swiffer, other than the pads that are supposed to be used with it? They are so expensive. I am talking about the ones used to scrub the kitchen floor, the dry ones.
The other day when I was shopping I happened to see a new mop replacement for the Swiffer. Rite Aid has started carrying a pad that fits on the Swiffer mop. It was $2 cheaper so I decided to give it a try. It was great! It looks like the old Swiffer. It did a great job and for the cheaper price I'd highly recommend it. It's in a purple box and is called "Clean Ease Cleaning Pads".

By Suziq from Philadelphia, PA
---
Cheaper Alternative To Swiffer Wet Jet Pads
Thanks! I'll look for that the next time I'm in Rite Aid. Every penny helps, doesn't it?! Thanks for sharing, and God bless you. (11/02/2007)

By tedsmom
Cheaper Alternative To Swiffer Wet Jet Pads
I have an even cheaper solution! You need about 15 minutes and a sewing machine, and it's much friendlier to the environment than a commercial pad at any price. Fold a HandiWipe in thirds lengthwise, edges to the middle and slightly overlapping. The size should be just a little larger than the WetJet platform. Sew the folded HandiWipe from top to bottom along the overlapped edges in the middle, turn right or left at the end, then go around the entire outside of the pad, keeping the stitching about 1/4 inch from the edge to assure each layer is stitched. Place the pad on the platform, seam side in. The texture of the HandiWipe is perfect for catching the grippers on the WetJet platform. When you're done, toss the pad in the wash and use it over and over. I made six pads for about $2, and they will last a very long time.

Jill
inbox zero one at hotmail dot com (02/03/2008)

By Jill C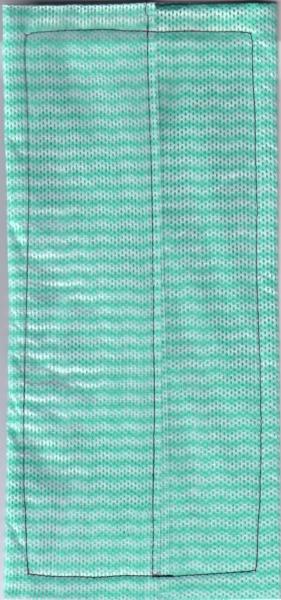 Cheaper Alternative To Swiffer Wet Jet Pads
Oops! Just discovered it might be a good idea to run the Handi Wipes through the washer before making the pads. They shrink a bit, but if you pull them flat when they come out of the dryer, they will still cover the platform part of the WetJet. (02/04/2008)

By JillC
Cheaper Alternative To Swiffer Wet Jet Pads
I discovered that if you cut a sham wow to fit your wet jet it works wonderfully. I had issues using rags because they would bunch up underneath my mop. But if you wet this down just a little and stick it under, you can go on and mop your floor with no problem. (04/08/2009)

By ivah
Comment
Was this helpful?
Helpful?
Yes