Buying toilet paper in bulk is a common way to save money on this staple bathroom item. However, all those extra rolls can take up a lot of space. This is a guide about storing toilet paper.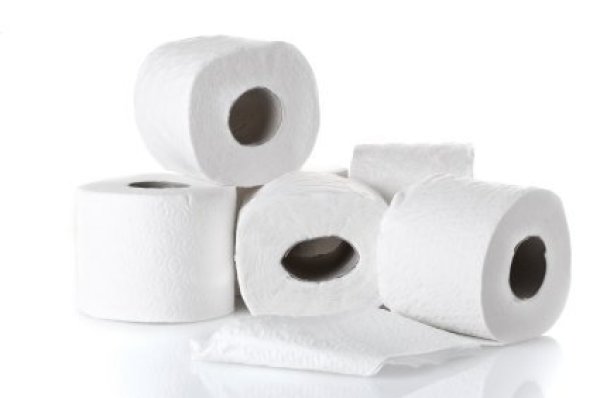 Filter

: All Articles
Sort

: Relevance
This tip came to me when I realized I had loaded the last roll of TP on the plunger. I do this so when no one is home, or especially when someone is home, no one has to be called to help get a roll out of the cupboard. I house share with some younger people. Work, kids, etc. sometimes makes them forgetful.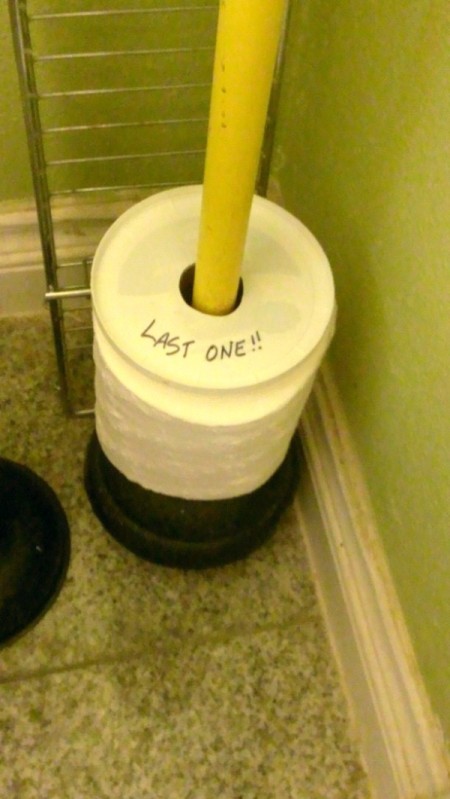 So, this idea came up. I wanted to use a bigger one but we recycle so there wasn't one in the house. I thought of a CD, but the hole was too small. This smaller version did the trick with a nice little "Last One" note on it. Hope this helps!
Source: Preparing ahead for the inevitable last roll!
Recently a TP company started a campaign for a can that keeps your rolls pretty. Well, I personally think the idea is valid with my own tin. And it helps when I think I am out of TP and I now know I have two rolls in reserve.
I don't keep mine on a roller for two reasons. First, I have a weak muscle in my neck and turning left is hard for me, especially when I can't turn the whole body. Also, the TP roller was so close to me I kept hitting my elbow on it, so I took it off. I have been keeping it on the tub side, but Cornelius the Curious Cat loves to see it in the tub, so I came up with this.
Simply find a tin you like, a taller one is cooler, and put two inside. Voila! You never run out. You could also do this with a pretty vase and fake flowers or foliage. Anything you choose is right, so just make it easy, pretty, and convenient.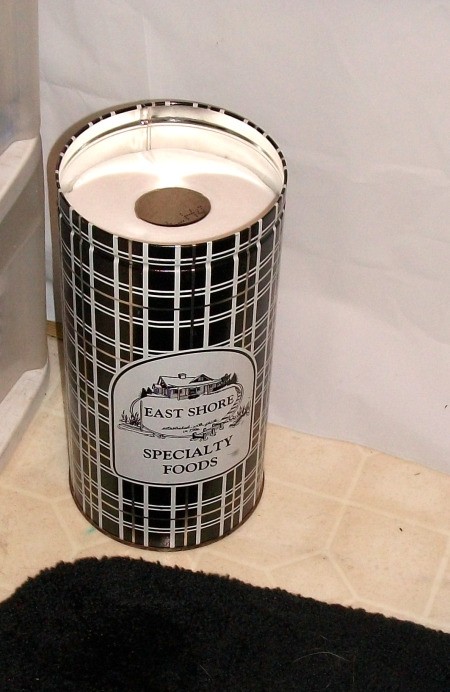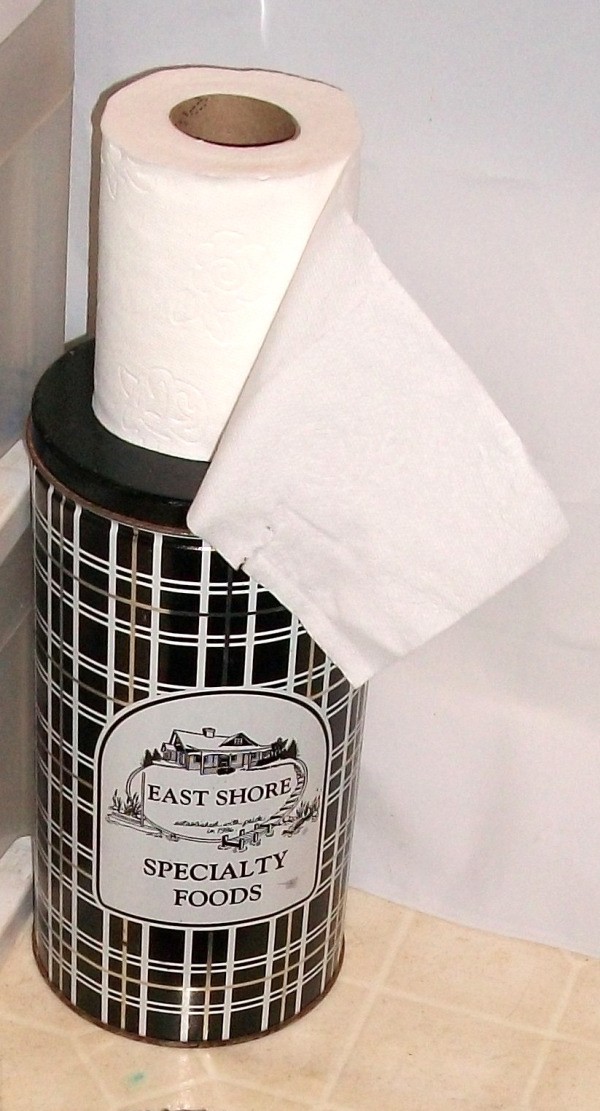 By Sandi from Salem, OR
This is more of a suggestion than a tip. I'm no graphics artist, so please forgive my crude and hastily put together picture.
I've seen a lot of tips (and controversy) about storing toilet tissue on ThriftyFun. Some were good, but I don't think any were truly ideal. I think it would be best if the tissue were stored out of sight and certainly not on any device or gadget sitting on the floor.
I am suggesting a tiny, wall mounted enclosure to house the tissue. It should be light weight and easily mounted with only 2-4 screws. There should be enough bottom clearance so that cleaning the floor underneath would be no problem. It should be of a configuration that permits it to be placed within arms length of the commode.
It would be great if someone would consider the marketability of such a product. In the meantime, I can see this small, simple little cabinet for storing four or five rolls of tissue, as a perfect project for the weekend do it yourselfer. And who knows, those of a creative nature might find a tiny item intended for something else, the perfect thing for this purpose.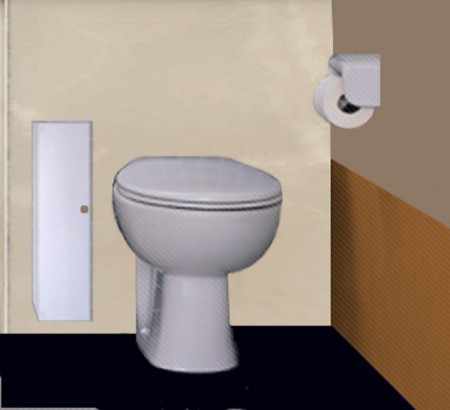 The extra toilet paper was never close enough to get to it when needed. I took 3 rolls and put them on the plunger handle. The plunger has an inexpensive cover. It sure has come in handy and it does double duty.
Rinse and dry a 3 liter pop bottle. Then carefully cut off the top and bottom, near where the bottle starts to curve and there is flatness. Decorate in any way you choose to compliment your bathroom.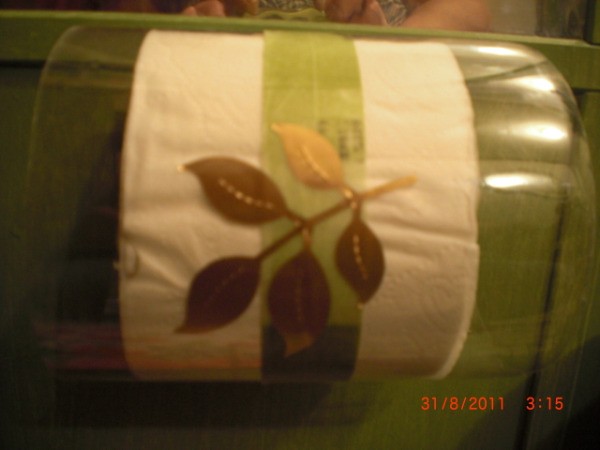 I visited a friend's house by the beach and saw the coolest way to store toilet paper rolls in their small bathroom. They had an old wooden oar which they leaned back between the toilet and the wall.
If you do not have cabinet bathroom storage space, or it just is not close enough to the toilet, store a spare toilet paper roll this way. Cut the bottom out of a tall square type Kleenex box and slip it over the top of the roll.
Since I take any soiled items and put in my washer right away, I use my bench type hamper to store approx. 15 rolls of toilet paper in the bathroom. Works great!
What can I use to store extra rolls of toilet tissue in the bathroom, near the stool. I can't use too large of a "footprint". The area is small. Thank you.
By Alma B
May 7, 2012
0

found this helpful
You can hang a rope near the toilet and using a larks head knot you can slip a dowel threw. A curtain rod hung on the wall, a macrame pot holder you can get at the thrift store, hang a multi candle sconce on the wall and stick the tp on each holder section.
May 7, 2012
0

found this helpful
If you don't have one you can go to a yard sale and buy a metal sugar/flour can that is big enough for a roll of toilet paper. You can put this on top of your tank for decoration or on the floor under the tank for emergency.
May 9, 2012
0

found this helpful
Not the prettiest thing but you can store several rolls on the handle of your bathroom plunger. Takes up hardly any room.
Read More Answers...
Store 3 rolls on tissue in the bathroom. I use a freestanding papertowel holder placed on top of my spacesaver. It takes up little room and stores extra tissue.
I use a cake cooling rack under the bathroom sink to sit new rolls of toilet paper on. If, by some chance, there is a leak under the sink, the toilet paper stays high and dry.