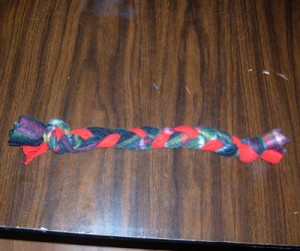 Many of my friends and family own dogs, so when I decided last year I wanted to give all my canine 'friends' presents, I needed to find something fairly inexpensive to make. I bought a few packages of fleece remnants from the fabric store, (75% off original prices) and cut them into strips. I then braided them and knotted them and I had dog toys! I made different sized ones depending on how big the dogs were and knotted some in the middle.
The fleece is pretty indestructible and if you can find remnants of the expensive fleece it doesn't shred or pill. Completely washable, and great for friends with more than one dog, the best tug of war toy ever! I was amazed by how happy all my puppy pals were, and so was I, every dog got one, and all their humans said they loved them.
By Kathy from Seattle, WA
December 22, 2010
0

found this helpful
Great idea! I remember making a fleece teddy bear for a Labrador of mine as a puppy, who has since passed away. That teddy was also indestructible, and Ebony just loved it. It was super easy to wash in the machine to get off the dog slobber and it is still in use today with our other 4 dogs and Ebony has been gone for 5 years now. Again, great idea.
Read More Comments
Check out the remnant rack at your local fabric store. Find fleece, any kind, and cut it in 2 inch wide by 24 or 36 inch long strips. Place 3 together tie the ends together knotting it twice and start braiding to the end. Tie the other end. Fleece will not shred and your dog will have tons of fun. This is an excellent item for kids to make and give to local pet shelters. Have them make some for pets of family and friends.

By Doreen from Bartow, FL
By guest (Guest Post)
September 11, 2008
0

found this helpful
I make a similar dog toy out of strips cut from old T-shirts or jeans.
Read More Comments