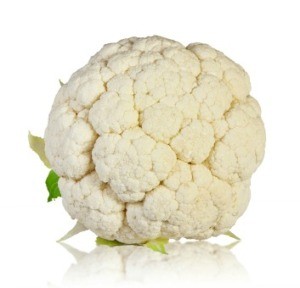 Whether you are a gardener or just found a good price at the market, freezing is a good way to preserve your excess cauliflower for later use. This is a guide about freezing cauliflower.
Ad
---
This is a great video with step by step instructions for freezing cauliflower (and broccoli).
Solutions: Freezing Cauliflower
Read and rate the best solutions below by giving them a "thumbs up".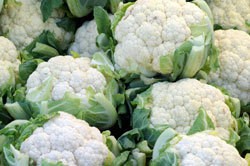 Selecting High-Quality Cauliflower:
In general, cauliflower does not freeze well. Freezing it will preserve its flavor, but tends to severely break down its texture. Still, frozen cauliflower may be useful in some recipes-especially those using puree. Choose compact white heads that feel heavy for their size. Attached leaves and stalks should be crisp and not wilted. Avoid heads with brown patches.
Preparing for Freezing:
Wash and trim off leaves and cut head into 1 inch florets.
Blanching Time:
Water-blanch for 3 minutes in water containing 4 teaspoons salt (or vinegar) per gallon water to retain color. Cool promptly and drain.
Best Freezing Method (s):
Tray Packs: Clean and prepare cauliflower. Lay in a single layer on cookie sheets and place them in the freezer. When fully frozen (12 to 24 hours), portion them into suitable containers and freeze. Leave no headspace.
Dry Packs: Transfer blanched cauliflower directly into suitable containers for freezing. Leave no headspace.
Suitable Packaging:
Freezer containers should be moisture and vapor resistant and should not be prone to cracking or breaking at low temperatures. Containers should provide protection against absorbing flavors or odors and should be easy to label. Suitable packaging for freezing cauliflower includes freezer-grade plastic bags, rigid plastic containers or glass containers and heavy-duty aluminum foil.
Maximum Storage Time:
10 to 12 months at 0ºF.
Thawing:
Add directly to cooking dishes without thawing.
Tips & Shortcuts:
If necessary to remove insects, soak for 30 minutes in solution of salt and water (4 teaspoons salt per gallon water). Drain.
Refrigerating Cauliflower:
Do not wash until use. Store in perforated plastic bags for 10 to 14 days.
By Ellen Brown
Give a "thumbs up" to the solution that worked the best! Do you have a better solution? Click here to share it!
Questions
Here are questions related to Freezing Cauliflower.
What is the best way to freeze cauliflower and if blancing how long?
By D. Campbell
Can I freeze fresh broccoli and cauliflower? What do I do?
By Loulou
How do I freeze cauliflower without blanching?
By Dodie L from Hallettsville, TX