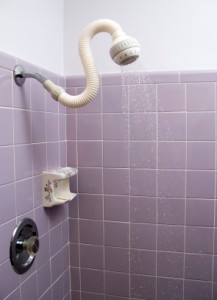 No one enjoys cleaning their shower. You can make this task less overwhelming by following a few tips for keeping your shower clean. This will help make that periodic cleaning easier. This is a guide about keeping your shower clean.
Solutions: Keeping Your Shower Clean
Read and rate the best solutions below by giving them a "thumbs up".
Keep a white eraser sponge in your shower. After you shower, take 20 seconds to wipe down the walls and floor. You will never get those tough hard water stains that only powerful chemical cleaners remove - or at least far fewer to deal with. Also, the porcelain stays so white and pretty. This takes little effort to do!
By susannl from St. Cloud, FL
For me, cleaning the shower is an overwhelming task. One day while watching a commercial for one of those shower sprays, the words "cleans a shower in 10 days or keeps a clean shower clean" stood out. I came up with my own solution for a clean shower in 10 days. Every time I get into the shower I clean some of it. I divided my task into 5 parts:
Day 1: Clean the shower doors.
Day 2: Clean the back wall.
Day 3: Clean the short side walls.
Day 4: Clean the floor.
Day 5: Clean the outside of the shower doors before or after my shower.
You do have to use a cleaner that isn't too harsh since you are with it in the shower. I use Kaboom.
You don't have to scrub too hard the first time since you will be back to that section in 5 days. Viola! A clean shower in 10 days. If there are other people who use the shower, you could assign each person a section to clean once a week.
By tazfan from Olympic Peninsula, WA
This is a motivational tip, as we all already know how to clean our shower stall.
As soon as you finish your shower and turn off the water, take a squeegee and press all of the residue off the surfaces and down the drain. This takes only about a minute. Then use a clean rag, a facecloth, or your bath towel from yesterday and dry down the walls and floor. Be sure to hit all the chrome and especially the sliding glass door track. If you have a shower curtain, swipe it down, especially around the bottom where it gets mildew. This takes only another minute.
You will never have to buy cleaning products for the shower again, freeing up space in the cupboard. You can use that money for a latte. You will burn a few calories for the day. You will never have to dread that job, or need to use precious time on your days off work. Your conscious will always be clear, and you can sleep better nights. You won't have to apologize when company uses your bathroom.
Teach your family to join in the fun. Even if they just use the yesterday's bath towel, it will be fast and easy, preventing mildew. Reward the kids for doing it.
One last great tip, worthy of a thumbs up for me --- use liquid soap as bar soap has fillers causing that soap film to build up. Remember -- liquid soap. Use up your old shampoo as liquid soap as well.
By hopeful [25]
Wanna know how to keep a shower clean? Do not use soap! Use body wash instead. Soap leaves soap scum, but body wash does not. You will not have to wash your shower as often. Try it!
By Karen from Gaston, SC
I keep a spray bottle filled with vinegar and water. I use it after I take a shower by spraying the shower down. I also use it to clean up throughout the house. Sometimes on walls or baseboards, on counters, sinks, and bathroom sinks as well. It also works as a great deodorizer.

By Amy
I use X14 for mildew and mold. It dissolves all the mildew in seconds and all you do is rinse off. It can also be used in paint the next time you paint your bathroom and will help keep the mold and mildew from forming. As for cleaning the shower when you bathe, I am in good company. I have been in the club for many years. Thanks for all the tips.
By Linda [3]
I found this product online. It is called Water Armour and makes the water just run off your shower doors and tiles too. Soap scum doesn't stick either so clean up is fast and easy and it seems to last forever! They say you can use it on counter tops and even car windshields. It is amazing!
I keep a Magic Eraser in my shower and go over the the tub and shower every time I take a shower. Keeps cleaning time down to a minimum and my shower is always clean.
I hate to clean the shower, I get all wet! So I go IN "prepared to take a shower", and bring my cleaning tools with me. Then I turn on the water clean the shower, then shower myself!.

CAUTION - don't use chemicals that may cause skin irritations! Silly, but makes cleaning the shower a little more fun!

By Kate
Give a "thumbs up" to the solution that worked the best! Do you have a better solution? Click here to share it!
Questions
Here are questions related to Keeping Your Shower Clean.
We moved into an older home nearly two years ago. The shower floor was probably never cleaned. It doesn't seem like porcelain. It's not black, but I can tell the difference between a nice floor and a crappy looking one. I've tried everything from bleach to everything that money will buy to restore whiteness to this shower floor. Help!
By Diane from Boise, ID
---
Most Recent Answer

By Lilac [18]10/13/2010
Since you have tried everything, try spraying a small patch with Eazy off oven cleaner. You would be surprised at what you can get clean with it.
Archives
Thrifty Fun has been around so long that many of our pages have been reset several times. Archives are older versions of the page and the feedback that was provided then.
My shower floor gets black and grimy looking, probably from soap scum buildup and lime deposits. I have tried just about every commercial product available in the stores to no avail. Also, what is the best way to clean ceramic tile and clear glass doors in the showers? How can I keep them sparkling?
Judy1010 from Ellicott City, MD
---
Toothbrush in the Shower
Use an old tooth brush in the shower to clean your rings. (11/24/2004)
By Ginny
Maintaining a Clean Shower
To keep your shower stall bright and shining, after removing soap scum, wax your tiles with car wax -- it keeps the soap scum and water deposits from building up and showing! By Rama Patterson (11/24/2004)
By ThriftyFun
Turtle Wax
I've used Turtle wax on my showers for years! I was just about to post this as well. It's a great tip and does wonders for keeping the soap scum and water deposit off! (11/24/2004)
By pookster
Lemon Oil
Another way to clean the shower tile and/or glass door is to use a soft cloth that has has a dosing of lemon oil. This removes the scum and water marks (11/26/2004)
By Lucy
Shower Tile Grout
What are some ways to clean my shower's grout between tile and maintain it? (01/06/2005)
By Debi
Cleaning Grout
For cleaning grout, I've used soft scrub with clorox, that seems to be a wonder cleaner! i also use it for rust stains that appear on my kitchen sink and any stain that might appear on formica. (01/08/2005)
By kassi59
Vinegar
Wipe down your shower with vinegar at least once a week and it will help them shine and help stop hard water deposits, soap scum, & mildew. (02/07/2005)
By Robin
Tilex Shower Cleaner
I spray my tile shower with Tilex shower cleaner (like "Clean Shower") every time, then leave the door to it open until the walls are completely dry. I only have to get on it with cleanser about once a quarter. I spray the grout with a bleach/water mix about every other week and it keeps it all clean and sanitary. (02/07/2005)
By Katie A.
I Use Vim
I use Vim to clean the shower, and then use automotive wax to polish the shower. The water rolls off the shower, just like it does on your car after waxing. (02/09/2005)
By Tom Mann
Use A Squeegee
We keep a small squeegee (like ice scraper w/ rubber "blade") hanging in the shower. After use give the walls a quick swipe from top to bottom. The excess water is removed from walls. Cuts down on mildew & soap scum. Makes routine cleaning easier. (02/11/2005)
By kidsNclutter
Wipe The Shower Down With a Towel
After I shower, I use the towel that I used to dry my hair (which was fresh before I used it and is only wet) and I dry the shower off. This removes any conditioner spills, extra soap that didn't get rinsed, etc. and keeps the shower clean. This way, I save money on cleaner, and introduces fewer chemicals to the environment. Plus, it's easier if I do it every day. (02/19/2005)
By Melissa
Clean While You Shower
Why not just use some of the soap or shampoo to wash the shower walls while you are in there? I use the washcloth and put a little shampoo on it and wipe everything down just before I get out. If you do this regularly, you don't have to use any chemicals at all! (02/20/2005)
By Anna
Sponge Mops for Cleaning
Instead of the expensive new cleaning items out on the market now to clean my bathtub/shower I buy a sponge mop at the local dollar store for a dollar and use it to reach the walls in my tub. I end up spending a $1 as opposed to $17 plus the cost of replacement pads. (07/07/2005)
By AMY-TROY, OHIO
Fabric Softener Sheet
Clean shower doors with a dry fabric softener sheet. (07/07/2005)
By Judy
Top Job
There's a product I use about once a month during my "Power Cleaning Weekend" It's called "Top Job" It works REALLY well! Just let it sit on the walls for about 10 minutes while you mop the floor.. then wipe it off with a sponge or a dollar store product similar to the magic eraser. I stock up on those too. They are awesome tools to clean the coffee pot with plain water so there's no left-over soap residue. Happy Cleaning! (07/10/2005)
By Tam
RainX
You can also use rainx on your shower doors. Everything beads up and just rolls off the glass. (08/18/2006)
By Janet Black
Shower Cleaning Tips. Does anyone have suggestions for cleaning a shower that has a film that won't seem to come off? I have tried Downy and scrubbed it, but neither of these methods worked.
Keep a Mr. Clean Cleaning eraser in the shower. Save time buy scrubbing the walls and tub while you in the shower. No toxic fumes to smell, no soapy mess. After you dry off (and while the room is still steamy), use your towel to wipe down the sink, vanity, and toilet. Everything will be damp and will wipe off easily. Toss the towel in the hamper, bathroom is clean and so are you!
By Kim McG
---
RE: Clean the Shower While You Clean Yourself
FOR REAL! My husband has been serving overseas for 6 months and gets to come home for a month before going back for another five. So I've been slacking on the bathroom cleaning. I had been scrubbing the tub for 4 DAYS! and couldn't get it clean. Saw this tip last night and got a magic eraser and SHUT UP it's awesome. It all came right off. If I weren't so cheap, I'd invest in the company ;) (08/28/2004)
By Suzanne S.
RE: Clean the Shower While You Clean Yourself
You can clean all the soap scum off showers floor and door, what ever with shower gels it breaks down the soap scum. Wipe and rinse off. Sparkling shower really. (09/06/2007)
By sevencat.
RE: Clean the Shower While You Clean Yourself
I love Magic Eraser! I have told many friends about it, and they all love it. Works great dry or wet or damp. I won't clean without it. Karenhope (03/21/2009)
By Karenhope
RE: Clean the Shower While You Clean Yourself
FOR REAL--Suzanne you brought back memories there. Best of luck. Marg. England (03/22/2009)
What is the best way to clean a shower?