Fixing a Wood Table With a Nail Polish Remover Stain
Nail polish remove can stain your wooden furniture if it gets spilled. Because it may have attacked the finish, it can be difficult to remove the stain. This is a guide about fixing a wood table with a nail polish remover stain.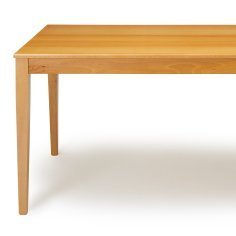 Filter

: All Articles
Sort

: Relevance
I was doing my nails at the dining room table, I will not do that again. The bottle of nail polish remover spilled and ate a place about 5 by 5 inches of the stain off of my table. Is there any easier fix than refinishing the entire table top?
July 23, 2016
0

found this helpful
Bald's Balm Finish Restorer. You might have to send away for it. Check Lee Valley Tools.
Regarding nail polish remover spilled on real wood table. Yes! The hot iron with white washcloth worked WONDERS! I was stunned!
By Jojo from Texas
My daughter spilt nail varnish remover on our small table. The stain is white and very rough; what can I do to put it right? The table is made of yew, and highly polished.
Marion
January 11, 2012
0

found this helpful
Best Answer
Since this was nail polish remover, it has done to the table what it was meant to do to your nails; removed (or at least ruffled) the finish. So the sanding and refinishing will be necessary. Probably the whole table top since you will probably never be able to match the refinished area to the rest of the tabletop.
An alternative to consider is painting instead of staining the wood. Being sure to sand with the grain of the wood, get the roughness restored to as smooth as possible. If you have to spot sand too much, you may create a dip of sorts in the surface. So sand the rest of the tabletop as well, at least the surrounding areas...always with the grain, never against. Then paint the table top with a complimentary paint color. Painting is much easier to do as well as it covers the affected spot better than any stain would especially since you may not be able to sand far enough down to get all the original stain/finish off.
January 11, 2012
0

found this helpful
Best Answer
I just reread your post that the table is yew. Painting is probably the least desired effect you are wanting. The high polish is just a very thick layer of clear varnish. The whiteness is the result of the remover trying to break it down (so it could be removed).
Sanding will work, but a faster solution might be to strip the entire surface of the table chemically with a paint or varnish stripper product available most anywhere. Then redo that thick coat of clear varnish.
It may be worth it to seek out a professional furniture refinisher to do this work to get the best result for the beautiful yew wood.
Read More Answers...
I spilled finger nail polish remover on my wood table. Is there anything I can do to restore the finish?
By JN
August 10, 2012
1

found this helpful
Best Answer
Really, the only thing you can do is to refinish the whole top. Sand it down good and reapply some polyurethane. Being the klutz that I am, I have now refinished my coffee table 3 times! LOL
August 11, 2012
0

found this helpful
Best Answer
If your top is veneer, please do not sand your table. You could ruin it completely. Carefully remove the finish on the table top with one of the commercial products offered at the hardware or other stores. DO NOT let it drip on other parts of the table or you will end up having to redo the whole table. Your best advice will come from the store personnel who know "how to" restore your table.
You will have several other steps to this process to return your table to useable condition.
Read More Answers...
I accidentally spilled drops of acetone nail polish remover on a wooden table, the color of mahogany. Five stains, the size of quarters, on bottom tier of round corner table.
I tried to cover with them with exact color stain. This did not work. How about spray painting that one tier with same color? Please advise on this or any other solutions anyone may have. Thanks.
January 30, 2016
0

found this helpful
Well, Sal, I think you might end up having to refinish the top of your table. Finding an exact spray paint match will be diffficult. However, if you don't want to strip the existing colour and re-paint the entire top, why not consider other options? For instance, can you buy a pane of glass the exact size (or have it cut to the size of the table top)? You could have fun deciding on something to put between the glass and the table ... a piece of embroidery or crochet, perhaps some autumn leaves? Ask your family members to come up with suggestions for things which will not only cover the stains but also add interest and variety?
I dropped a bottle of nail polish on our tile floor and it splattered on the leg of our table. My hubby used nail polish remover before I could tell him no and now there are dull lighter white spots, almost like a water stains, on the wood and the varnish is gone. I called Pottery Barn and of course nobody can remember the name of the varnish since it is an older piece.
Should I just varnish it with clear and leave the spots? I have heard about the iron method, but I am scared. I feel so horrible I want to cry about my floor and my table! Thanks for all your help!
By lacullinane from Omaha
August 6, 2010
0

found this helpful
Best Answer
You have stripped the stain with the nail polish remover. Look for products in the paint store for spot touch ups. They may have something that will fix the spot. Sadly, I think you are going to have to refinish the whole table top to get a good match.
April 11, 2011
0

found this helpful
There are oodles and oodles of ideas at the bottom of this page in the ThriftyFun archives below.
How do I remove nail polish remover from a wooden table?
By Mary Lou D.
August 20, 2012
0

found this helpful
Next time just throw down some newspaper, or a piece of cardboard and that should prevent it from happening again.
August 21, 2012
0

found this helpful
Polish remover actually eats through the finish of the wood so there is no "removing" the spot. You can probably camoflauge it with something like Old English.
Read More Answers...
My little girl spilled nail polish remover on our big new wood table. Now there is a big white bumpy spot on the table. She spilled almost the whole bottle! Our grandma is here; our dad is on vacation! What is he going to do? What should we do about our brand new table, to make is just like we just bought it?
By Sierra
November 17, 2013
0

found this helpful
The same thing happened to me! I just know what not to try. my mom tried to use this silver for washing dishes thing and it just left scratch marks! Don't even try wax it doesn't do anything! Good luck to the others also! If you find an answer please tell me. My mom is totally desperate. She bought that table for thousands.
Please help!
February 9, 2014
0

found this helpful
There is no option for this but to strip the whole area wether it is a leg or a top. Then you will have to decide how to refinish the item. Proffessionally is the best solution but is the most expensive as many of these finishes are french polished which tales some considerable skill to do. others are a lacquer sprayed on in layers.
The main problem is in colour matching and may require mixing different shades to get the desired effect. If yuo are determined to DIY then please got to your library get some books on the subject then practice on some similar timber or veneered woods. starting French Polishing is simple and just requires brushing but the hand finishing takes a delicate touch and some practice to achieve that glass like finish. Best I can offer in the circumstances . good luck. john m.
Read More Answers...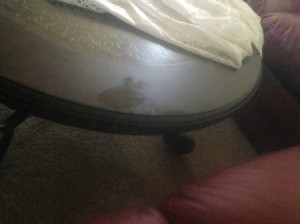 How can I remove a nail polish remover mark from my table?
By Palika from Rancho Cucamonga
July 18, 2013
0

found this helpful
In my experience nail polish remover takes off the finish of things, so you don't want to "remove" the mark, but to cover it or restore the original finish. We would have to know what your table is made of in order to help you with that. It may not be possible to repair it. I dropped some nail polish remover on the waistline of fake suede dress; there was no way to fix the mark as it removed the fuzziness. A friend suggested I tie the belt in the front and put a broach on it to cover the mark. Worked well. Otherwise, the dress was ruined.
How do you remove a nail polish remover stain from a dark wood kitchen table?
By Maria
November 9, 2014
0

found this helpful
I have found it impossible to remove it. The chemicals dissolve and dry with the finish on the wood. So you need to refinish the table top, removing the current finish and restaining and refinishing. Or just learn to live with it. It is a real job, but wood refinishing is a rewarding if messy hobby.
How do I get nail polish remover off a wood table? It took the finish off, how do I get it?

By Jessica S.
April 25, 2013
0

found this helpful
I'm sorry to say, there is no 'getting it off' because the nail polish remover has removed the finish on that surface. You're going to need to re-stain and then re-varnish at least the spot that has been stripped by the nail polish remover.
There are several products in the paint aisles of any big-box store (WalMart, Target, Home Depot, etc) or you can go to a dedicated paint store (Benjamin Moore, etc). Staff at any of the stores should be able to help you match the stain and find the small cans of the stain and varnish.
The stores will also have free info and instructions brochures to help you get a good application that will last a long time.
June 28, 2016
0

found this helpful
Actually, I accidentally spilled some finger nail polish remover on my husbands coffee table. I was frantic.
I panicked and wondered if I'd be able to get it off before he got home from work. Then looked up this website which led me to believe after reading all comments that there was no hope for the coffee table.
Well I tried using my finger nail to scratch up the spot the finger nail polish remover left and it worked!
I have spilt nail varnish remover on my mum's oak table and it has left a big white mark down the leg. Any suggestions?
By Katie
January 5, 2014
0

found this helpful
Well I got told to put mayonnaise and ashes on the table and let it sit for 5 minutes, then gently rub it into the stain with a cloth (which should also help to remove the ashes and mayonnaise.
Next wet a cloth and put some soap on the table, then rinse the table and let it dry well.
Then pour 4 Tbsp's of wood oil onto the stain, then rub it all in. Then it sit for 10 minutes, and wash the table again with the soapy cloth.
Then get another cloth and dampen it slightly and put it over the stain. Put an iron onto the cloth (using high heat) and rub it in a slow circular motion, keep checking your stain. DO NOT let the iron sit or it will burn it more!
Hope it helps xx
I spilled some nail polish remover on my kitchen table and it turned white and my table is a dark dark brown. Is there anything I can do to restore it without stripping the stain?
My daughter got nail polish remover on our cherry wood table and it removed the finish. What is the best way to get the finish back? Are there any cleaning supplies that will bring the finish back or make it not so obvious?

By andreandave from Lancaster, PA
Answers:
Nail Polish Remover on Table
I once spilled some isopropyl alcohol on my tabletop and it messed up the varnish :-( I washed the entire table vigorously with soap and water and then used a rag to wipe a good amount of sesame oil on and around the spot, let it sit until the oil completely soaked in to the damaged portion and then lightly wiped the table with a soap and water rag. You can still see the damage, but it's very faint.

About the only other thing you can do is sand and re-varnish. There are lots of other ideas in the ThriftyFun archives below. (03/25/2010)

By Deeli
© 1997-2016 by Cumuli, Inc. All Rights Reserved. Published by
ThriftyFun
.
Page
generated on July 26, 2016 at 1:05:22 PM on 10.0.1.251 in 698 msecs. Use of this web site constitutes acceptance of ThriftyFun's
Disclaimer
and
Privacy Policy
. If you have any problems or suggestions feel free to
Contact Us
.