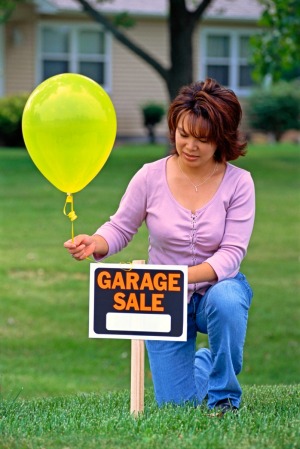 Knowing a few tips and tricks can help make your garage sale successful. This is a guide about garage sale tips and tricks.
Solutions
Read and rate the best solutions below by giving them a "thumbs up".
I have been to and I have had many yard sales and I have noticed a few things that would affect how well a yard sale pans out.
First and most important are your signs. The bigger the better, keep them simple and lead your customer. Driving around you will see many signs along the road that are not "official" signs: biggest loser, real estate, car wash, and lawn care to name a few.
Make your sign "big" to stand out. Make your arrow noticeable so a driver doesn't have to strain to see which way to go. Post the sign "before" the street corner (and if you have the signs, at the corner also) so the driver has time to slow down and turn (or even cross to another lane before turning).
Make sure the sign has support. Wind and heat makes cardboard fold in on itself and if a driver can't read it they can't visit you. So put a clothes hanger across the top to keep the sign open. Or, if you're nailing up your signs, a piece of wood across the top. It doesn't need to be big enough for the whole sign, just big enough to go from corner to corner at the top.
Along busy roads, don't bother putting your address on the sign, a driver doesn't have time to really read it. But further down the road, on the way to your yard sale, put your address. You may also mention roughly how far down the road you are if it will be a distance.
In the past, people have used bright color paper for yard sales. This is good especially if you use the same color paper for all your signs. This way people will know if they are following signs for the same yard sale.
If there is another yard sale on the route to yours, put another sign up just past the other yard sale. Somewhere it can be seen by anyone pulling up to your competition, in route to your sale.
If your place is really far off the beaten path, try to find another place for your yard sale closer to traffic. A friend's house or the parking lot of a business not open on the day of your sale. Make sure you ask permission. In some places, there are already areas that have been made sort of "unofficial" yard sale lots along busy roads. Booths and tables are available for use, in limited supply, but they are "first come first serve" so you have to get there early.
Try to make sure that where ever you have your yard sale, there is room for cars to be parked. If the parking area is unclear, you may need to put up signs that say "Park Here".
With regard to the yard sale itself, make sure prices are clear either marked on items or on signs.
And remember, people like a bargain. If you have "lots" of clothes, get a bunch of plastic grocery bags and ask $5 a bag. Fit in what clothes you can and if the bag closes, they are all yours for $5.
If you have lots of CDs or DVDs, you may ask $3 each, 2 for $5, and 5 for $10.
The important thing to remember about your yard sale is whatever doesn't sell, you have to put away. Ask what you think something is worth, but after lunch, start accepting less. After lunch, most serious yard sale shoppers stop going to yard sales. The exception being those people looking for bargains or something in particular. Or someone who happens to be driving by and sees something they are interested in.
Source: experience
By Suntydt
By
I just had a yard sale this past weekend and tried several new things that I thought may be helpful to others looking for yard sale ideas.

I recently saw a package of dye-cut type stars in florescent colors for $4-5. Instead of paying that price, I used florescent paper and used a star shaped stencil in various sizes and cut out my own. These worked great for pricing large items and I even stapled them onto hanging clothes so the price was easy to locate. I also wrote the size on the star to slow down people taking the clothes off of the hangers.

My husband made me some a-frame sign stands that stood about a foot high. They were perfect to set up with signs on both sides and did not impair the traffic. The only thing I would recommend is the one you place at the end of your driveway, make sure you place it several feet from the edge and/or make it taller than one foot high because ours got ran over quite a few times.

I had several electrical items for sale that I put up on a top shelf of a shelving unit I was not selling. I posted signs that they ask for assistance with items on top shelf and I kept an extension cord nearby to plug in the items to show customers that they still worked.

I could not afford to buy batteries for every toy and item that had dead batteries, so I bought batteries and kept a screwdriver on hand for safety screws on toys, etc. and I could put the batteries in long enough to show them they worked, but I was not giving away the batteries. ha ha

I also bought those tags with strings attached and used those on delicate items that I did not want to place a sticker on or used them for items that a sticker would not stick well on.

Tawnda
By
To make more money at your next yard sale, sell refreshments, too! Watch the sales for a few weeks before your event, and stock up on canned sodas at bargain prices. The day of the sale, put them in a cooler with ice and put up a big sign "cold drinks, .50" or whatever price lets you make a little profit, but keeps the price appealing.

For early mornings, you could put coffee in a thermos or carafe and sell cups of coffee -- but then you would have to deal with cream & sugar, trash, etc. One year I went to the bread thrift store and bought two dozen donuts at $1 a dozen, then sold the donuts at my yard sale for .25 each!

By Becki in Indiana
By
This is a little late for the garage sale issue, but if getting rid of clutter is your main reason for having a sale, Bag Bargains is the quickest and easiest way to accomplish this and make a little money, too.

We have had great success with all the little items that accumulate in junk drawers, etc. Things like can openers and silverware, books, hair accessories, knick knacks, etc. Just put everything out in boxes...no need to sort. ...post a BIG sign that announces your price...We do 50 cents an item or $1.00 a bag, and have collected as high as $75.00 during a sale.


By Harlean from Arkansas
By
When organizing I always find things to sell in my annual garage sale. I put these items in boxes labeled by price ($1, $5, etc.) This saves a lot of time later when I actually price the items just before the sale.

By Erin from Jackson, MS
By
"The signs of the season are here: "Yard Sale, Garage Sale, Moving Sale, Estate Sale." It's time to clear out the old and the unwanted and, for some of us, a time to find new treasures. Television programs that show people picking up pots or paintings for a few dollars and selling them for hundreds or thousands can bring out the spirit of adventure in a lot of us. Especially for these folks, the weekend treasure hunt season is on!"
By
Get boxes NOW and start the year off right, by decluttering your home, closets and garage. You can also price items at the same time. You will be ready in the spring for a great Garage/Yard Sale. You can do a little at a time.

By Syd
By
When you are looking for something in particular at yard sales and don't see it, just ask. I have found that sellers are "motivated to sell" once they have started and will sometimes go into the house and bring out the item you are looking for. My mother even asked if a plant was for sale and the owner chose to sell it.

By DebraDee from Marion, NC
By
When going to yardsales, bring some slightly colored sunglasses (amber) it will show all the stains on clothes, bedspreads, table clothes, etc. that you can not see with the naked eye.

Important if you choose to color an item or if you want to deal a little.

By Dee
By
I know with all the yard sales this time of year, many people are buying second hand and giving new life to their finds. When pricing items, many types of pricing elements are hard to remove and leave sticky residue. The best thing I have found for marking your price is painter's tape. It is designed to be easily removed without leaving any tell-tale sign it was placed there. And it's easy to write your price on and easy to tear. So that makes it time efficient not having to use scissors to cut. While preparing for a yard sale is time consuming, this will help make thing go a little bit quicker. I have bought things in the past at sales and some things were damaged just trying to remove all the sticky stuff.
By Tricia from VA
By
Share Your Feedback: Once you try any of the above solutions, be sure to come back and give a "thumbs up" to the one that worked the best for you. Do you have a better solution? Click "Share a Solution" above!
Questions
Here are questions related to Garage Sale Tips and Tricks.
Once I was online and discovered some funny amusing stories that actually occurred at garage sales. Is there anyway we can make a spot here on Thriftyfun for each member to post their funny stories. I would really enjoy reading these and perhaps posting some. Thanks.
By Carol from Waynesboro, GA
Editors Note: Please post your garage sale anecdotes below.
By
---
Most Recent Answer

By lindarob21301/16/2011
Once when my son was about 5, we were at a garage sale both looking around different areas. Suddenly I heard "hey mom, hey mom come look at this, here is something for 100 dollars at a garage sale!" Cute
How do I create a map that shows my garage sale route. I have 15 addresses and I wanted them mapped out so I don't have to backtrack.
Thank you,
Corinne
By
---
Most Recent Answer

By Shawn (Guest Post)01/08/2009
This is a website I found that will do what you are looking for. It maps your local craigslist yardsale listings, but it will also let you add other stops (with addresses or else double clicking the map) and arrange the correct order. Then it lets you send the route to google maps for printing. The handy part is that it shows you an updated route as you rearrange the order of your stops.

yardsaletreasuremap.com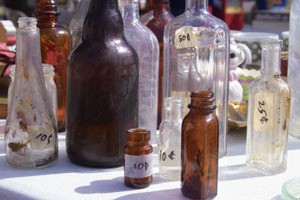 Here are garage sale tips shared by the ThriftyFun community.
By Deborah Shelton
---
Most Recent Answer

By Allison507/23/2009
Also try grouping like priced things on one table and putting a sign that says "All books $1" instead of marking each one, will help reduce your energy.
Any suggestions on how to price items that customers can't physically change by swapping stickers or move to another area with a lower designated price? I want to do this without marring the object.
By SuSu from Birmingham, AL
By
---
Most Recent Answer

By Grammy00707/05/2010
Hi. I've had close to 60 yard sales over the last 20 years including some big charity fundraisers. I mark everything with 3/4 inch wide masking tape (cheapest one at Home Depot). You can just write what the item is, GF Grl $5 (George Foreman Grill), or GE PHN $2 (GE Phone). For items tape would obviously damage (ie. decorative paper storage boxes or a finely painted plaque), just pull off an extra long piece of tape and fold one third of it back on itself sticky sides together, that part is your label.

Attach remaining sticky part where it cant damage (on the inside edge of paper lid with label end hanging down to be seen). On a figurine attach to the bottom of the figure with price seen without picking up the item. I mark clothes for size and price but do not attach tape to the outside of the garment. Blouses, shirts, coats, jackets, vests and PJs are priced inside just below the collar. Slacks, shorts and skirts are taped on the rear inside of waistband. Use brand or color initials to ID item Fashion Bug (FB), LC (Liz C), RD PNT (Red Pant).

Keep your writing larger for size and dollar amount. The ID abbreviations are just an "aside" for you to know the price tag is on the correct garment. If you've been using pre-made tags this may seem like a lot of work, but for the average yard sale it's easy. I write mostly directly on the tape roll using a permanent non smear marker. I definitely would never recommend not pricing items as I know for a fact pricing items increases sales. For a 2006 AML Leukemia benefit I insisted on and personally marked every item that jam packed sixty (8' x 3') tables. This remains the most successful benefit with which I have been involved.

Good Luck with your sale.
I have tons of kids stuff that I would love to clear out. I have no idea how to have a yard sale. I have never really been to a yard sale, but would love to get something for all our old and unneeded items. Can anyone help a first timer get started?

By Trisha S.
By
---
Most Recent Answer

By Flyingbug03/31/2013
Hi, Trisha! Our family had a couple of yard sales last weekend.

Some suggestions:
1) Advertise. Check the local papers about rates to advertise your yard sale. Put signs up the day before, if you're allowed (and remember to take them down after). Tell your friends.

2) Organize. Put price stickers on beforehand. Clothes should be on hangers or on a table. Knickknacks and other items should be on tables (even a board on two sawhorses will work nicely).

3) Most yard sales are on Saturdays.

4) Check the local regulations for yard sales. Some require permits, some limit how many yard sales per year.

5) IF you are in a condo complex, check with the HOA. They might only allow a yard sale once per year (a complex-wide sale). If so, you might have to have your yard sale someplace else if their date is too far away.

6) Drinks, munchies, and sunblock--remember all three. Drinks to prevent dehydration, munchies for hunger, and sunblock + a hat to keep from sunburn and headache.

7) Set up early the day of the yard sale--many people bargain-hunting early.

8) Bags and change--very important. Bags to carry things away in, and change because people don't always have exact change.

Hope that helps!