Bon Bon (French for sweet), she is the sweetest cat I have owned in over 60 years. She is 3 or 4 years old (according to the vet) and is a Calico long hair. She adopted us 1 1/2 years ago.
She came walking down our street in a senior park that does not allow animals to run free. My husband said "Where are you going?" and she came over and talked to him. I went to the door and she came in and talked to me. She looked thin, so we gave her some cat food we had left from our 15 year old cat that had died 6 months previous. She was starved!
We took photos to the 2 SPCA's in town, took her to be scanned (no chip), sent 200 flyers to everyone in the park, took photos to 5 local motels, put ads in our local papers and no one claimed her. Our family of 14 suggested names and Bon Bon won, because she is sooo sweet.
She likes to play with tiny cloth mice.
Six weeks after adopting us, sweet Bon Bon gave us 7 kittens on 4/1 - BIG April fools!
By Elizabeth from Salinas, CA

Ad
---
Feedback Forum
Feedback about this article is posted here. Want to contribute? Click above to post feedback.

By (Guest Post)12/30/2007
how old are kittens now


By (Guest Post)12/30/2007
How old are kittens now?


By Annie Rios Hill [12]12/15/2007
What a sweet cat! I once was owned by a Tortishell
AllieMae and I had cats for over 30 years Allie being
the best not sweetest but most personality and love.
She was a tortie and the light of my life.
Your BonBon is so pretty and sweet and her pictures
are so cute. Her kittens are adorable. Good thing
I am so far as the one little kitty curled up on base
of tree just called me. God Bless you and your husband for
being so gracious to take her in.

By sharkherder (Guest Post)12/05/2007
LOVE your photos! What a great April fools present. Hope they all have wonderful homes with wonderful people like you!

By Sharon L Martin Canada (Guest Post)12/03/2007
Bon Bon is soo beautiful. Hope you found homes for the kitties. I had a cat for 19 years. Miss her so much. Hope Bon Bon has a long healthy life with you. She is lucky to have found you.
Take Care
Sharon Nova Scotia

By Lynda (Guest Post)11/28/2007
I'm crying as I view your litter of kittens like the ones some rogue Coyotes-in-the-City here ATE, leaving only each of their little tails and some GIANT canine paw prints in the mud. The city keeps denying that we have Coyotes, even though we have chased them out of our yard about four times, left messages as to their sightings, routes, and timing, even telling them about the two documentaries on 20/20 or 60 Minutes with footage of two separate attacks on children left by their parent's car as the groceries were being taken into the homes.

The animal catcher was stopped, then said, "Well, if you feed your pets outside, you'll draw Coyotes.", after their telephone answerer responded to the complaint with, "Oh, they are harmless. They just curl up in a ball in the corner and cover their nose with their fluffy tail !" Keep good watch over your cats, don't let them wander around if you live in the city where there is a cat leash-law such as we have here ! They are adorable and fragile! God bless you and them. : )

By Melody [8]11/28/2007
Such a wonderful and beautiful family. I am so jealous, I would love to have an arm load of kittens in my home again. Mamma cat sure seems to love and dote on her babies, such a look of love about her. I bet they are a handful at times but so much fun.

By Rita (Guest Post)11/28/2007
What a BEAUTIFUL little family!! I, too, am a cat-person, and I can see the love and happiness in the eyes of your kitties. I know they must bring you much joy! We have two elderly Persians. Here is a picture I snapped of our female not many days ago. She does NOT like for me to snap her photo! Please give a love pat to your kitties for "us"!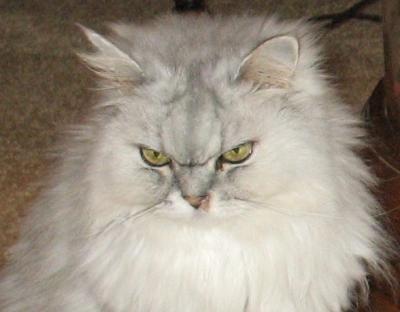 By (Guest Post)11/27/2007
Hi Elizabeth,
I live in Fresno, California and I also love siamese type of cats also. They are neat. If you are giving them away, I am also interested.
love and hugs,
Marcia

By Michawn [16]11/27/2007
Oh there are more than 1 Siamese in that litter! Looks like some chocolate and blues in there! So cute!

By Stacey Silva [52]11/27/2007
Beautiful, beautiful cat and kittens!!! They look so soft and sweet. My kitty, Destiny, sends loves.

By CharlieRS [2]11/27/2007
God bless for all you did to find her owners. Bon Bon and babies are beautiful.

By Harriet Schipper [7]11/27/2007
The one kitten, that has marking like a siamese, looks like my Princess that I had to put to sleep. Do you still have the kittens and are you looking for homes? I live in Lakewood, CA
Harriet (Har'iet)
harrietschipper@hotmail.com

By jean (Guest Post)11/27/2007
It is possible for each kitten to have a different father becaue the female cat ovulates only during intercourse, so she always gets pregnant from it. While in heat, a female will accept multiple males. My tabby female had 6 kittens, each a different color and pattern, and that is what my vet told me when I asked him why/how.. That cat could not be spayed because she had feline asthma, and the vet said that the anesthetic would kill her. This was back in the late 1960's, and she was the only unneutered cat I have ever owned. My current cats are 18 and 15.

By Little Suzy [93]11/26/2007
BLESS YOU FOR TRYING SO HARD TO FIND THE OWNER. AREN'T YOU GLAD NO ONE CAME FORWARD? THAT WAS YOUR SIGN, GOD WANTED YOU TO HAVE HER.

By Little Suzy [93]11/26/2007
HOW ADORABLE. I HAVE NEVER HEARD OF 7 BABIES BEING BORN TO ONE MOM. AND THEY ARE ALL SO LOVELY AND ADORABLE. ARE YOU GIVING THEM AWAY? SOME LOOK LIKE SIAMESE. THEY ARE SO CUTE. DO YOU EVER WONDER HOW THE KITTENS GET THEIR COLORS? IT ALMOST SEEMS LIKE THEY CAN HAVE SEVERAL FATHERS. IS THAT POSIBLE?? ALTHOUGH YOU CAT HAS ALL THE COLORS IN HER SO ANY COLOR WOULD BE POSIBLE FOR THE KITTENS.

By Michawn [16]11/24/2007
How sweet! We have a cat like that (although he is a Siamese). I went outside one night for some reason (a condo complex and we don't use the front door, so for me to go out the front door was odd) and he was walking by, he talked to me and that was it. He's been here for a year and a half!

She is so fluffy looking! We have one in the complex now, that my daughter and I named Sprekles, I don't know who she belongs to be she talks up a storm and is so soft and spreckly (that IS a word, I just know it!).
Post Feedback
Add your voice to the conversation. Click here to share feedback.