If you have a pet urinate on your furniture you know how difficult it is to clean up. Even if you get to it right away the smell can still linger for a longtime afterward. This is a guide about removing pet urine smell from furniture.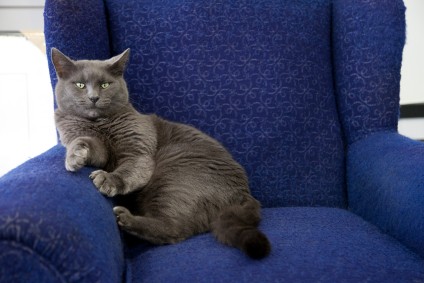 Many years ago a vet tech suggested using hydrogen peroxide to remove pet odors from carpet, rather than buying the all too expensive store bought cleaners. I gave it a try and have been hooked ever since. Test an area of the carpeting/upholstery first, then soak the area you're treating with peroxide. Let it dry completely. The odor won't disappear until it is completely dry so don't be impatient, give it time. If it's a stubborn/very strong odor, you may need to repeat the process, but when you're done, the odor will be completely gone and you will have saved a lot of $$.
My small dog keeps peeing on my couch, clothes, anywhere possible. The problem I have is I'd like to get rid of the smell and deter my dog from peeing inside. Can anyone help please.
By Tabatha
---
Most Recent Answer
January 9, 2015
You need an enzymatic cleaner. Pet stores sell enzymatic carpet and upholstery cleaners just for this purpose. Use a small black light to be sure it's clean. They sell these as well. In the laundry, use an enzymatic cleaner such as OxyClean.
---
By Janet 1
What do I use to get pet urine odor out of my furniture? Please help, I hate the smell.
By Janet
---
Most Recent Answer
December 18, 2010
My sister in law uses Windex window cleaner, takes it right out. Spritz it on, use paper towel to wipe up, and let dry.
---
By Glory 1
I had a large dog that leaked urine when she slept on the couch. How do I remove that smell?
By Glory from Franklin Lakes, NJ
---
Most Recent Answer
July 9, 2012
If the urine has turned the wood black you may not be able to get the black out. You could try sanding it down to see how far the wood has turned black. The process of "fuming with ammonia" was used in mission style furniture to darken the wood. The ammonia reacts with the tannins in the wood and turns it dark. The same thing happens when the dog urine breaks down into ammonia.
You could fume with ammonia to get the rest of the wood the same color. I think it is as easy as putting the furniture in a large plastic enclosure or some other enclosure and putting a pan of ammonia in with it.
To get rid of any urine smell on the furniture you need to use a bacterial product like Natures Miracle or Ridex. Apply it and cover with plastic for a few days. It needs to stay moist for the bacteria to break down the organic matter in the urine.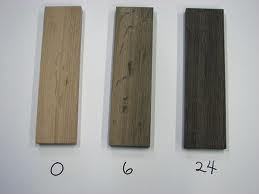 ---
My kids have a plastic picnic table that we keep outside under our carport. A tom has sprayed it and now it reeks to high heaven. Anyone know a way to get rid of the smell?

Thanks, KC
---
Most Recent Answer
By guest (Guest Post) Flag
February 18, 2008
Hi,
My cat recently used my bath as a toilet and has left a few yellow stained patches!
Can these be removed? we have tried certain cleaning products but have had no joy.
Regards
Marc
marcb401 AT hotmail.com
---
By tommi 1
What is a good way to get cat urine and cat smell out of furniture?
By Tommi
---
Most Recent Answer
By jan king 1 319 Flag
April 4, 2011
I bought some stuff called BioMatic from my vet. It worked great!
What product can I use to eliminate urine smells, cat and dog, the ammonia smell, from wood furniture? It has not been urinated on, the smell from the area soaked into the wood. I am looking for a product to spray or wipe on to destroy this odor on the furniture wood and metal.
By John W. from Whitehall, MI
By Lizzyanny 9 1,251
Try one of the enzyme soak products. I use Natures Miracle. All the pet stores have them. Soak the spot well and allow it to dry naturally. Drying can take a day or more depending on how deep the liquid went. Make sure to get the soak as deep as the original accident went. When it is dry the smell will be gone. On occasion I have had to repeat if I was not able to get most of the original accident out before treating. Good luck.