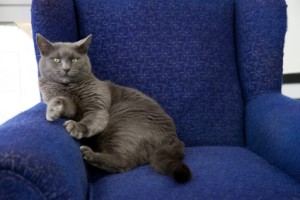 If you have a pet urinate on your furniture you know how difficult it is to clean up. Even if you get to it right away the smell can still linger for a longtime afterward. This is a guide about removing pet urine smell from furniture.
Solutions: Removing Pet Urine Smell from Furniture
Read and rate the best solutions below by giving them a "thumbs up".
Many years ago a vet tech suggested using hydrogen peroxide to remove pet odors from carpet, rather than buying the all too expensive store bought cleaners. I gave it a try and have been hooked ever since. Test an area of the carpeting/upholstery first, then soak the area you're treating with peroxide. Let it dry completely. The odor won't disappear until it is completely dry so don't be impatient, give it time. If it's a stubborn/very strong odor, you may need to repeat the process, but when you're done, the odor will be completely gone and you will have saved a lot of $$.
By kittkat [3]
Try one of the enzyme soak products. I use Natures Miracle. All the pet stores have them. Soak the spot well and allow it to dry naturally. Drying can take a day or more depending on how deep the liquid went. Make sure to get the soak as deep as the original accident went. When it is dry the smell will be gone. On occasion I have had to repeat if I was not able to get most of the original accident out before treating. Good luck.
Give a "thumbs up" to the solution that worked the best! Do you have a better solution? Click here to share it!
Questions
Here are questions related to Removing Pet Urine Smell from Furniture.
What is a good way to get cat urine and cat smell out of furniture?
By Tommi
---
Most Recent Answer

By jan king [1]04/04/2011
I bought some stuff called BioMatic from my vet. It worked great!
What do I use to get pet urine odor out of my furniture? Please help, I hate the smell.
By Janet
---
Most Recent Answer

By kathleen blakley [5]12/18/2010
My sister in law uses Windex window cleaner, takes it right out. Spritz it on, use paper towel to wipe up, and let dry.
I had a large dog that leaked urine when she slept on the couch. How do I remove that smell?
By Glory from Franklin Lakes, NJ
---
Most Recent Answer

By jean99 [6]07/09/2012
If the urine has turned the wood black you may not be able to get the black out. You could try sanding it down to see how far the wood has turned black. The process of "fuming with ammonia" was used in mission style furniture to darken the wood. The ammonia reacts with the tannins in the wood and turns it dark. The same thing happens when the dog urine breaks down into ammonia.

You could fume with ammonia to get the rest of the wood the same color. I think it is as easy as putting the furniture in a large plastic enclosure or some other enclosure and putting a pan of ammonia in with it.

To get rid of any urine smell on the furniture you need to use a bacterial product like Natures Miracle or Ridex. Apply it and cover with plastic for a few days. It needs to stay moist for the bacteria to break down the organic matter in the urine.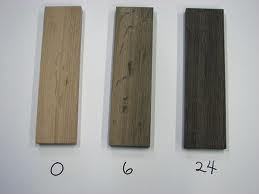 My kids have a plastic picnic table that we keep outside under our carport. A tom has sprayed it and now it reeks to high heaven. Anyone know a way to get rid of the smell?

Thanks, KC
---
Most Recent Answer

By Marc Burt (Guest Post)02/18/2008
Hi,
My cat recently used my bath as a toilet and has left a few yellow stained patches!
Can these be removed? we have tried certain cleaning products but have had no joy.
Regards
Marc
marcb401 AT hotmail.com
Archives
Thrifty Fun has been around so long that many of our pages have been reset several times. Archives are older versions of the page and the feedback that was provided then.
I recently got a female puppy. After a few days I realized that my male dog was "marking" on everything the female was laying on, including my bed and living room furniture. How do I get the dried stains and smell out of my stuff?
Angie
---
RE: Dog Urine Stains and Smell Off Furniture
PetSmart does have quite a few cleaners available (I recently adopted a 5 month old pup) but the one thing that stuck in my mind all the years I had my previous dog (17 wonderful years) was a solution one of the local vets gave on a tv show, 1 part vinegar to 3 parts warm water. Spray and sponge as often as needed. this was also suppose to neutralize the urine so the dog didn't go back to the same spot. (12/21/2004)
By VICKY K
RE: Dog Urine Stains and Smell Off Furniture
Vinegar water will neutralize the smell the odor of vinegar will dissipate. (12/25/2004)
By Barbie
RE: Dog Urine Stains and Smell Off Furniture
The best cleaner I've ever found is Nature's Miracle. It gets both the stain and oder out of carpet. I was also amazed that it got cat urine out of my couch. It's sold at PetSmart, PetCo and most other pet stores. Not real cheap though. (12/25/2004)
By d_l_mc
RE: Dog Urine Stains and Smell Off Furniture
Go to your local drugstore and get women's douche products. I know this sounds crazy but it works. I went to the vet to get something for this problem, he wanted to sell me a bottle of cleaner for $30, I told him there has got to be a cheaper cleaner. He told me what he uses at his home and I gave it a try. It works better the anything I have ever tried. I have used it in the rinse water for the rug cleaner and in a spray bottle. I always get the powder mix, the only place I have found it though is at Osco stores. I have been using this cleaning methods for my animals for 12 years. (01/01/2005)
By Nancy
RE: Dog Urine Stains and Smell Off Furniture
The only product I've found that really works is Petfresh pet urine remover, Petfresh ltd UK. It actually removes the urine crystal and it does remove cat urine perfectly (01/09/2005)
By astral
RE: Dog Urine Stains and Smell Off Furniture
The best stuff to get is called "ODORMUTE" it can be found at petstores. It's an original enzyme formula that can be used on virtually anything from furniture to fabric, kennels, animal shelters, anywhere or anything and it can be used to control skunk odor. There toll free number is 1 800 537-1601. Good luck because it worked for us to kill the smell of urine from previous owners. (their dog) (02/06/2005)
By butter13
RE: Dog Urine Stains and Smell Off Furniture
Newspapers work wonders on removing smells. My cat peed all over my couch one time, and I tried all kinds of things to get rid of the smell. What finally worked was newspaper. I took a newspaper and opened it up and spread several sheets all over the couch. Then I placed an old blanket on top of the newspapers so that we could still use the couch. I left it this way for several days. When I removed the blanket and newspapers, the smell was finally gone! (12/19/2006)
Our older cat (17) just recently started having "accidents" around the house. He has done this twice now on our brand new suede sofa. How can I safely remove the urine and the smell without harming the fabric?
Beverly from League City, TX
---
RE: Removing Cat Urine Odor from Furniture
I am not sure about the odor, but have you had your cat checked for feline leukemia? I had an older cat that did that also and she was sick. Poor kitty. Hope you find a solution for the odor, I know how that hard that can be. (11/21/2005)
By Dede
RE: Removing Cat Urine Odor from Furniture
There is a product called Urine out that you can purchase..works great. I have worked for a veterinarian for over 28 years and if I were you, I would have your cat tested for diabetes. Ask your Dr. to do a urinalysis. Frequent and unexpected urinating can be a symptom...Good luck (04/28/2006)
By Sherri
How do I get dog urine smell out of couch? I have tried several products from febreeze to products from pet stores. Still no luck getting rid of the smell, what else can I do?
Cec Kennedy from Burns, KS
---
RE: Dog Urine Stains and Smell Off Furniture
If the urine has actually soaked into the couch upholstery, you're pretty much out of luck because you'll never get deep enough to get it. For surface cleaning, vinegar and water is the best. Never use ammonia; ammonia is a component of urine and it will just encourage the animal to reuse the same spot. (03/05/2007)
By Marna
RE: Dog Urine Stains and Smell Off Furniture
Spray it with hydrogen peroxide. let dry. Repeat if needed. (03/05/2007)
By msettamae2
RE: Dog Urine Stains and Smell Off Furniture
Simply try some baking soda, I do for the carpet in our computer room and it seems to do the trick. Just sprinkle on, let sit overnight and vacuum up. (03/05/2007)
By S in Tampa, FL
RE: Dog Urine Stains and Smell Off Furniture
Get an enzymatic cleaner (Urine Gone, Nature's Miracle, etc.). Walmart has a couple of versions; just make sure it says somewhere on the bottle that it has enzymes. Then, the trick is to totally saturate the area and LET AIR DRY. Don't add cleaner, dilute it w/ water, or add any other substance. You have to leave it alone to let the enzyme action work and if the area was previously treated w/ some other type of cleaner, you may have to do several applications. You can buy urine gone w/ a black light that will light up the urine areas in the dark. It works well. As long as the area is still "lighting up", keep applying the enzymatic cleaner. Once the area no longer lights up, you can go back over it w/ cleaner if needed. (The urine gone discolored my carpets where I sprayed it but the spots came out completely w/ regular steam cleaning after the enzymatic cleaner had done it's work.) (03/05/2007)
By nancyec
How do you remove urine stains from a couch?
We have a cat that seems to have a problem holding his bladder. He has urinated on our furniture in his sleep. How do we get rid of the smell?
How do I get cat pee smell out of my furniture?