What Breed is My Dog?
What breed of dog do you think this pup is? We think that he is a mixed breed, about 4 months old.
By Brittany from KY
Answers: What Breed is My Dog?
Read answers for this question below.
He's definitely almost all Lab and I'm thinking a touch of Rottweiler even though he's almost all black. The top of his head is flat and square yet his hind quarters are large. When I adopted my Parker all his litter mates had Rottweiler coloring. Parker was almost all black and as an adult looked like one very large Labrador with a wide back like a Rottweiler.

If you aren't familiar with Labradors when they get older their chest drops which adds on several pounds. Enjoy his puppy hood. The picture below was Parker when he was 8 weeks old and he grew into a 135 pound adult.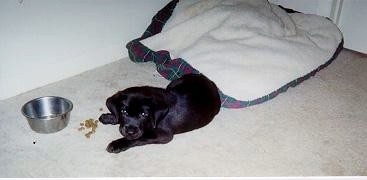 I have to agree that I would guess it's a lab/pit mix. He looks almost entirely lab, but the head and face hint at a little bit of pit.
If I had to guess maybe lab and pit mix? From the solidness of the shoulder area and the way his legs turn I see some bulldog of some sort, and the way his eyes are shaped.

Answer This Question
Add your voice to the conversation. Click here to answer this question.
Related Guides
Related Posts