Removing Deodorant Stains on Clothing
Deodorant can leave stubborn stains on your clothing. These stains can often be removed if you use the right cleaning methods. This is a guide about removing deodorant stains from clothing.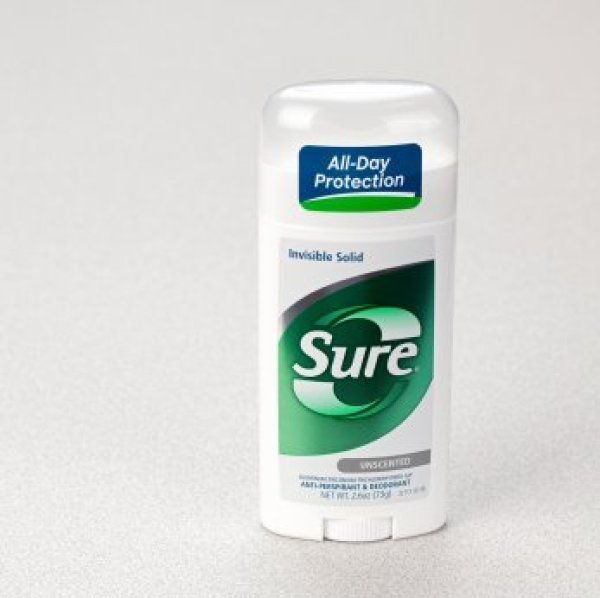 Filter

: All Articles
Sort

: Relevance
Take a pair of old panty hose and rub back and forth across the fabric where the deodorant stain is. It will help remove it.
How do I get deodorant stains out?
By Tracy
August 3, 2011
0

found this helpful
White deodorant on your clothes? Use a nylon stocking to rub it out!
August 4, 2011
0

found this helpful
Are the blouses made of any kind of synthetic fabric or a blend of synthetic and natural-if yes, you are stuck, nothing gets that yellow out. Ask me how I know (sniffle), I've lost a few lovely blouses over the years to underarm protection.
I ended up switching to a powder deodorant and haven't used antiperspirants in years because I got tired of finding the perfect blouse only to have the chemicals in the antiperspirants react to the synthetic fibers and leave a very unattractive stain-seems the combination of the chemicals in the antiperspirant react to the chemicals in laundry soaps and that causes a reaction in the make-up of the synthetic fibers which in turn causes the unremovable garment stain.
How do I remove underarm deodorant stains on black cotton poly blend undershirts. I really don't want to get rid of them. They still have wear to them.
By guest (Guest Post)
Flag
October 26, 2008
0

found this helpful
I never had that problem with my husbands undershirts. But I always put a very little clorox type bleach in the wash water. Of course that load has to be only whites or towels or bedding with the whites.
Bleach keeps whites looking white, but if you use too much it eats holes in the fabric over time. The first time you might want to put more bleach in the wash and let the shirts soak.
Another thought I had was maybe you need to use warm or hot water for the undershirts. I always used cold water, but have noticed that for some things hot is better. Good luck
November 4, 2008
0

found this helpful
Hi Susan,
When doing a white wash use hot water, add your regular detergent & 1 cup of bleach & 1/4 cup of BOROX. I have been using this method for years & always have the whitest laundry you can imagine. Prior to that my husbands white t-shirts used to have yellow areas under the arms. Oh, & weather permitting I also hang my clothes outdoors. I'm sure the sun helps bleach them a tad more & oh my, the laundry smells so good. Best of luck.
December 2, 2010
0

found this helpful
Try soaking them in peroxide & water or baking & water. Then wash as usual.
How can I remove the hard deodorant stains in my husbands cotton t-shirts? It also started happening in his colored t-shirts as well. The stain is yellow but the worst part is that it ends up getting hard. Its a little difficult to wear something like that.
By Cindy from Grand Beach, MI
December 22, 2010
0

found this helpful
I have the same problem; however, I have tried virtually all of the suggestions that I have ever found and none work. I have come to the conclusion that it isn't so much the protein- or oil-based components that I am not getting out, it's the wax-based ingredients that are in some of the deodorants and antiperspirants, especially in the solid ones. I haven't found anything that breaks down wax. If anyone has ideas for that, I'll take 'em.
December 23, 2010
0

found this helpful
I have no idea what to do about the stains, but to keep from getting stains in the first place, I would recommend changing deodorant. I use Crystal Deodorant that I can buy at Walgreens, grocery stores, and sometimes Big Lots. It costs around $5.00 or so, depending on where you buy it. It has no real scent and can be used by men or women. It gets rid of body odor by neutralizing the bacteria. It has no aluminum chlorohydrate and leaves no stains whatsoever on clothes.
What can I use to remove grease stains and deodorant stains off clothing? I've tried Shout and other spray cleaners, but none work.

By Susan from Madera, CA
Answers:
Deodorant Stains On Clothing
Do you mean you want to wash the clothes? If yes, I've been using the original Dawn dish washing liquid with great success. It got black spray paint off of a pair of my jeans and I'm having good luck with stains too. Rub a little on the stain, let it sit a bit and wash. No stains. You might also try regular, clear shampoo. It's made to dissolve body oils, so you might have good luck before washing.
Good luck! (06/30/2010)

By metroplex
Deodorant Stains On Clothing
Use water softener, let it stay for couple hours, then wash your clothing. (06/30/2010)

By yellow-hawk
Deodorant Stains On Clothing
I have had good results using Palmolive Oxiclean dish soap, in the blue bottle. It works getting out old mustard stains, black marker stains, etc. Just squeeze some on and work it in and wash as normal. (06/30/2010)

By arizonamafia
Deodorant Stains On Clothing
I too use the original blue Dawn dish detergent, it will remove just about anything. (07/01/2010)

By mary1day
What is a safe way to remove the white residue left by deodorant from a bra?

By Linda Rose from CA
Answers:
Deodorant Stains On Clothing
Have you tried taking the cap full of liquid laundry soap you are going to add to your wash-load and pouring it directly on to the stain and using an old toothbrush to scrub it a bit, then washing as usual? You can also use "Goop," the creamy hand cleaner made for mechanics. You buy Goop at the $1 store.

That tip is for antiperspirant stains, but for perspiration stains, use peroxide. Let it sit and fizz for 5 minutes before laundering.

I also bleach my white and light colored bras and I switched to a deodorant, I quit using antiperspirants. Deodorants leave no residue. My favorite brand is called "Tom's." It's available at Health Food Stores. For people who perspire heavily, you can also use a crystal-rock natural antiperspirant before your deodorant. (Ask about it at the Health Food Store.) The crystal-rock doesn't leave any residue, but they stop you from sweating (it's made from a natural salt, I think it's potassium salt) and it really works!

OOPS! I just read that you live in California! Do you add a water softener when you wash your clothes (like Calgon)? If not, adding it will make a huge difference! I remember how hard the water in California was when I lived there back in the 1970s and how nothing came clean without a water softener. (05/05/2010)

By Cyinda
How do you get hardened deodorant stains from underarms off of t-shirts?
How could I remove hard stains on armpits of white t-shirts caused by deodorant?
Click to read more ideas from older posts on ThriftyFun.
Click to read more ideas from older posts on ThriftyFun.
Click to read more ideas from older posts on ThriftyFun.
Click to read more ideas from older posts on ThriftyFun.
Related
© 1997-2016 by Cumuli, Inc. All Rights Reserved. Published by
ThriftyFun
.
Page
generated on August 22, 2016 at 2:20:02 AM on 10.0.0.77 in 5 seconds. Use of this web site constitutes acceptance of ThriftyFun's
Disclaimer
and
Privacy Policy
. If you have any problems or suggestions feel free to
Contact Us
.