I'm needing recipes using canned salmon. Any help will be appreciated! Thanks for your time.

Terri from NV

By Mary Lou [14]04/24/2007
This is one of my favourite meal: Salmon Loaf and Scalloped potatoes. They cook at the same temp so it is just a matter of timing each. All together the meal takes about 1 hour and 15 minutes:
SAVOURY SALMON LOAF
1/2 c. dry bread crumbs or craker crumbs
2 eggs, slightly beaten
1 lb(large) can of salmon, with broth, flaked OR 2 small cans.
Dash pepper
1/2 tsp sage
2 tsp finely chopped onion or same amount dried onion flakes
1 tbsp finely chopped celery OR dried chopped parsley OR celery seed to taste.
Combine all ingredients in order given. Paked firmly into a greased loaf pan or casserole and bake at 350*F for 30-40 minutes
SCALLOPED POTATOES
4 large or 6 medium potates, peeled if old, scrubbed and skin on if new.
1/2 small onion, sliced thinly into rings
INSTANT BLEND FLOUR
BUTTER OR MARG
MILK
Lightly grease a casserole dish, one with a lid.
Thinly slice potatoes, layering with onion rings
Sprinkle generously with flour and salt and pepper to taste
Dot with butter or marg.
Repeat this layering 3 more times, dividing onion and potato slices accordingly. Finish with flour, salt and pepper and dotted with marg.
Pouring from one side or corner of the casserole and watching the opposite side, add milk until you can see milk on the other side or corner. Cover.
Bake in preheated 350*F oven for 1 hour. Remove the lid from the casserole and bake for a further 15 minutes to brown the top and edges.
To cook salmon loaf and scalloped potatoes together, do the following:
Place potatoes in the preheated 350* oven for 35 minutes.
After that time, slide in the salmon loaf for 25 minutes.
Remove the lid from the potatoes after that time and cook both for another 15 minutes.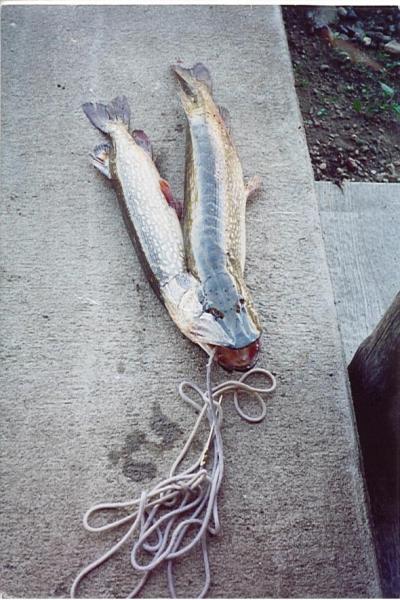 Anyone have recipes for making tasty fish-balls or a fish meal from canned (not fresh) salmon?
Thanks,
YT in London
---
RE: Recipes Using Canned Salmon
My mother makes the most amazing and delicious salmon patties on the planet! She uses canned sockeye, one or two eggs (depending on the size of the can: 2 for a 15 ounce can,) thoroughly chopped parsley and scallions (I love onions, so I probably go overboard,) lemon juice and bread crumbs. She recently started using Japanese bread-crumbs called Panko bread-crumbs, and they are available at Whole Foods Markets, and probably at Asian food stores. I used regular bread crumbs until she sent these Japanese ones to me. Mix everything together and form into patties. Fry in ordinary vegetable oil until they are just barely browned. To finish cooking them, place on cookie sheet and cook in preheated low oven (maybe 300 degrees for a few minutes -- until done. Use toothpick to check.) They are quick, easy and delicious! Use fresh parsley; it makes a huge difference! Bon apetit! (03/18/2005)
By skbeal
Salmon Patties
2 (15 oz) cans Pink salmon
1 onion finely chopped
1 egg, beaten
8 saltine crackers, crushed
salt and pepper to taste
1 stalk celery
1 cup cornmeal
1/8 cup canola oil
In medium mixing bowl combine salmon, onion, egg, crackers salt, pepper, and celery. Mix well. Make patties out of salmon and roll in cornmeal. In large frying pan over medium high heat oil for frying. Place salmon patties in oil and fry on both sides until golden brown. Drain well. Serve warm
These are delicious I make them for my family all the time and they love them. (03/18/2005)
By Adele
Salmon Loaf
16 oz. can salmon
1 c. milk
2 eggs
2 T. onions, chopped
1 c. cracker crumbs
2 tsp. lemon juice
1 tsp. dill (opt)
Salt and pepper
Flake salmon. Beat eggs and milk together. Combine all ingredients. Place in greased loaf pan and bake 1 hour at 350. (03/18/2005)
By klawrence34
Salmon Cakes
I love making these salmon cakes, I even use the jack mackerel sometimes. But, guess what? I hate the smell of fish in the house. Even tho' i pretty much follow the above suggested recipes, I always put on a pot of homemade potpourri while the fish is cooking to keep out that fishy smell. Use a small pot, add cinnamon, vanilla flavoring, ginger, cut an orange in half, and add some cloves in the water, and just let it simmer. Your house will smell like it's thanksgiving or christmas. And no fishy smell. I even taught my son how to do a fried fish with grits breakfast. Showed him how to do the potpourri while frying the fish. He said it was like taking " home Ec". The only difference, when I was taking Home Ec... They sure didn't teach us that trick. Oh, and when I'm feeling too lazy to stand over the stove and fry the salmon cakes, nothing beats baking them in the oven. Nothing! (03/18/2005)
By PATRICA
RE: Recipes Using Canned Salmon
Al la king -- de-bone and skin canned salmon. Heat in skillet with 2 tablespoons margarine or oil until heated through. Add 1 cup low-fat or skim milk mixed with 1 tablespoon cornstarch and bring liquid to a boil. After one minute, reduce to simmer. Add 2 cups cooked peas or peas & carrots. Salt and pepper to taste. (I add a teaspoon of dill -- optional.)
Serve over toast or rice. Makes 3-4 servings. (03/21/2005)
By gannon
Fish Pie
I invent a lot of meals containing tinned salmon as I love it. One I make a lot is a type of fish pie. There are no proportions as I just throw in what I feel like.
Make a savory sauce with butter, flour, (I use stone-ground whole-meal), and milk and season with vegetable spice powder rather than salt, and ground pepper. Toss in the salmon, I don't bother removing the skin, (very tasty), or bones, (good source of calcium). You can add herbs to taste if you want. Add some sautéed veggies - onions, peas and corn are good, or zucchini, (courgette), cucumber, red capsicums, snow peas, (mange tout) - whatever you fancy.
Place in a deepish dish or it may bubble over when cooking. Top with creamed mashed potato. Make up some sage and onion stuffing with water - but mix it on the dry side - and sprinkle a layer on top. I substitute stuffing mix for bread-crumbs in a lot of recipes - very tasty. The meal is basically already cooked but pop it in a hot oven for 15 minutes to brown/crisp on top.
You can also just use the salmon and veg mixture over noodles, rice or cous cous. I cook for one and make 2 or 3 dishes up at a time then separate them into individual portions and freeze for quick microwave meals. (04/04/2005)
By Jo Bodey
Salmon Patties
My salmon patties are so lazy... equal parts fish (any kind) and spuds. Bind with an egg. Salt and pepper to taste and some flavorings. A little sweet chili sauce and coriander is nice. Or even use parsley. I just throw in different things each time. You can crumb them as well but they are nice plain. I always have them with a nice big green salad. (04/20/2005)
By Sonya_82
Salmon Pie
I like salmon patties, but when I moved to the UP I learned a new recipe.
Salmon Pie:
Just take a pie shell or make your own pie crust. First you need to boil some potatoes till they are soft. Drain the potatoes then mash them just a little not all the way so there is some pieces, add some onion, salt and pepper, and some drained canned salmon. Mix it together put it in the pie shell put pie crust on the top with some slits in it so the heat can escape. Bake till the pie crust is done. We eat it with catsup on it. It's good and it stretches one can of salmon and the potatoes makes 2 pies... and it's very filling. (03/03/2007)
By crystal