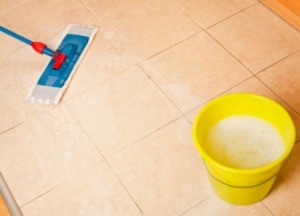 Whether you are looking for a cleaner or starting your own business, determining the average cleaning rates is a main consideration. This is a guide about how much does house cleaning cost.
Ad
---
Questions
Here are questions related to How Much Does House Cleaning Cost?.
I clean a 3 bedroom house with kitchen, living room, den, game room, and 2 bathrooms. I mop, sweep, vacuum, do lots of dusting, wash some clothes, and whatever dishes are in sink wash by hand.
I've been charging the same price for about 5 years; once a month for $150. She now wants it twice a month for less since she feels it will be less dirty, however, she has 2 hairy cats and a dog inside which of course shed a lot so I have to sweep and vacuum all floors before moping.
The home is about a 12 mile drive round trip. She calls me last minute lots of times so I am very convenient for her and trustworthy. I was getting ready to ask for $25 more, but don't want to be over charging if its not fair price.
By lmr
Ad
---
---
Most Recent Answer

By momof405/04/2012
I'm in Kansas (KC Suburb). I have a cleaning company (bonded) clean my house. Around here bonded companies/individuals charge more than those not bonded. I am charged per room for about 3.5 hours & 2 cleaners (no oven, fridge or clothes washing included).

I pay more for them to come weekly or bi-weekly than monthly. If they come bi-weekly there are scrubbing my floors each time then it takes longer than scrubbing it once a month. They also figure their rate based on the number of adults/kids living in the home. The cleaners here make just over minimum wage & use the companies supplies. The company gets the rest. Hiring an individual here cost less.

You need to make a living. Check Craigslist for what others charge. Call other companies & get prices.
If you have someone come in twice a week to clean your home, what do you pay for for 2, 3, and 4 bedroom house? And how many people and how long does it take them? I am starting my own business and not sure of how to charge. Is $20 per hour fair? I do provide excellent service and live in central NJ.

Thanks,
Kim from Howell
Ad
---
---
Most Recent Answer

By stacief04/20/2012
Ive been in business for several months now and find that it's best to give an estimate based on how long it will take you to clean. Some customers feel I charge too much and others are elated. I don't charge a higher first time fee as I feel the price balances out in time. I also don't itemize additional cleaning tasks unless it's the oven or refrigerator.

It seems nit picky to have to add 5+ dollars for some additional task the client may ask about. Try and figure some of those things into your initial quote. That way, you're coming off with a much stronger sense of customer service. The customer also knows that they're getting their money's worth. I charge $20.00 per hour and live in the Midwest.
I am doing a one time cleaning for a friend that has a one bedroom, one bath home, with kitchen, living room, and dining room. My friend is about to move in, but wants it totally cleaned and mopped. I supply the cleaning supplies and it's about a 30-45minute drive to their house. So what do I charge?
By BW from Liberty, TX
---
Most Recent Answer

By cybergrannie [30]10/21/2012
Hi - just wanted to add a comment. It would be very difficult for someone from another part of the US to give you a very good estimate of how much to charge per hour because the cost of living is so different.

Some of Florida's cost of living will not compare in any way with other parts of the country.

I still suggest you try to get an estimate or look in your directory and call some of your local cleaning services and give them the info you have and see what they tell you they would charge you to do this service.

It will also give you a good idea of what they charge extra for and also what they will not do. Good luck
My friend just bought his first home in the same city l live in and me being a stay home mom, l decided to clean their house before they move in. (For some cash.) I saw the house is a 2 story home and is very dirty. l have not ever cleaned someone else's home, but l know the time and work required. How much should I charge for cleaning a new empty home with 5 bedrooms, 3 full baths, including lots of windows. I will also be cleaning walls and a cabin.
By Miriam
---
Most Recent Answer

By Lizzyanny [9]05/09/2012
I have cleaned houses for many years. For a move in/move out cleaning you need to double the number of hours you would usually need to clean the house. Add an hour because you are unfamiliar with the house.

Most houses that size take 5 to 5.5 hours to clean. Because it is super dirty you should add 3 or 4 extra hours. Time for washing walls would be approximately 5 to 6 hours. So you are looking at about 15 hours for just the house. Most people cannot clean more than 5 hours in a day because it is so strenuous.

High cost of living areas charge $30 an hour. Low cost of living areas can charge between $5 and $10 and hour. It just depends on where you live. If I were you I would go on an hourly basis. It is impossible to bid the job with so many variables.

Let your friend know approximately how much time will be required. People can be really dense about that sort of thing, and you don't want to damage a friendship. I would allow 4 to 5 days for this job. Good luck!
I am interested in getting established as a self employed residential housecleaner. At the moment, I clean my mother's house, but I do not charge my mother because, after all, she is my mother. When cleaning my house, as well as my mother's, I always start from the ceilings in every room and give each room a complete and 100% cleaning! I am not afraid to get my hands dirty and am no stranger to hard work. My plan is to offer a flxed rate for initial cleanings and a fixed rate for cleaning a house once the initial cleaning is achieved. I reside in Louisiana and have my own transportation as well as a my own cleaning supplies and equipment. Please help me to decide what I should charge for initial cleanings as well as recurring cleanings.
By Merry M
---
Most Recent Answer

By JulieMac03/18/2015
Oh yeah and reoccurring customers, I give them a little discount if they are weekly/biweekly, due to the fact that is for sure money coming in. It's like a thank you for choosing me and you are hooking them up with a lesser charge but you can count on that money. I would go like $10 off. This is just my opinion granted but I am surely not going to work for $8 an hour. Check this out:

3 hour clean at $15.00 an hour= $45.00
Minus Gas $ 7.00
Product Used $10.00
That leaves you with $28 divide that by 3 hours labor and you are working for $7 an hour, busting your butt. I never go by hourly rate as you can see you will get nowhere.
What is the cost per hour for cleaning a house and doing the laundry?
By Sara B
---
Most Recent Answer

By Lizzyanny [9]06/10/2013
I cleaned house for many years. I charged $30 and hour at the time I retired. This is a high cost of living, high income area. I was well known and had more work than I could take. Your reputation will be what allows you to raise your rates. In lower income areas the rate can be as low as $10 an hour. Keep in mind that the nature of the work only allows you to work for about 5 hours a day. It is a very concentrated workout. I never worked more than 4 days a week.
I am located in Chicago, Illinois, doing garden maintenance and would also like to offer common area cleaning. I want to know what a good price is for the following 6 unit building common areas: front stairs and back decks, foyer area and glass of doors, sweep all walk ways and laundry room cleanup. Estimate about 2-3hrs total for all areas. I would like to offer a once-a-week service to match up with the garden care as I'll be on-site anyway.
Thanks!
PJ
By Pat L.
---
Most Recent Answer

By maureenmande07/23/2014
I am composing this because am interesting in learning about "cleaning prices" although I am not qualified. I want you people to teach me.
I want to know if I have someone come clean my house, how much does it cost to clean one time or weekly? And how much for my office building everyday or every other day. I just want a good price with good service.
By Francesca
---
Most Recent Answer

By freshshine805/27/2014
Hi, my prices for basic cleaning are: 1 bedroom - $65,
2 bedroom - $75,
3 bedroom- $85 and so on...
Fridge +$20
Stove + 20
Laundry + 25
For estimating the office I need to see it...
I'm located in Central New Jersey, my number is 609 858 1718. If you interesting please call me...
I am looking into getting someone to clean my home 2 times a month. I live in a 3 bedroom, 1 bath trailer. I have a 2 year old little girl and am expecting another this spring. I'd only need them to clean our living room, kitchen, bathroom, and small hallway. The job would consist of vacuuming, sweeping, dusting and polishing end tables/coffee table, wipe down countertops, toilet, and tub. The job may also include a few dishes here and there if there are some. I will have all supplies they'll need, including gloves. My question is what's a fair pay for them? Id like to be sure I'm paying them as they should be. Also I live in the New Mexico area. There are no pets.
By Ashley S. from New Mexico
---
Most Recent Answer

By Brittney Turner08/07/2014
I would pay them by the hour. $20/hr or a minimum of $15/hr as long as they are thorough. Good luck!
I am new in the cleaning business. I got a job for a 5 bedroom duplex, each room has 1 toilet and bath. Please help me, I don't know how to prepare the quotes for this job. Thanks.
By Solomon
---
Most Recent Answer

By Reyescleaningservices04/07/2014
Here in Il. I would estimate no less than $700.00 Every bathroom and every kitchen takes about 2 hrs. to clean. you may estimate even higher, and believe me even with a good helper it will probably take at least 12 hrs.
How much do it cost to clean a 5,000 sq. ft. home in Bloomfield?
By Casheba
---
Most Recent Answer

By Joan [13]05/04/2012
Most individual cleaning people charge by the hour. Most of the people that I know that have housekeepers pay between $10-$15.00 per hour.
Are most house cleaners a self employed business setup as an LLC? Do you have any insurance, bonds, or setup any contracts with clients? Are most clients experienced with this type of service?
By Pamela
---
Most Recent Answer

By JazzyMe [11]05/18/2