This is a guide about getting rid of snails. Although many people think snails are cute, they can be devastating to your yard and garden.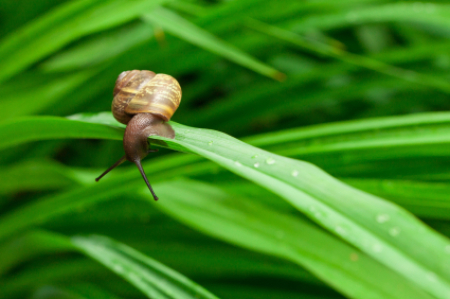 I seem to be having an explosion of new snails on my plants. What are you using to stop the cute little things?
Hardiness Zone: 9a
By Betty from Ocala, FL
---
Most Recent Answer
By ms. carmen 16 42 Flag
August 1, 2010
I have 5 pet box turtles in the fenced-in back yard. and no snails or slugs!
---
By mamacrafter 45 30
In the fall, if you have problems with snails, lay down an old wood board in edge of your garden. During the winter months, the snails will crawl under the board. When spring comes, go out and turn the board over. Take a box of salt and sprinkle on the snails - it will melt them. Then you can rake them out of the garden. If it doesn't get all of them, just repeat the salt again.
By mamacrafter from TN
By Linda L. 83 330
Don't throw out eggshells. Crush them up and throw them into your garden. They provide needed calcium to the soil as they decompose and the sharp-edged shells keep snails out of your beds.
Diatomaceous earth, available in pool supply stores, works as well. If the snails try to crawl over either material, the sharp edges slices up their obnoxious bellies.
By lindal from Vista, CA
By Petunia53 3 8
What's a natural way to get rid of snails in my garden?
By Petunia53
---
Most Recent Answer
By Petunia53 3 8 Flag
May 16, 2011
Thank you to "gbilly"....I had heard of that hint before and forgot about it. I'll give it a try! Thanks again!
---
To prevent snails from eating a new seedling you've just planted outdoors, put a ring of new, unused coffee grounds down around the plant. I dampen the grounds just a little to keep them from blowing away. Make sure it's UNused grounds; it's the caffeine that the snails hate.
By Lynn from Chico, CA
By LuyBaby 3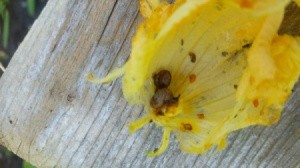 How can I get rid of tiny snails in my vegetable garden? They are eating my plants.
By LuyBaby
---
Most Recent Answer
By CleverDaughter 3 Flag
June 23, 2015
Take a plastic cup, fill it with beer, the bury the bottom so that only the lip of it is over the dirt, by morning, you should have a nice "Cup 'o Snails".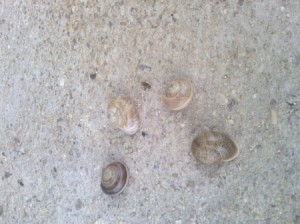 I don't have anything in my yard except grass. We have over 20 snails daily on the outside walls of the house. Egg shells are out of the question because of our 2 dogs. Is there anything else recommended that is pet safe?
By Terry from Jarrell, TX
---
Most Recent Answer
What does having snails on the outside of the house indicate?
By Bob
---
Most Recent Answer
March 26, 2013
You have snails or slugs? Big difference.
What is good to use to keep the snails from eating my beet greens as they come up?
Thanks.
By Gail
---
Most Recent Answer
By ofarrellsaus 8 Flag
June 12, 2012
Get a 600ml coke bottle, cut the bottom off the bottle. Throw away the top piece of the bottle. Pour some beer into the bottom piece of the bottle then sit the tub in the garden.
The snails get attracted to the beer, and will eventually fall in and drown. Good luck!
My old air conditioner had about 80 snails in it and it made a horrible noise. I could not get them out. How do I prevent them from getting into my new A/C?
By Kathy F.