What is the recipe for chili chrispos? I ate them at school and they are good.
04/12/2011 Flag
How to Make Chicken Crispitos
By Maria Scinto, eHow Contributor

Chicken crispitos, a Tex-Mexish sort of dish, are a favorite comfort food in many parts of the US. They are served in many school cafeterias and convenience stores, but they are not available for purchase in grocery stores. If you are no longer in school and your local convenience store does not serve these, you can, however, make up a reasonable facsimile at home.

Difficulty:
Moderately Easy

Instructions
things you'll need:

2 c. cooked chicken
1 c. taco or enchilada sauce
1 cup shredded cheese (cheddar, jack, or a "taco cheese"-type blend)
1/2 cup diced onions
1 4 oz. can green chilies
1 tsp.garlic salt
24 small flour tortillas
Wooden toothpicks
Deep fryer or heavy skillet
Oil for deep frying
Salsa, guacamole and/or sour cream

1

Shred the chicken with your hands or by using two forks. Mix the shredded cheese into the chicken.
2

Chop the canned green chiles into small pieces, then stir them into the chicken mixture. Stir in the taco sauce, onions, and garlic salt.
3

Put two tbsp. of chicken mixture in the center of each tortilla. Roll the tortillas up tightly and hold them in place with wooden toothpicks.
4

Heat the oil in the skillet or deep fryer until it reaches about 375 degrees. Fry the crispitos in small batches until they are golden brown.
5

Drain the crispitos on a paper towel. When they have cooled slightly, serve them with salsa, guacamole, and/or sour cream as desired.

Tips & Warnings

If you prefer not to fry these, you can brush them with oil and bake them at at 350 for 15 - 25 minutes until the tortillas are crispy and golden

These are NOT the same as Taco Bell crispitos, which are basically cinnamon-sugar dusted fried flour tortilla strips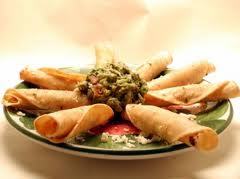 By Marylou Erickson 6 04/13/2011 Flag
1 lb. ground beef
1/2 lb. cheese
Small onion
Sm. can refried beans
1 dozen flour tortillas
Hot sauce

Fry ground beef and onion together. Grate cheese. Warm tortilla over open flame on top of stove. Place in each tortilla 2 tablespoons ground beef, 2 tablespoons refried beans, cheese and hot sauce. Fold into a 4 inch square. Fry in skillet with oil until crisp. Cool and eat.
I'm looking for how to make chili crispitos. I ate them in school and I've looked all over the internet for the recipe. All I can find are school lunch menus. Please help me!

XWingsxxOnxxFireXx from WI
Feedback:
RE: Chili Crispitos Recipe
I love them too! I called the school that used to make them. Guess what! They are made by Tyson. I bought a box from the school. Delicious (05/22/2006)

By Felicia
RE: Chili Crispitos Recipe
My school offers chili crispitos through a website called www.marketday.com. Maybe there is one in your area. (05/22/2006)

By Jenni
RE: Chili Crispitos Recipe
These sound similar to the various products you can buy in the frozen section of the grocery, sometimes they are corn tortillas, sometimes flour. ChiChi's used to have something called a Mexican spring roll that is also similar, Perkins now serves something similar in their appetizers section. This is a recipe I found online under "taquito." Try it and adapt as necessary!

Chicken Taquitos: Authentic Mexican Recipe!
boneless chicken breast or other parts
1 tsp. cumin
1 tsp. oregano
<li.2 Tbls. chili powder
2 garlic cloves or 1 tsp. garlic powder
1 medium onion, red preferred
2 medium bell peppers
3 Tbls. cooking oil
1 can tomatoes, whole or chopped
2 cups chicken broth
salt, to taste
12 to 24 Soft Tortillas
Directions:
In a 4-quart pan, add chicken breasts and salt. Cover with water. Bring to a boil, loosely cover. Cook over medium low heat for one hour. Drain, saving the broth. Set chicken aside to cool.
When cooled, chop into small pieces.
In the same pot add the oil. Saute the onion and diced bell peppers. Cook over low heat until lightly sauteed.
Add the chicken and cook for 3-4 minutes.
In a blender, place the tomatoes, chili powder, garlic, cumin, and oregano. Blend well.
Pour mixture into pan along with 2 cups of the broth. Bring to a boil. Cover and simmer about 15-20 minutes.
Add salt, to taste.
Heat oil in a skillet. Cook corn tortillas, one at a time, in hot oil until soft, about 5-10 seconds. Drain on prepared plate covered with paper towels.
Strain liquid, then spoon 1 tablespoon of the chicken meat into the center of each tortilla. Roll the tortilla around the chicken filling into a fluted shape. Use toothpicks to hold the tortilla in shape.
Fry the chicken taquitos approximately 2-3 minutes or until the tortilla holds its shape. It is better if the taquitos are on the soft side, not crispy. You need to turn them only once.
Serve with Mexican rice or with salsa, sour cream, and guacamole on the side, usually 2-3 taquitos per plate. See the Mexican rice recipe under Tijuana rice!

Enjoy!

Preparation Time: Slow
Serves: Many
Recipe Origin: Mexico
Submitted by:
Capt. Tom Smith,
Florida,
United States
(05/23/2006)

By adoebler
RE: Chili Crispitos Recipe
I found this thanks to Jenni for the marketday site. They look like the ones I used to get in school, just like most of you remember :)

http://www.marketday.com/shopping/products.aspx?menu=Oandpg=0andsk=4ands=chili%20crispitos (01/30/2008)

By Kat
RE: Chili Crispitos Recipe
We used to buy ours through Market Day at school, now they only offer them at certain times which I think is really inconvenient. Just a suggestion though, we serve ours like this: Bake them, on each ones plate top with nacho cheese from Sam's Club with green chilies in it (you have to add the green chilies yourself), lettuce, tomato, onion, and sour cream, my family of 5 love them. We just wish we could get them more often. (08/19/2008)