Breed Description:
This strong, courageous dog is one of the most popular breeds in the world. It possesses one of the keenest noses and highest degrees of intelligence in the dog world, making it suitable in almost any working capacity: herding, police work, guard dog or guide dog. The German Shepherd also makes a loving and faithful companion.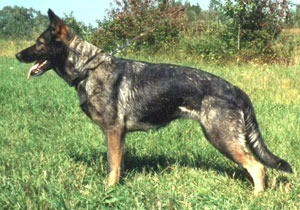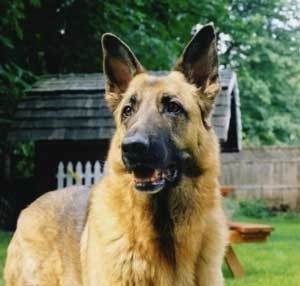 Group: Herding Group.
Purpose of Breed: Herding sheep
Country of Origin: Germany
Average Size: Ranges from 22-26 inches and 60-90 pounds depending on sex.
Color(s): Although their color may vary, German Shepherds are most commonly black, gray, and tan, many times with a black or dark-colored saddle.
Coat Type: Double coats of medium length hair. The outer coat consists of dense, straight hair that lays flat against the body. The hair length is somewhat shorter on the head and legs than on the rest of the body.
Grooming: Daily brushing is required to keep this breed's coat in top condition, however bathing is needed usually only a few times per year. This breed requires standard care for eyes, ears, pads, and nails.
Exercise Needs: German Shepherds are a large, highly intelligent breed that needs frequent exercise and mental stimulation to maintain optimal health. They adapt well to indoor living, but need daily exercise and a house with a fenced yard.
Temperament: This breed is highly intelligent and territorial, and makes a faithful and devoted companion. If properly trained and handled, the German Shepherd fits well within a family circle as a loyal and obedient companion. Initially suspicious of strangers, the multi-talented German Shepherd makes an excellent watchdog. This breed bonds deeply and does not like to be separated from his owner.
Common Ailments: Susceptible to bloat, skin disease, congenital heart problems, and hip dysplasia.
Life Expectancy: Averages 10-12 years.
Trivia: The famous dog "Rin Tin Tin" was a German Shepherd.
More Information: German Shepherd Dog Club of America
By guest (Guest Post) Flag
May 22, 2006
You're right in all you say about the German Shepherd Dog. In the past 20 years I have owned 10 of these magnifcent dogs having also bred 2 litters. My first, Spy, was a handsome light red-gold with black saddle and muzzle. He was very territorial around me but more lenient around the kids if I wasn't there. Kingston, very dark black with mahogany tans was my last, and from my 2nd litter, born in 1991. He died last year of bloat, just a few months short of his 14th birthday. I have a German Shepherd tattooed on my shoulder, in their honor. I still have another dog, a small mixed breed named Chubacha as he is a true "wookie". He came to stay when I didn't need or want another dog. His persistance paid off as he just passed 4 years with me and is doing fine. Still dreaming of the day I'll have another German Shepherd.
By guest (Guest Post) Flag
November 28, 2007
German shepherds are the most breathtaking, absolutely most beautiful dog breed in the whole wide universe. The first time I put my eyes on the German shepherd dog I nearly could not believe how beautiful and how big they are! They're more beautiful then any other dog breed I ever saw and they need hours and hours of exercise. They're very very playful and energetic they can run and jog for miles and miles they can hike for hours and hours they are absolutely perfect for agility because of there athletic slim and lean structure and especially for being a show dog they can take the first place trophies in one fatal swoop because the judges would think they were looking at a chest full of jewels so get a German shepherd there the most beautiful, the most athletic, the most intelligent out of all the dog breeds in the world. They're great at every sport! And they take all the first place trophies. They're cute they're the best most protective companion you can ever have as a best friend but take him for hikes and jogs cause this dog needs LOTS and LOTS of exercise have these beautiful dogs cause they're the absolute best dog created by God.
By guest (Guest Post) Flag
April 7, 2008
Where did you get this photo of our dog in our back yard? His name was Otto and that little red barn has a piece of picket fence attached with yellow garden tools attached as a bit of back yard art. We have a lot of photos of that back yard and of Otto. I will say this, he has now passed on but he was the greatest dog we have ever known. Not only the best we have owned (I have owned a number of German Shepherds including Otto's parents) but the best Dog we have ever encountered. By the way, his parents were imported from Germany where they still breed them large and have very little occurrence of hip dysplasia.
Otto was very big, tall, strong and intelligent! We appreciate and share your admiration and love for the German Shepherd breed. We are serious about the photo though (it IS our Dog "Otto" in our back yard). Please inform how you got the photo of him and we will consider allowing you to keep it on your website.
Editor's Note: Hello Owners,
We had a contract writer provide breed information and photos. She got some photos from organizations and dog clubs by emailing for permission and some from stock photography websites like istockphoto.com
If the photo of Otto was not obtained properly we will gladly replace it with a different German Shepherd, or if you would prefer, we could add a caption with his name. So sorry your loss and sorry if Otto's pictures has been posted on our website in error! He's a beautiful dog.
Comment